Despite manufacturing slowdown, China's economy remains stable in July
Global Times
1565776837000
Despite a slowdown in several sectors such as manufacturing and consumption, China's economy showed a stable trend in July with steady fixed-assets investment and robust exports growth, data released by the National Bureau of Statistics (NBS) showed on Wednesday.

China's national economy continued to perform within a reasonable range, NBS spokesperson Liu Aihua said at a news conference releasing major domestic economic data in July.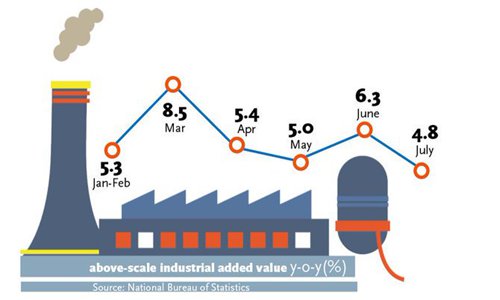 The growth in both services and manufacturing sectors slowed down during the month. The added values of major industrial enterprises grew 4.8 percent year-on-year in July, down from 6.3 percent growth in June.
The Index of Services Production increased by 6.3 percent year-on-year in July, down from 7.1 percent growth in June, indicating a slowdown in the services sector, the NBS data showed.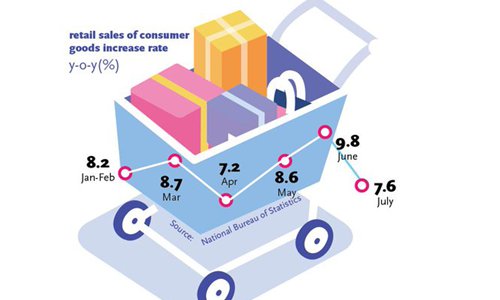 The situation was similar in the consumption sector. In July, the retail sales of consumer goods grew by 7.6 percent on a yearly basis, down from 9.8 percent growth in June. Liu attributed the decline to falling automobile sales.
"The slowing growth shows that China is indeed facing pressure, but not in an unexpected way," Tian Yun, vice director of the Beijing Economic Operation Association, told the Global Times on Wednesday.
According to Tian, the slowdown is not only the result of external pressures, such as the trade war, but also of uneasy domestic economic transition.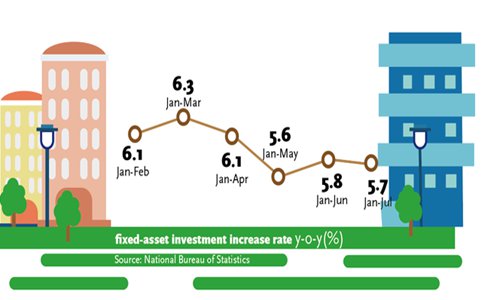 Liu noted that the domestic economy has already felt such pressures, but the government has launched a series of measures this year and their effects are gradually manifesting.
She pointed out China's new economic growth momentum is "collecting and strengthening", such as the rising proportion of new economies in the domestic GDP. Vitality in the private sector also brings vigor to the economy, she said.
"China's economy has solid basis for further growth in the next period," she said.
The NBS data showed that investment in the high-tech manufacturing and services industries grew by 11.1 percent and 11.9 percent respectively, year-on-year in the first seven months of 2019, beating average investment growth. Overall, China's fixed-assets investment grew by 5.7 percent from January to July, compared with 5.8 percent in the first six months.
The Consumer Price Index, a gauge of inflation, was stable in July with 2.8 percent growth, compared with 2.7 percent in June. Exports were also robust in July with a 10.3 percent growth, up by 4.3 percentage points when compared with June.
"China's exports still maintain a strong growth trend. In particular, the advantages of private sector exports are showing up - this is pointing toward the internal momentum of China's economic growth," Tian said.
Tian also noted that China's consumption and investment sectors have further growth potential. "Further efforts should be made by the government to push the development in those areas in the second half of this year," he said.