Virtual idols bring new life to entertainment industry
An ocean of glow sticks, waves of cheers and applause, nearly 10,000 fans and an electrifying atmosphere took over Shanghai last Friday for the Bilibili Macro Link VR concert. Similar to the annual Nico Nico Chokaigi event held by Nicovideo, a Japanese video sharing service, the BML took place in China under the sponsorship of Bilibili, a China-based video sharing website themed around animation, comic, and game (ACG).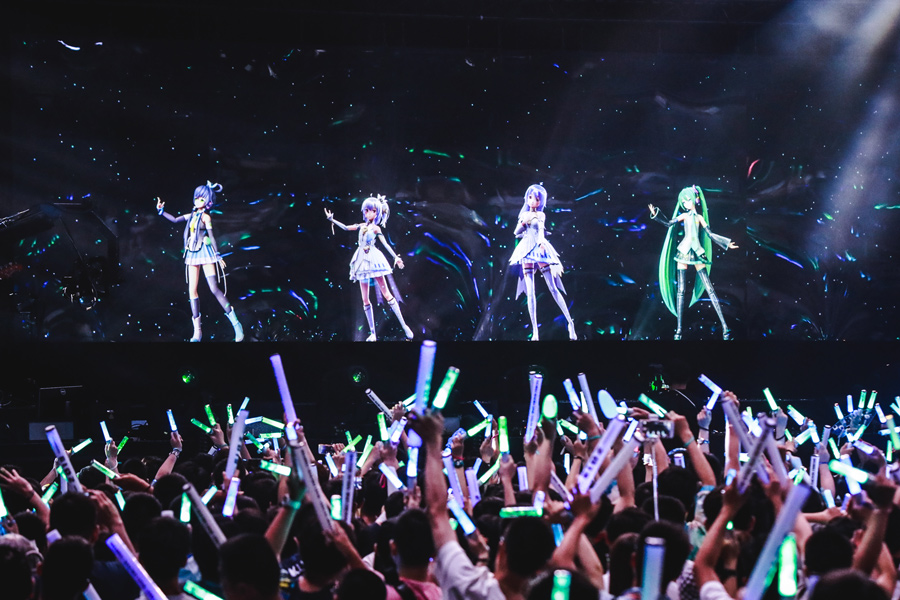 Chinese virtual singer Luo Tianyi, Bilibili mascots 33 and 22, and Japanese virtual idol Hatsune Miku (from left to right) greet the fans on stage at the BML holographic concert in Shanghai on July 19, 2019. (Photo: China Daily)
Different from conventional concerts with flesh-and-blood musicians, this event specifically focuses on a VR experience. All the performances are delivered by more than 20 famous virtual idols, including Chinese Vsinger Luo Tianyi, Vtuber Kizuna AI, Bilbili's own mascots 22 and 33, and Crypton Future Media's Vocaloid character Hatsune Miku.
The opportunity to witness Luo Tianyi and Hatsune Miku performing on the same stage was just one of the many reasons devoted fans flocked to the city from across the nation. For first-time goers, the experience was surreal and unforgettable.
"The theatrics were so dreamy, very impressive. And all of us here support our idols. Tonight, seeing Hatsune Miku and Luo Tianyi to sing One More Drink, I was deeply touched!" one fan gushed.
Explosive popularity of "Vidols"
The abrupt rise of virtual stars in recent years has built a substantial creator-viewer community on the Internet. For example, Japanese idol Hatsune Miku has been touring the world since 2010. The Washington Post has called her a "pop star of the future", boasting more than 100,000 songs written for her on YouTube and Japanese video-platform counterpart Nicos Nico, by amateurs and fledgling professionals.
Vtubers, or virtual broadcasters, also win hearts with their unique style and persona. According to Bilibili, tens of thousands of video contributors are producing content around virtual idols. Over 6,000 new virtual broadcasters greeted Bilibili users during the first quarter of 2019, attracting over 6 million viewers.
Virtual edition of Produce 101
Aside from the most recognizable icons, more and more virtual characters are being developed to meet the diverse tastes of online users. It has become a factory of potential idols, a virtual edition of the reality talent competition franchise Produce 101, where finalists are all chosen by the audience instead of a professional judge panel.
Japanese virtual YouTuber Kizuna AI, who debuted in 2016, has evolved from a goofy teenager persona and now entertains over one million followers. More humanoid personas have also been launched, such as Kagamine Rin and Megurine Luka, after the sweeping success of Hatsune Miku.
Redefining musical performance
As their fame expands, these 2D celebrities are beginning to step out of video platforms and appear on the actual stage. Chinese star Luo Tianyi sang at the Little New Year Concert in 2016 and also performed alongside Peking Opera artist Wang Peiyu at China Central Television (CCTV).
With the support of digital technology, virtual stars are free from all the physical and spatial restraints imposed upon real singers. They are able to absorb new performing styles in no time, change costumes at a snap of the fingers, and generate songs with the help of their ever-growing fan base.
If we incorporate future assistance from mature AI tech and big data, the flexibility and creativity of every single virtual idol may go far beyond our imagination.