Businesses anticipate broader opening of finance, healthcare
People's Daily
1590006612000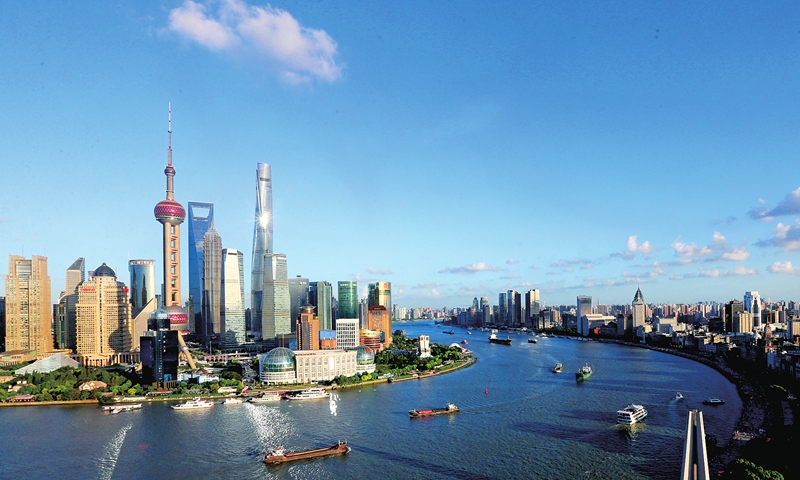 File photo shows a view of the Lujiazui area in Shanghai, east China. (Photo: Xinhua)
As the global economy struggles amid the raging Covid-19 pandemic, China is expected to send a positive signal during this year's two sessions to strengthen the confidence of foreign investors, global business representatives said Wednesday.

China's implementation of the Foreign Investment Law, despite the pandemic, showed the country's strong commitment to building a level playing field for both Chinese and global firms, and continuing its reform and opening-up policy in finance and healthcare, they noted.

The National People's Congress passed the Foreign Investment Law in March 2019, a landmark act intended to provide stronger protection and a better business environment for all investors from abroad. The law took effect on January 1, 2020.

"This year is the first year for the implementation of the new Foreign Investment Law and we have obtained significant support from Chinese local governments to help us prevent and control the virus and resume production," Clarence Mak, president of Mars Wrigley China, told the Global Times.

"During this process, we felt that the Chinese authorities offered equal treatment to all companies in terms of policies and administrative approvals," Mak noted.

"As the impact of the pandemic chips in, we hope local governments in China will roll out more measures to help foreign firms hedge the fallout and create an open business environment," Mak said.

"During this year's two sessions, we are paying attention to new reforms, opening-up efforts and new measures to further improve the business environment, especially in the financial sector," Chi Man Kwan, CEO and founder of Raffles Family Office, told the Global Times.

Investors see China as a safe haven and the Foreign Investment Law gives new assurances to global investors, and it will fuel China's own growth and the prosperity of its people, Kwan said.

The law will likely attract more investment and expertise globally and help China build an internationally competitive financial industry, Kwan said.

It is encouraging to see that China's financial sector continues to open up to foreign players. On April 1, the investment ceiling for foreign fund management firms having a joint venture stake in Chinese retail mutual fund companies was officially lifted, which sent another strong and positive signal to foreign players.

"Despite the outbreak, the resilience of the Chinese economy has boosted our confidence in the market," Leon Wang, executive vice president, international and China president of British drug-maker AstraZeneca, told the Global Times.

"We will continue to increase investment in China in 2020. The Shanghai research and development (R&D) platform will be upgraded to a global R&D center," Wang said, noting that the company will set up regional headquarters in places like Beijing, Guangzhou, South China's Guangdong Province, and Wuxi, East China's Jiangsu Province.

AstraZeneca will make use of policy dividends to accelerate the introduction of global innovative drugs and leading technologies in China, step up local R&D, and develop Chinese original and innovative drugs, which will be brought to countries and regions along the Belt and Road Initiative routes as well as the world, according to Wang.