Most restaurants in China forced to shut, seek bailouts amid NCP outbreak
Global Times
1581455156000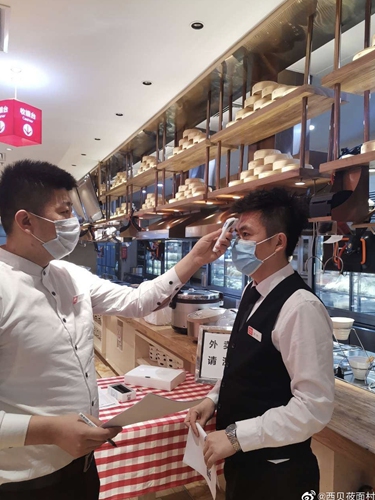 (Photo: Xibei's official Weibo account)
Most restaurants in China have been forced to shut following the outbreak of novel coronavirus pneumonia (NCP), and a cash flow crunch has led many to seek bailouts to survive.

"I am even willing to sell assets like real estate and cars. I'll try my best to maintain the jobs of my 16,328 employees," Shu Congxuan, founder and chairman of Chinese fast food chain Home Original Chicken, told the Global Times on Monday.

Shu estimates his company has had losses of at least 500 million yuan ($71.6 million) as a result of the NCP epidemic so far, with about half of its 800 chain stores temporarily closed.

"For those in operation, the daily income is about one-fourth of what it was previously, as there are far fewer customers and raw ingredients for cooking can't be delivered on time as some roads are on lockdown," he said.

Home Original Chicken's struggle reflects the dire strait of tens of thousands of restaurants in China. The Beijing Municipal Market Supervision Bureau said on Wednesday at a press briefing that only 11,500 restaurants in Beijing are now operational, accounting for 13 percent of the capital's total.

Beijing-based restaurant chain Xibei saw its revenue slump 87 percent year-on-year during the Chinese Lunar New Year holidays, with 700-800 million yuan in revenue lost during the month.

The industry requires high liquidity as payrolls, rents and purchase fees are generally fixed costs. Continuing to pay employees while there being no business weighs heavily on restaurants.

To solve the employment issue, domestic internet companies like e-commerce platforms have launched "employee sharing" plans, asking employees from traditional industries that are not currently working to work temporarily at these internet companies.

FreshHema, an online grocery store that specializes in the delivery of fresh produce, had by Monday "rented" 1,800 employees from various companies including Xibei in Beijing, Guangzhou in South China's Guangdong Province and other cities.

Meanwhile, domestic restaurants have stepped up their takeaway business or started to sell vegetables, semi-prepared and fully prepared products to residents in communities near its outlets.

However, "takeaway business alone can't support our development," Xibei told the Global Times on Monday, saying government support, including tax and fee cuts and subsidies would be more helpful.

At the beginning of February, more than 30 banks had reached out to Xibei offering financial support. On Friday, the Shanghai Pudong Development Bank transferred a loan to Xibei, though the company has not disclosed the figure.

Shu said some banks have also contacted him to offer his company credit, and the first loan is expected to be transferred this week.