Malaysian durian aims at the Chinese market
People's Daily app
1563983508000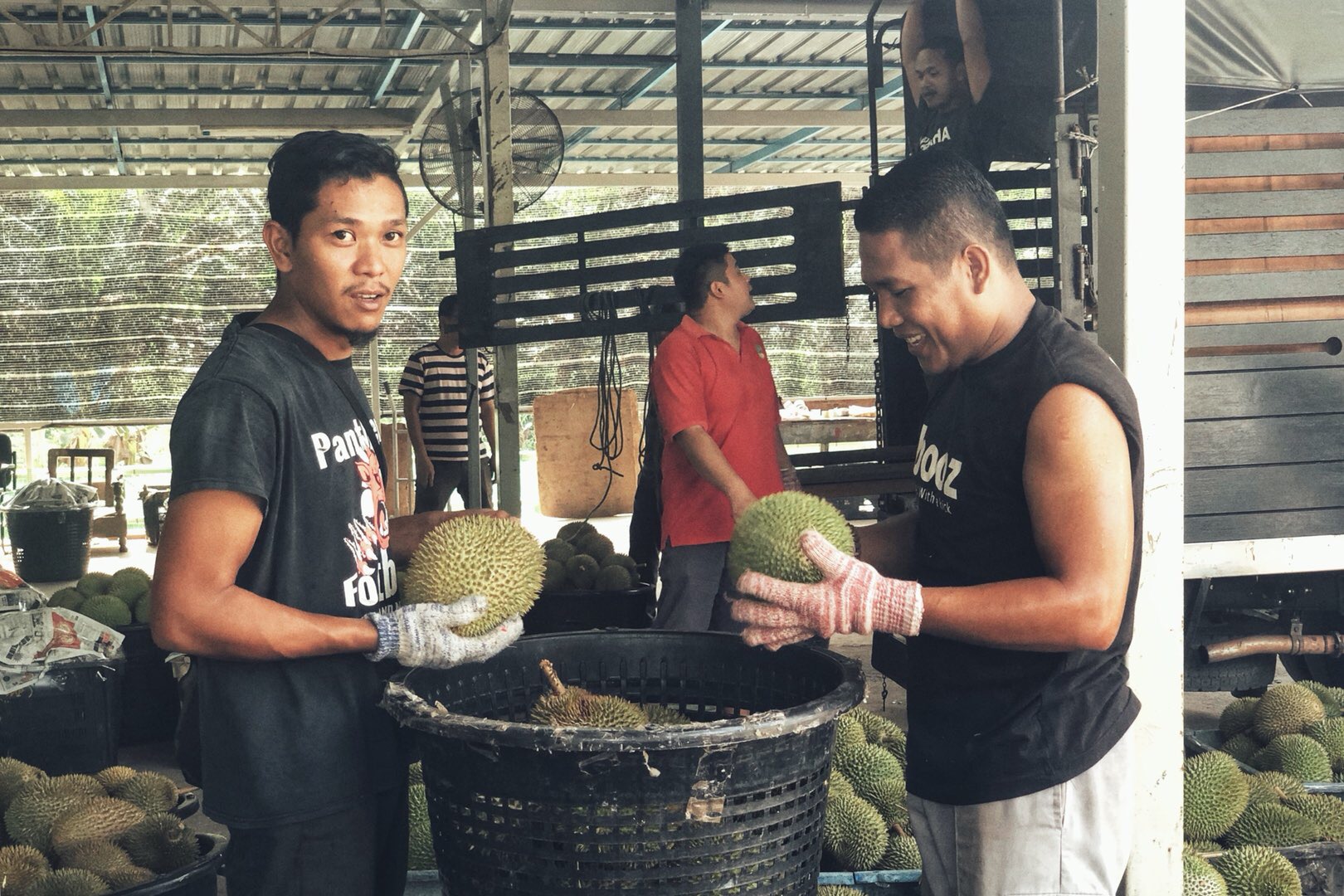 Local workers are selecting durian. (Photos: Lin Rui/People's Daily)
In recent years, with the increasing demand from Chinese consumers for durian, a type of Malaysian durian named Cat Mountain King or Musang King has emerged and taken hold in the Chinese market. Malaysian durian growers and wholesalers are aiming at expanding in the Chinese market. Under the effort of the Chinese and Malaysian governments, China received the first batch of whole frozen Musang King durians from Malaysia last month.

Pahang, a Malaysian state, is the place which produces the best Musang King durians. In a small village in Pahang, there are many cars carrying durians down from mountains, and the air is filled with the flavor of durian. The durian fruit will be picked from durian trees. After being selected and cleaned, some are sold directly in Malaysia or exported to Singapore in about one day. Some will be frozen with liquid nitrogen and then exported to China.
"Eighty percent of the villagers plants Musang King durian trees now. Thanks to the expanding durian market of China, it has became one of the richest villages in Malaysia," local durian wholesaler Han Shilin said.
"The Musang King durian is becoming more and more popular in China, and our income has increased several times," said Durham Garden Lord Ahmed.
In 2011, the frozen pulp, paste and processed product of Malaysian durian was allowed to be exported to China. In August 2018, China and Malaysia signed a protocol, and whole frozen Musang King durians that met the relevant inspection and quarantine requirements were also allowed to enter the Chinese market.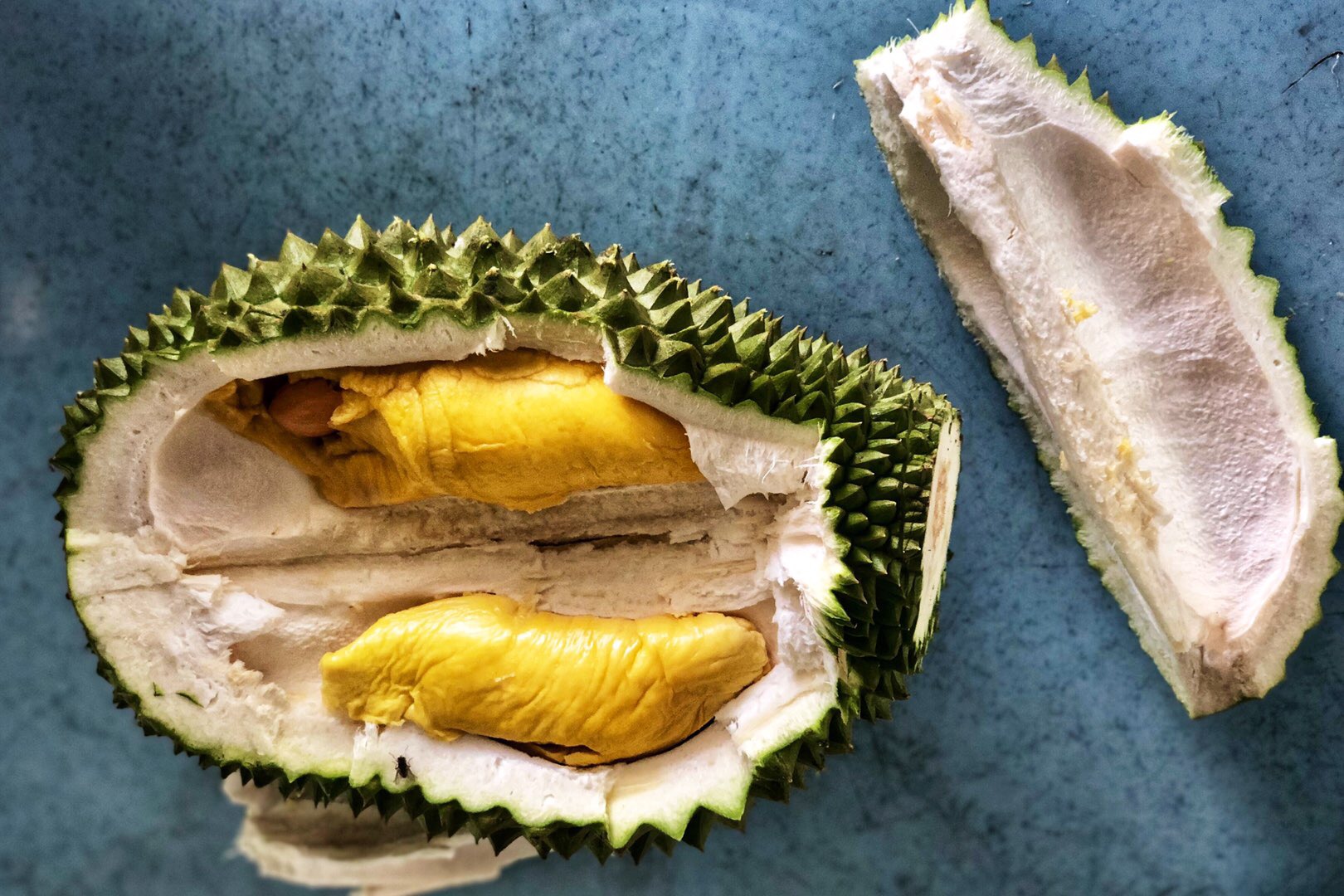 This is the fruit of Musang King durian.
Last month, the first batch of four tons of whole frozen Musang King durians arrived in Shanghai. There are only five Malaysian companies that are allowed to export whole frozen Musang King durians to China, said Lai Weiquan, president of the Durian Association of Pahang. "The durians were sold out in a day. At present, more than 80% of the frozen whole durians from Malaysia are exported to China, and the share will be further expanded. The production of Musang King durians will increase by 15%-20% annually, and there are more and more durian growers, and more and more Chinese coming here for business."
According to data from the Ministry of Agriculture of Malaysia, in the first eight months of 2018, the durian income of Malaysia's exports to China reached 12 million yuan ($1.75 million), double the number from last year.
Chinese authorities cleared whole durian fruits from Malaysia for import, as before that only pulp, paste and processed product could be sent to China. The new move further boosted the confidence of durian plantation managers in Malaysia, where total durian production has risen to 341,000 tons in 2018 from 211,000 tons in 2017. Durian exports to China are expected to contribute nearly 500 million ringgit ($120 million) to the nation's total export value annually. In order to develop the durian economy, we must use our imagination to create new durian products, said Malaysian Agriculture Minister Salahuddin Ayub.
The Chinese market is very important to Malaysia. The growing cooperation between Malaysia and China reflects the further deepening of relations between the two countries, said Malaysian Investment Development Council Chairman Majid.