Yum China makes debut on Hong Kong market in secondary listing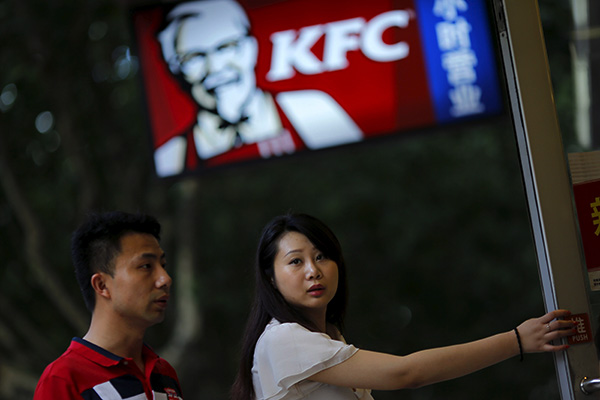 Customers walk into a KFC restaurant in Shanghai. (File photo: China Daily)
HONG KONG, Sept. 10 (Xinhua) -- Restaurant company Yum China Holdings started trading on the Hong Kong stock market Thursday in its secondary listing.
Shares of Yum China opened at 410 Hong Kong dollars (52.89 U.S. dollars) Thursday morning, slightly lower than its offer price of 412 Hong Kong dollars. The public offering of the company was previously oversubscribed more than 50 times by local buyers and over eight times by global investors.
The company expects to raise 17 billion Hong Kong dollars (2.19 billion U.S. dollars) by issuing 41.91 million shares. If the over-allotment option is exercised in full, the fund-raising will rise by another 2.56 billion Hong Kong dollars (330 million U.S. dollars).
The proceeds from the offering will be used to expand Yum China's restaurant network and invest in digitalization, supply chain and food innovation, among others, according to its prospectus.
Yum China was spun off from U.S. food corporation Yum! Brands and went public in New York in 2016.
The Shanghai-based company has exclusive rights in the Chinese mainland to operate restaurants of KFC, Pizza Hut and Taco Bell and owns local brands of the Little Sheep, Huang Ji Huang, East Dawning and COFFii & JOY.
At the end of June 2020, the company had 9,954 restaurants in over 1,400 cities and towns in the mainland.