US stocks tank as Wall Street eclipsed by broad panic over imminent recession
NEW YORK, Aug. 14 (Xinhua) - US stocks dived at market close on Wednesday, wiping out the short-lived gains of the previous day, as mounting fears over an impending recession struck a blow to already-dampened investor sentiment.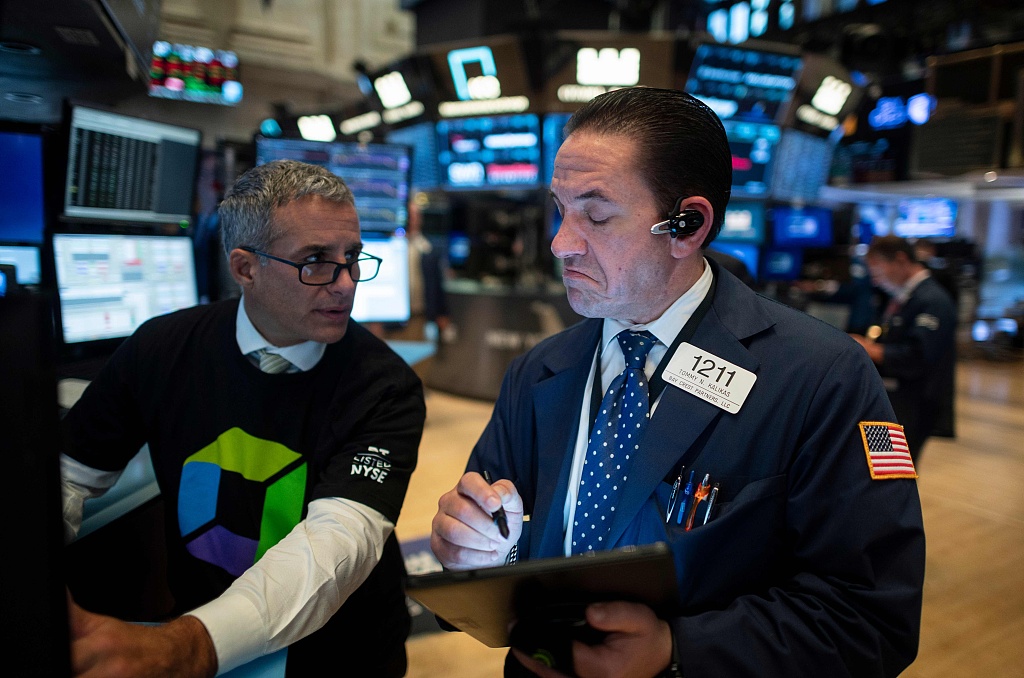 Traders work after the opening bell at the New York Stock Exchange (NYSE) on Wall Street, August 1, 2019, in New York City. (Photo: VCG)
The Dow Jones Industrial Average plunged 800.49 points, or 3.05 percent, to 25,479.42, marking its largest daily decline of the year so far. The S&P 500 decreased 85.72 points, or 2.93 percent, to 2,840.60. The Nasdaq Composite Index fell 242.42 points, or 3.02 percent, to 7,773.94.
All of the 11 primary S&P 500 sectors retreated around market close, with the energy sector down nearly 4 percent, leading the laggards.
The financial sector was also among the worst performers, pulling back around 3.4 percent, as major bank shares, sensitive to interest rates, extended losses. Such bank shares include those of Bank of America, Citigroup and JP Morgan.
The bond market has flashed worrying signals over a looming recession on Wednesday with an inverted yield curve. The curve, widely seen as a harbinger of a looming economic recession, emerged between the two-year and 10-year US treasury bills at some point, marking the first time since June 2007.
The spread between the yields of three-month and 10-year notes also posed an inverted curve during the day, which reflected a wave of panic that rippled over the US financial markets.
Yields of the US long-dated and short-dated treasury bills all declined on Wednesday. It's acknowledged that recessions normally arrive within 18 to 24 months following the inverted yield curves.
As investors switched on a risk-off mode and resorted to long-term, safe-haven assets, such as US treasury bills, gold and low-risk currencies, the price of gold rallied and the 30-year treasury bond yield hit an all-time low of a bit over 2 percent.
The CBOE Volatility Index, widely considered as the best fear gauge in the stock market, surged 26.14 percent to 22.10 on Wednesday.
Possible future recession?
Growing economic worries stemmed from the latest weakness in economic data, global negative bond yields, ongoing trade tensions and political turmoil that "all led equities and US treasury yields lower," said Leslie Falconio, a senior strategist at UBS Global Wealth Management's Chief Investment Office.
"There are technical factors forcing the longer end of the curve lower, besides negative global yields. The Fed still owns roughly two trillion US dollars of US treasuries from its quantitative easing program," Falconio told Xinhua.
More specifically, Mark Haefele, global chief investment officer at UBS Wealth Management, pointed out in a research report on Wednesday that treasury yields were weighed down by the almost 16 trillion dollars in sovereign bonds globally with a negative yield, distorting their signal about US economic activity.
Yet the investment expert suggested that Wall Street should not be overly concerned about the link between inverted yield curves and a future recession.
"Unlike trade conflicts, an inverted yield curve by itself has limited economic impact. Instead, its signal about the health of the economy is what matters, and it is not as negative as some investors fear," said Haefele.
That's also because there's been a long and variable lag between initial inversion and the start of recessions, normally 22 months on average, he noted. Besides, the length of time the yield curve is inverted and how much it is inverted also matter.
Matthew Cheslock, a trader with US firm Virtu Financial, voiced similarly positive views, saying that it might still be early to time a recession based on Wednesday's yield curve inverts.
"Historically, it's 14 to 22 months out. So if you're trying to time this market based on that cross (of the yields between the two-year and 10-year bonds), you might be a little ahead of yourself in the equity side," Cheslock said.
"The stock market may have gotten a little ahead of itself today just on a pure panic move," he added. "We saw the same type of event happen last week ... We had a panic-type sell move. Then we recouped most of those losses over the next couple of days."
In terms of a potential recession, Falconio said they did not anticipate a recession at this time, due to the weakening yet still decent US economic growth.
"US economic growth, although slowing, remains above trend. Household balance sheets and the consumer remain strong. Financial conditions, although not as loose as last year, are not tight, and access to credit for both consumers and corporations remains healthy," the strategist said.
"Although volatility may continue, our outlook for US corporate earnings remains strong although tariffs may force a modest trimming," Falconio noted.