Qingdao port ready to welcome foreign ships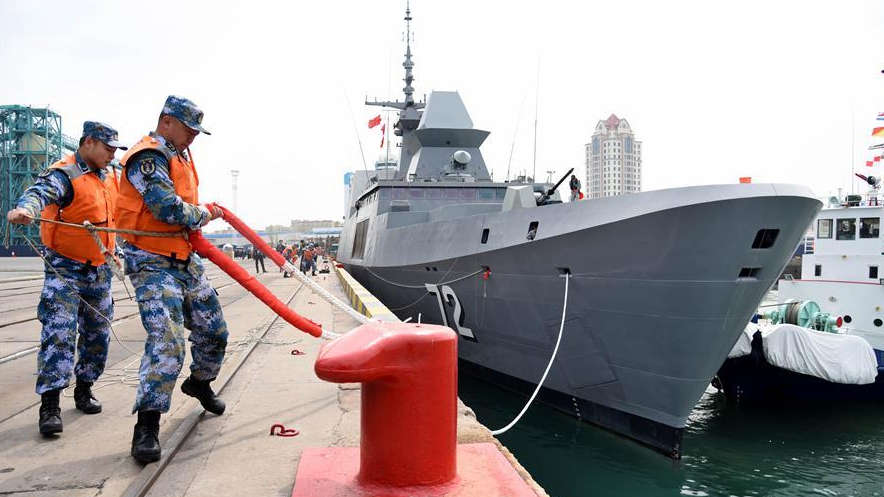 Formidable-class frigate RSS Stalwart, a frigate of Singaporean navy, arrives at Dagang port in Qingdao, east China's Shandong Province, on April 19, 2019. (Photo: Xinhua)
Foreign ships attending celebrations for the PLA Navy's 70th founding birthday will stop at Qingdao Port, which is commonly used for commercial cargo. Much of the work has already been done to welcome the foreign navies.
As a first-class pilot, Bai Dong is one of the 38 pilots assigned to welcome the ships of foreign navies for this year's celebrations.
"Our boarding of foreign ships is to perform the exercise of sovereignty for our country. We'll take the captain's role to dock the ships to the right place. We are also the first Chinese to board on a foreign ship when it comes to China," said Bai.
Bai said that compared with commercial cargo, the captains of navy ships are more cautious. So he needs to strike up a good conversation and win their trust.
"'Good morning pilot, good morning captain.' We often begin our conversation like this, then I'll tell the captain when to use a tugboat, where to dock and which mooring rope to wear first."
The port has arranged over 20 tugboats to help the vessels dock. Captain Zhou Xueliang tugged the first guest, Singapore's Stalwart frigate on Saturday. He said it needed much more care than simply tugging a cargo.
"Navy vessels are much lighter. We need to be very gentle, neither too fast or too slow, in order not to hurt them," said Zhou.
The tug ship is even protected to avoid friction, something they never do for cargo ships. The commercial port puts one of its four areas for this event.
"We had a plan for all the commercial boats to move to other areas to deal with the normal operation of our port. So I don't think there is a very serious impact on our normal operations," according to the port's chairman of board Li Fengli.
But aside from technical and logistic support, the port has also undergone maintenance work.
"We just had this pavement so it looks better. Because we never have a second chance to give foreign guests a good first impression," Li said.
About 20 foreign navy ships will attend the fleet inspection. So far, only one of them has docked, and the rest will arrive on Sunday.
The day will be a busy one for Qingdao Port, but everyone is saying they're well-prepared.