Trees planted to curb erosion blossom into thriving musical instrument material
chinadaily.com.cn
1599378837000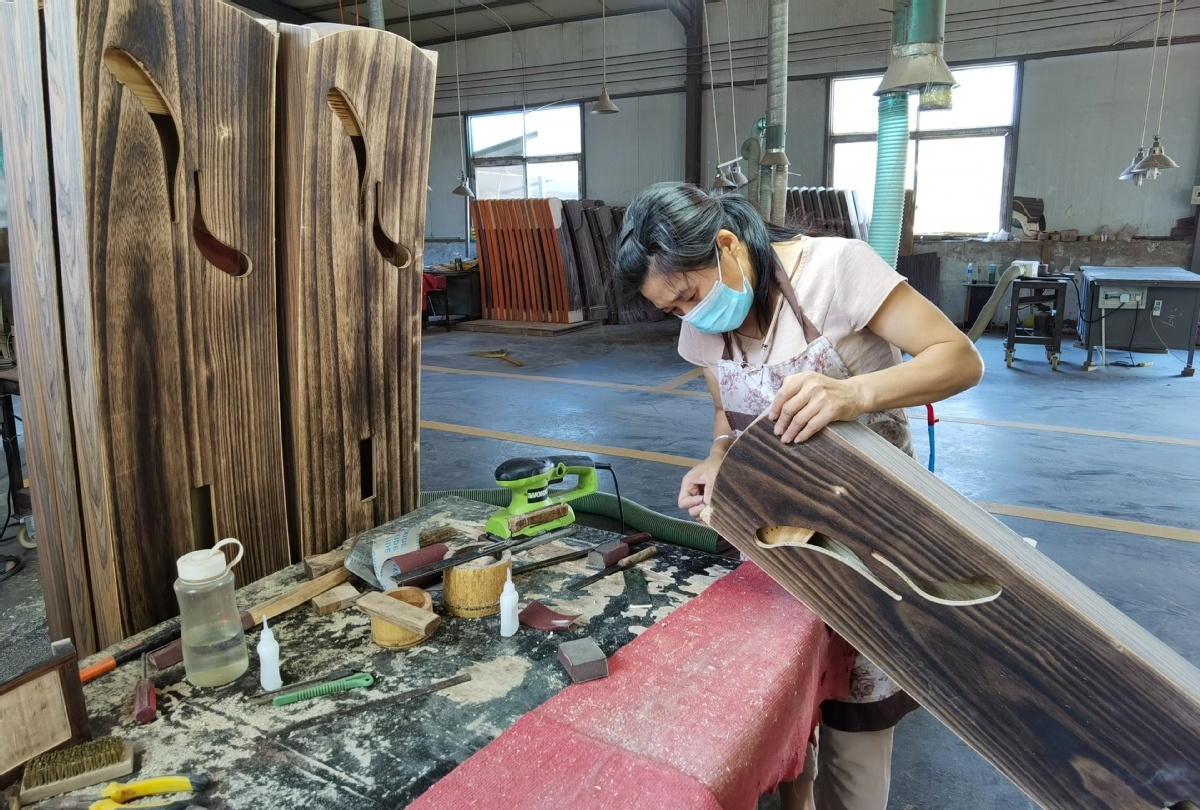 A woman surnamed Huang makes a musical instrument at Junyi Musical Instrument Co Ltd in Guyang town of Lankao, Central China's Henan province. (Photo: chinadaily.com.cn)
When farmers in Lankao, Central China's Henan province, started planting paulownia, a deciduous tree with large, heart-shaped leaves, in the 1960s to improve their living environment, they didn't expect the trees would one day become a source of wealth as musical instruments.
Located close to the bank of the Yellow River, Lankao frequently suffered from floods and sandstorms during the early decades of the last century, which left the area with barren soil and a severe environment.
Things started to change in 1962 when Jiao Yulu became the Lankao's Party chief and led farmers to plant the trees to help conserve soil and water.
Now the environment has been substantially improved, thanks to the paulownia trees widely planted across the county. Meanwhile, villagers are making money from the musical instrument business after they found that instruments made from paulownia sounded clear and melodious.
In Xuchang village alone, the village produced more than 70,000 folk musical instruments like Chinese zithers. Over 80 percent of the village's households are involved in making folk musical instruments.
The booming industry has attracted young people to come back to their hometown and develop a business, which also provides jobs for local farmers.
Kong Haiguang who spent three years in Beijing learning techniques to make Chinese zithers, returned to Xuchang village 10 years ago to work at his craft. The instruments produced in his workshop were used in performances at high-class events, such as the G20 Hangzhou Summit held in 2016.
"Local governments are helping us develop the business with measures, including loan support and building roads," Kong said.
The Junyi Musical Instrument Co Ltd in the county's Guyang town produces about 1,500 instruments every month, becoming a major musical instrument producer in Lankao, said Zhao Shanggong of the company.
The company now has over 80 workers who earn about 5,000 yuan each month, Zhao said.
"Although the salary I earned from making the instrument is a little bit less than that of working in the city, it's convenient for me to take care of my kids as the factory is close to where I live,"said a worker surnamed Huang at the Junyi factory.
Now local governments in Lankao are developing e-commerce to help residents expand sales channels. Annual sales generated from e-commerce has surpassed 40 million yuan ($5.84 million), according to the county government.