The Silk Railroad, Facilitating Dreams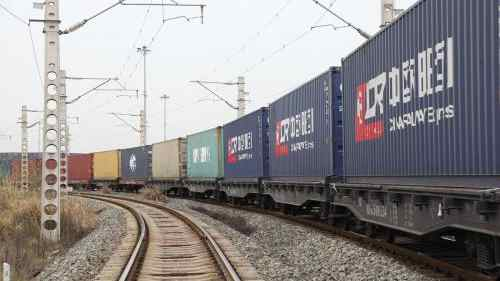 (Photo: CGTN)
It's thought that the term "American Dream" was first coined by the historian James Truslow Adams. In his 1931 book "The Epic of America" he described it as, "that dream of a land in which life should be better and richer and fuller for everyone, with opportunity for each according to ability or achievement."
Yet Donald Trump, in announcing back in 2015 that he was running for U.S. president, declared, "The fact is, the American Dream is dead," although he did go on to promise that, "If I win, I will bring it back bigger and better and stronger than ever before." To this end, he said, he would be a leader that "can bring back our jobs, can bring back our manufacturing."
To some extent, Trump has been true to his word. Under his presidency, manufacturing has been experiencing huge growth and employment has been boosted. Not only that, average incomes have risen. The U.S. created 196,000 new jobs in March, a figure which suggests further healthy economic development ahead. In fact, so low is unemployment now, that businesses are struggling to fill job vacancies.
The problem of the labor shortage is acute when it comes to skilled workers. Few young people see manufacturing as an attractive career and are therefore not opting to receive the high-tech training that the sector increasingly demands. A recent USA Today report claimed that companies are actually stockpiling talent in areas such as IT, social media and engineering. The report quotes Jacob Zabkowicz, global vice president of recruiting firm Korn Ferry, as stating: "Employers are saying, 'There's no immediate opening but we're going to bring you on anyway'."
Some observers see other inherent employment-related problems in the current US economic growth model. Speaking on CBS' 60 Minutes early in April, billionaire entrepreneur and hedge fund manager Ray Dalio talked about the danger of creating wealth, only for it not to be shared out equitably. "It's not redistributing opportunity," he said. "We can call it a wealth gap, you can call it an income gap… It's unfair… it's unproductive."
Dalio's conclusion was that "I think the American Dream is lost. I think… for the most part, we don't even talk about what is the American Dream. And it's very different from when I was growing up."
The comment is especially telling, coming as it does from a man who has personally lived the American Dream, rising from fairly humble beginnings to become the owner of a personal fortune estimated at 18 billion U.S. Dollars.
President Trump's approach to reviving manufacturing is, in the opinion of another expert, creating its own problems. Speaking on CGTN's The Heat, Michael Zakkour, co-author of China's Super Consumers, appeared far more impressed by China's strategy, of using high-tech to upgrade manufacturing.
His opinion echoes that of Apple CEO, Tim Cook. Back in December 2015, in a 60 Minutes interview, Cook's response, when questioned as to why his company's products were made in China, answered simply: "It's skill."
Cook pointed to a malaise affecting American manufacturing. "The U.S., over time, began to stop having as many vocational kind of skills," he said. "I mean, you can take every tool- and die-maker in the United States and probably put them in a room that we're currently sitting in. In China, you would have to have multiple football fields."
China's rapid economic development since the launch of its reform and opening-up four decades ago, has brought unprecedented economic progress. For much of that time, China was the "world's factory". Low-paid workers were churning out the type of low-cost, low-margin goods Zakkour referred to.
However, China has recognized that an output model based on cheap labour is not sustainable. It was only a matter of time before China's factory workers would come to expect a significantly better standard of living as their reward for powering the country's economic boom. By demanding more pay they would, sooner or later, begin to stifle the very advantage that had brought themselves personally, and the country as a whole, prosperity – low-cost manufacturing.
So, the country began shifting low-level manufacturing to other Asian countries, while developing cutting-edge industries. To provide the skilled workforce these new enterprises would require, in early 2009 the government designated vocational education and training as a key component of the education system. In the following years, it has provided considerable investment and policy support for the sector. This February, it published a plan for establishing 50 "high-quality, high-level" vocational schools and 300 training centres to produce a labour force for multiple industries that will gradually be less government-oriented and more market-driven.
Ray Dalio, who is a long-term observer of, and frequent visitor to, China reflects on the effects of the reform and opening up, thus: "If you haven't spent time in China, you need to get any stereotypes you might have out of your mind because it's not how it was. This is not your father's communism. It is 'socialism with Chinese characteristics' that has been significantly and very effectively reformed, which has made it much more vital, creative, and economically free."
This economic freedom, coupled with higher incomes, allows ordinary people to buy products and commodities from abroad that were until recently, out of reach of their pocket. Luxury cars, fine wines and branded clothing are among the imported goods that urban Chinese aspire to own and consume.
A powerful symbol – and practical facilitator – of this rise in the quality of consumption, is the China-Europe Railway Express, or Silk Railroad, which currently connects 59 Chinese cities with 49 cities in 15 European countries. Last year, freight trains made 6,363 trips on this route, carrying Chinese garments, auto parts, chemicals and other goods eastward, in exchange for the European foods and wines, olive oil, electronics and other products coveted by China's now more affluent consumers.
It seems that James Truslow Adams' concept of a Dream – a life that is "better and richer and fuller for everyone" – is being embraced by China.
On April 24, Rediscovering China broadcasts the first episode of a two-part series about the Silk Railroad.
Rediscovering China is a 30-minute feature program offering in-depth reports on the major issues facing China today. It airs on Sunday at 10:30 a.m. BJT (02:30 GMT), with a rebroadcast at 11:30 p.m. (15:30 GMT), as well as on Monday at 8:30 a.m. (00:30 GMT) and Friday at 1:30 p.m. (05:30 GMT).