IKEA loses appeal in Beijing exploding cup case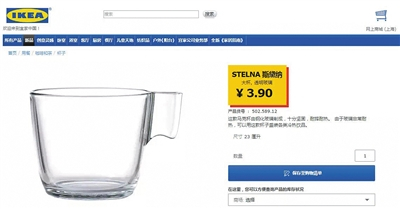 The Stelna cup is sold on IKEA's website for 3.9 yuan. (Photo: CGTN / Screenshot from IKEA's website in China)
Losing its appeal, Swedish furniture giant IKEA will still need to pay 40,000 yuan (6,000 US dollars) to a Chinese customer, after one of the store's cups exploded, causing damage to her face, ruled a Beijing court in October.
The Beijing Intermediate People's Court rejected IKEA's appeal, upholding the original decision to compensate the plaintiff, a woman surnamed Wang, for damages, reported the Beijing Morning Post.
On May 20, 2017, Wang was about to drink hot water from her "Stelna" IKEA cup, when the glass suddenly exploded. Wang said she lost consciousness, lost a front tooth and needed four stitches to repair her lip.
According to Wang, the wound required over 12 visits to the hospital for treatment and replacing her teeth.
IKEA has refused to cover her medical bills.
Wang then took IKEA to court earlier this year, claiming IKEA sold her a "flawed product" and sued the company for one million yuan (around 150,000 US dollars) in compensation.
The court ruled in Wang's favor, ordering IKEA to pay around 40,000 yuan (6,000 US dollars). Both Wang and IKEA appealed the decision.
Wang claimed that the the company did not tell its customers about the potential danger of the product, amounting to consumer fraud. Because of this, she argued the company should pay double the amount ordered by the court.
"If I am woken up in the night by any sound, I cannot go back to sleep anymore," she said, "I still panic whenever I hear any kind of sound, especially a sudden sound."
In response, IKEA doubled down on its product, saying the cup is resistant to heat and can be used for hot or cold drinks.
In October 15, the case was heard by the second intermediate court in Beijing. Both parties requested the court the revoke the judgment and change the sentence.