Furry friends trained to help people in need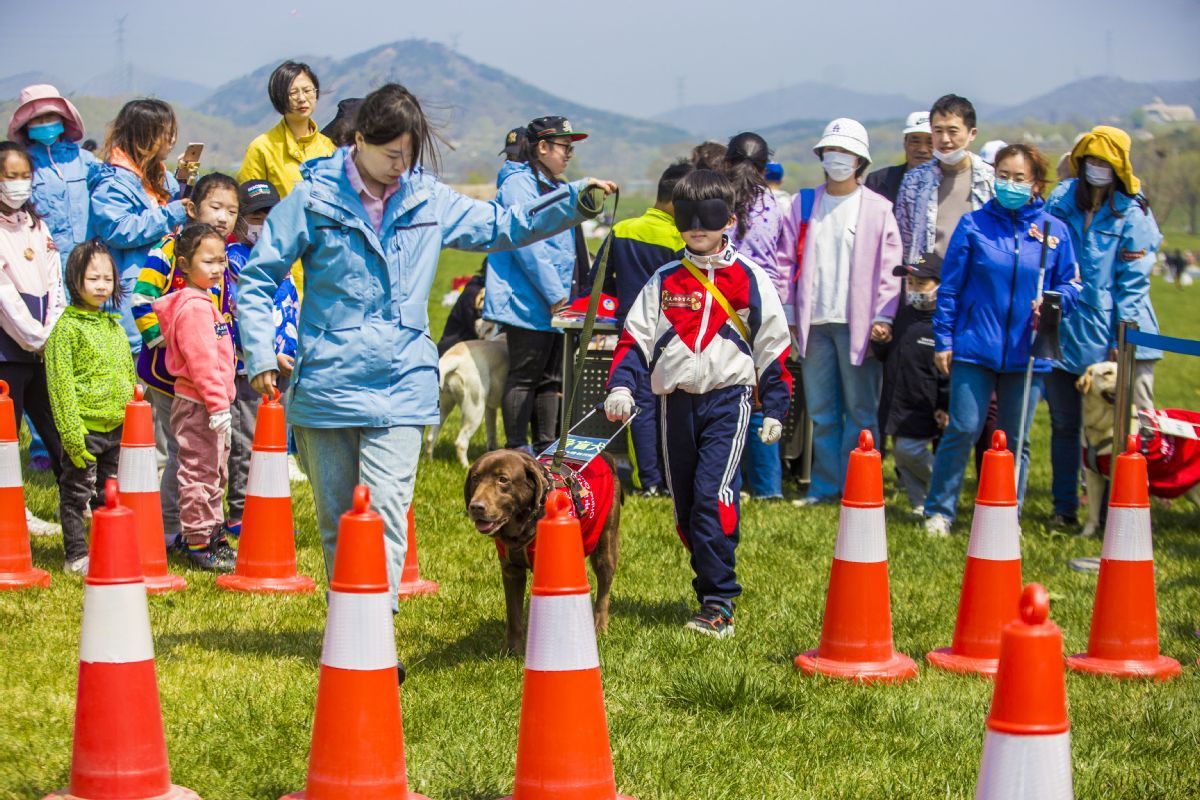 A guide dog training base in Dalian, Liaoning province, has started training dogs to serve the Beijing 2022 Olympic and Paralympic Winter Games.
"We've basically prepared 31 guide dogs for athletes and staff at the Games," said Wang Jingyu, founder of the Dalian branch of the China Guide Dog Training Center and director of the Laboratory Animal Center at Dalian Medical University.
The Dalian base, established in 2006 on the university's campus, is China's first professional guide dog training center.
To mark International Guide Dog Day, which falls on Wednesday, trainers from the base took some guide dogs to a local park on Saturday to promote public awareness of guide dogs, Wang said.
The base has provided more than 240 free guide dogs to visually impaired people around the country since 2006, and the success rate of the trained dogs has increased from 20 percent in the early days of the base to 50 percent, he added.
However, it is still impossible to meet demand, Wang said. Each year, tens of thousands of visually impaired people apply to get a guide dog.
"We're still facing the problems of a shortage of skilled trainers and a lack of money," he said.
Currently, there are more than 80 dogs undergoing training at the base. The cost of training a single guide dog is about 200,000 yuan ($30,800).
The Dalian city government began offering a subsidy of 60,000 yuan for each qualified guide dog in 2010. The university offers free accommodation and covers the base's water and electricity costs. Several companies and some owners of guide dogs also donate money or materials. However, Wang is sometimes forced to pay out of his own pocket.
Recently, some voices on the internet have questioned the cost and necessity of training guide dogs. An electronic tactile stick is more suitable for the blind, according to a post on Zhihu, China's largest Q&A platform. But that's misinformed, according to Li Qingzhong, chairman of the China Association of the Blind.
"The emotional companionship of a guide dog cannot be replaced," Li said, arguing that it's the right of a visually disabled person to travel with a guide dog. In addition, the State supports the development of guide dogs, Li said.
According to Li, there are several small training bases for guide dogs in Henan, Guangdong and Yunnan provinces.
"China's guide dog industry is still in its infancy. There is no unified national standard. The bases are working according to their own standards," he said.
The association will establish an evaluation and certification system for guide dog training to promote the implementation of the national standard on guide dogs, which was approved in 2018. He also appealed for more companies and institutions to raise more funds for the development of the guide dog cause.
"Guide dogs can help the blind better integrate into society," he said.
Guide dog owner Zhang Ran, 32, a doctor of massage therapy at a public hospital in Beijing, said, "The dog really helps a lot."
On weekdays, Zhang's guide dog accompanies her on the commute between her home and office, which includes a walk to the bus station, riding the bus and a walk to the hospital.
"Usually, we take one of several regular routes. The dog can remember the routes after walking them once or twice," Zhang said.
The guide dog can also help her dodge obstacles on the road such as puddles and potholes, as well as assisting in crossing the street at pedestrian crossings and going up or down stairs.
"More important, I don't feel lonely," Zhang said about Shaguo, a golden retriever. "Shaguo is a good girl. When she works, she never barks nor annoys other people, even on the bus or subway."
Back in 2008, Ping Yali, a torchbearer for the 2008 Beijing Paralympic Games, was helped by her guide dog Lucky, which was trained at the Dalian base, during the opening ceremony of the event.
Zhang and Yang Kang, 36, whom she later married, were members of a Chinese orchestra that performed at the ceremony. Both of them dreamed of having their own guide dogs.
Their dreams came true in 2017.
After going through adaptive training with Shaguo for more than a month at the Dalian base, Zhang took the dog home. Later, Yang took a white Labrador called Dick to his home.
The couple started to communicate after they both got their dogs from the Dalian base, and two years later they were married there.
For them, the dogs are not tools but members of the family, said Wang Lin, 34, head of the training department at the base. She has been working there for more than 11 years and has trained and delivered 32 guide dogs and conducted adaptive training for 50 owners, including Zhang.
"The couple take their dogs on vacation to grasslands, the seaside and amusement parks. I feel happy for them when I see their videos on WeChat and Douyin," Wang said.