Nation's museums make progress despite impact of virus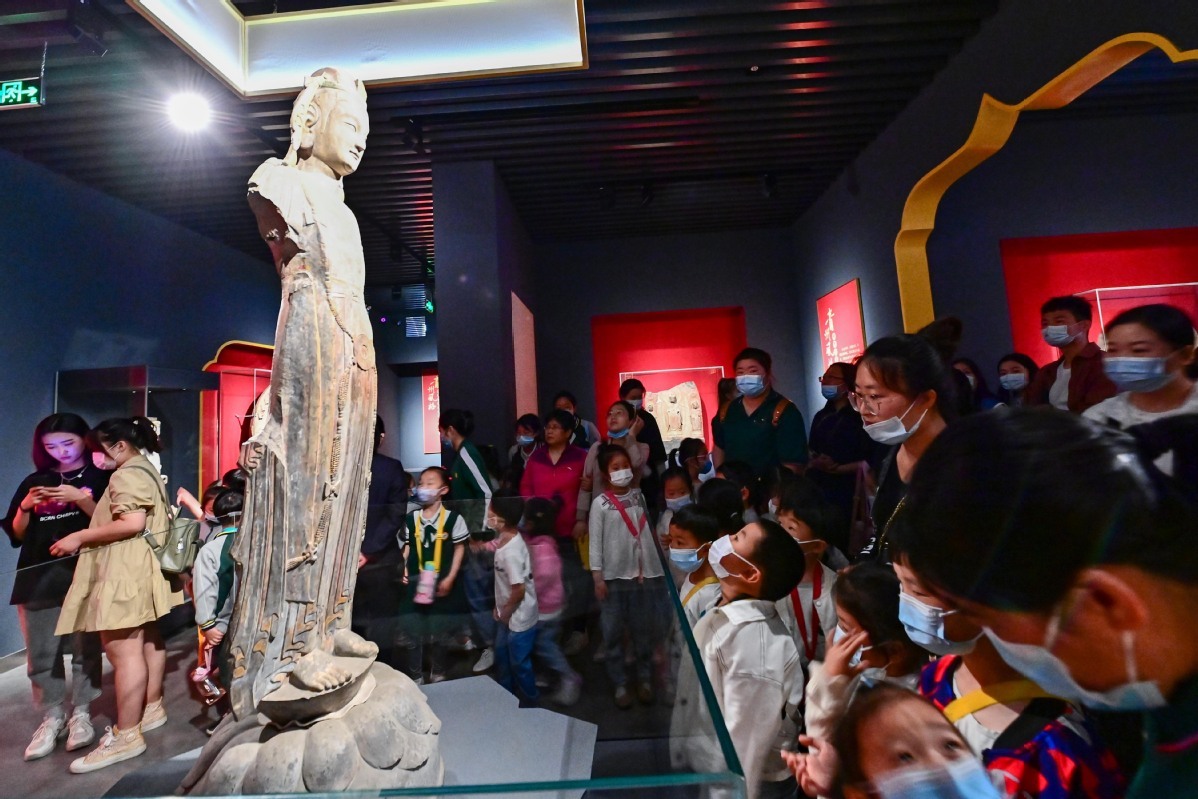 Despite the impact of COVID-19 last year, Chinese museums still managed to make progress, seeing increases in the number of museums, artifacts and exhibitions.
By the end of last year, 5,788 museums had been registered on the Chinese mainland, which is 253 more than in 2019, according to Li Qun, director of the National Cultural Heritage Administration, who gave the keynote speech at the Capital Museum in Beijing on Tuesday to mark International Museum Day.
In 2020, the museums housed a total of 58.1 million artifacts, up 37.6 percent year-on-year.
"A system of museums with abundant varieties has been basically established in China," Li said. "Continuous efforts will be made to further improve the quality of these venues and fully display their function of collecting artifacts, studies and education to meet people's need for a good life."
Last year, 540 million visits were made to Chinese museums, compared with 1.2 billion visits in 2019. The huge drop was due to epidemic control measures that limited visitor numbers nationwide.
Nonetheless, nearly 29,600 museum exhibitions were organized last year, around 1,000 more than in 2019.
International Museum Day was launched in 1977 by the International Council of Museums. Since 2009, China has chosen a host venue each year as the center of numerous nationwide activities celebrating the day. This year, the Capital Museum was the main venue.
Symposiums on sustainable development, the nurturing of young talent in the museum industry and adoption of new technology were also held at Capital Museum on Monday and Tuesday.
"The Future of Museums: Recover and Reimagine" was the theme for this year's global celebration.
A recent report by the United Nations Educational, Scientific and Cultural Organization said that museums across the world were closed for about 150 days on average in 2020 due to the pandemic. In China, however, the number was less than 30 days, due to the nation's rapid and effective efforts to contain the virus.
Alberto Garlandini, president of the International Council of Museums, said in a video clip shown during the ceremony at the Capital Museum that the ICOM "sends a powerful message: Museums are bridges between peoples and cultures. Our sector is going through the most serious crisis in modern times with the severe economic, social and psychological repercussions (of the pandemic).
"We need to persevere with a spirit of innovation … and keep implementing digitization with creation of new kinds of forms of cultural experiences and dissemination," Garlandini added. "Now is the time to take new duties and the time for unity and cooperation."
In January, ICOM's International Museum Research and Exchange Centre was established in Shanghai to function as a think tank to cultivate expertise in museum management. Earlier this month, China signed joint statements with Pakistan and Afghanistan as part of the Asian Initiative for Cultural Heritage Conservation, in which cooperation on museum management and protection of collections play key roles.
In addition, to mark International Museum Day, the 19th triennial conservation conference of ICOM was inaugurated in Beijing on Monday, with more than 1,000 conservation experts, conservators and scholars from over 60 countries participating online.
The five-day conference is scheduled to discuss the concept and theory of museum collections conservation, the development and selection of conservation materials, as well as the application of conservation techniques, equipment, tools and technologies.
The conference, initially planned for September last year, had been postponed due to COVID-19.
Participants in the conference are experts from institutions worldwide, including the Palace Museum in Beijing, the Getty Conservation Institute, New York City's Metropolitan Museum of Art, Harvard Art Museums and The National Gallery in London.
The conference program includes 21 specialized working group sessions, showcasing the latest achievements since the 2017 conference in various specialized fields of collections conservation.
Museums are "key witnesses of human civilization, and they deserve to be platforms to promote mutual learning and contribute to the establishment of a shared future for mankind", said Guan Qiang, deputy director of the National Cultural Heritage Administration.
In addition, on the occasion of the conference and celebration of International Museum Day, the exhibition Pursuing Eternity: Conservation of Museum Collections in China opened at the Capital Museum on Tuesday.
The exhibition gathers more than 50 cultural relics, including Terracotta Warriors, bronzeware and silk articles, from 23 Chinese cultural institutions and museums to offer the public an in-depth introduction to conservation techniques.