Guizhou offers free training for tea farmers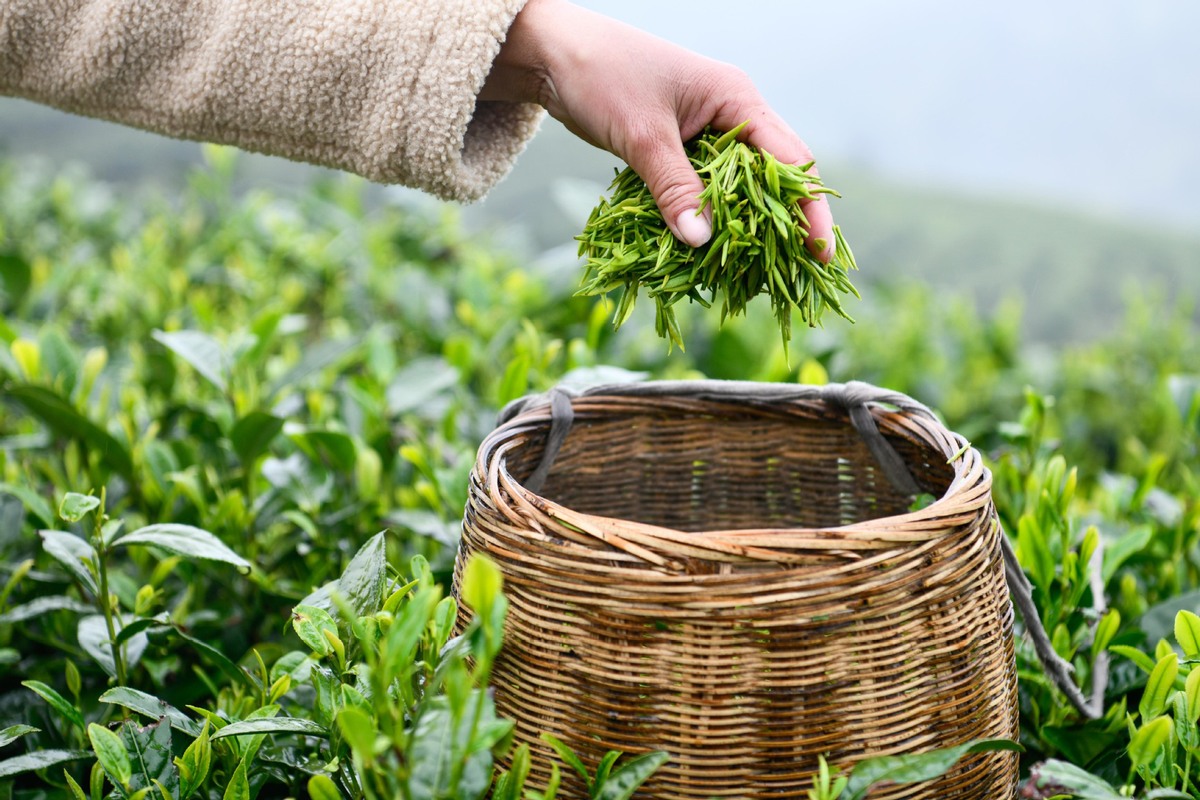 Guizhou province launched a free training session for tea farmers in Yanhe county before the spring picking season earlier last month to promote disease prevention techniques and help boost the local industry.
Tea experts and professors from Guizhou University held seminars to demonstrate the growth and disease prevention of tea trees, as well as tea farm management. Thirty-nine trainees, including tea farmers and personnel from tea enterprises, practiced on a tea farm in the county.
Huang Yaqin, an agronomist with the local agriculture bureau, said unlike previous indoor lectures delivered mainly by teachers, this training session moved the class onto the farmland. "With the teachers' guidance, trainees operated by themselves and obtained impressive learning results," she said.
Jin Linhong, a tea expert in the province and a professor at Guizhou University, said most farmers in the county had misunderstandings about growing tea.
"They managed a tea farm and controlled pests using their experience planting other crops, resulting in the misuse of pesticides and posing risks in the tea business," Jin said.
Jin and her team decided to organize a farmland school, with four training sessions, and teach local talent systematically to improve their problem-solving ability instead of helping them with single issues.
Guizhou is the first province in the country to comprehensively prohibit herbicides in tea, and it has forbidden the use of more than 128 pesticides, twice the number the nation requires, which ensures that the tea is clean and of good quality.
The training aims to explain why the tea industry should implement a high standard to achieve a sustainable goal, Jin said.
"Tea leaves and trees are not only what we focus on, but also the ecology of a tea farm including grass, flowers, soil, climate, pests and microorganisms," he said, adding that tea farm owners can make their own management plans after practicing on the farmland.
The field school is trainee-oriented, and the teachers mainly guided farmers and businessmen to conduct surveys, discuss problems and summarize methods.
"The agricultural talent nurtured from the farmland school will be the leading group of tea farm management. They will play an important role in developing the local tea industry, ensuring safety and quality, and creating tea brands," Jin said.
Jin and other experts replied to questions and gave suggestions on tea farm management through a WeChat group. A tea farmer sent a photo of a tree suffering from disease and asked for help in the group chat last month.
"After discussions with some experts, we believe wood rot is occurring in that tree," Jin said in the group chat.
"Proper soil condition is more important than good fertilizer, but we need time and patience to cultivate and protect proper soil," Jin suggested in the group chat the other day.
Tea farm operator Li Hongtao took part in the three-day training session and said he improved his ability to take care of a tea farm.
Li said they gained useful knowledge and experience during the practice on farmland. "Some previous lectures, which cost us a lot of time and money, were actually monotonous and had little effect."
Li started a tea business in 2012 and now has a 53-hectare base, making a profit of 1.6 million yuan ($251,000) last year.
"Many tea farm owners like me run a large base but lack standardized management, so we actively participate in the training session in search of experience," he said.
So far, three farmland school projects have been launched in three counties. Each school will include 12 classes and finish all curricula in four sessions. Jin said they plan to open more than 10 schools this year.