South-South forum attendees praise Hangzhou's development
ezhejiang.gov.cn
1576117192000
Senior officials and academics from more than 70 developing countries and the United Nations took a tour of Hangzhou, capital of Zhejiang province, from Dec 8 to 9, before attending the two-day South-South Human Rights Forum, which began Tuesday on Dec 10 in Beijing.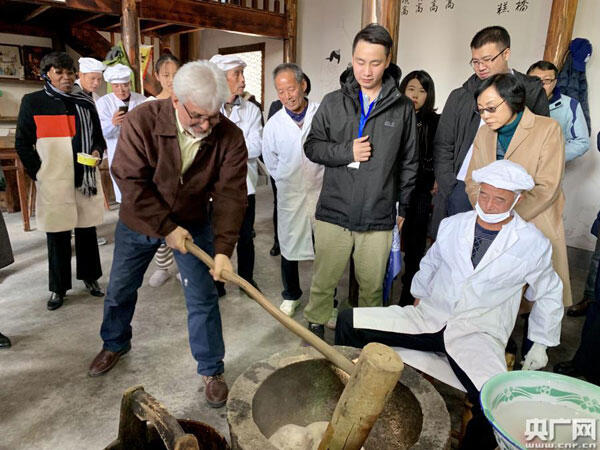 A foreign guest tries making niangao, a glutinous rice cake, in Waitongwu village, Hangzhou, Zhejiang province on Dec 8. (Photo: cnr.cn)
They visited both urban and rural areas of the city and were impressed by the distinctive local culture and burgeoning digital industries.
"Here, people are put first. Villagers are nice to each other, which is the most important aspect of humanity, I think," said Madagascar's senate vice-president Kolo Christopher Laurent Roger while visiting the Waitongwu village.
Roger said he had been to Hangzhou in 2014, but this is the first time he has gotten an up-close look at how local residents live.
Cesar Rodrigo Landa Arroyo, former president of the Constitutional Court of Peru, commended Hangzhou's great achievements in digital economy while visiting Alibaba's trade, cloud computing and smart logistics platforms.
Arroyo said that Alibaba's business philosophy is a good example for other companies to emulate and can be applied in many areas.
The "At Most One Visit" administrative reform strategy also impressed the delegation, including officials from the Gabonese Ministry of Justice and the Ministry of Foreign Affairs and International Cooperation of South Sudan.
The South-South Human Rights Forum, hosted by the State Council Information Office and the Ministry of Foreign Affairs, focuses on the development of cultural diversity and human rights around the world.