First 10,000-ton-level casting 3D printing smart factory goes into operation in Yinchuan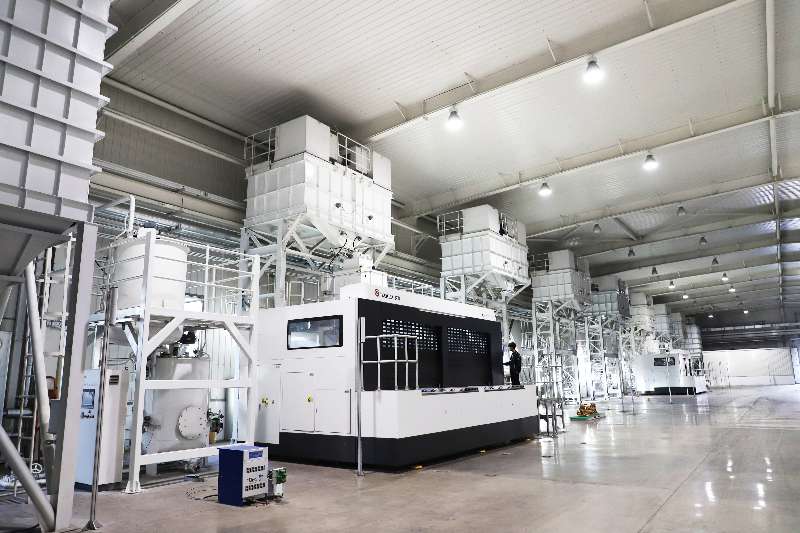 Workshop of the world's first 10,000-ton-level casting 3D printing smart factory. (Photo: Chinadaily)
With an annual output of 20,000 tons of sand molds or 10,000 tons of castings, the world's first 10,000-ton-level casting 3D printing smart factory went into operation in Yinchuan, Northwest China's Ningxia Hui autonomous region.
"It is the first launch of 3D printing casting industrial application," said Liu Yi, deputy general manager of the Kocel State Intelligent Casting Industry Innovation Center.
Invested and constructed by Kocel Group Limited, the factory is equipped with 12 sets of self-developed 3D printing devices, as well as mobile robots, truss robots, microwave drying equipment, and stereo warehouses.
The entire workshop requires only seven people per shift, all working in air-conditioned environment. There is no crane, no heavy physical labor, and zero emissions. But the production efficiency is more than five times that of traditional casting of the same scale.
Kocel Group Limited started casting 3D printing industrialization research in 2012.
According to Liu, the company has produced a total of five categories, hundreds of kinds, more than 6,000 tons of 3D printing castings.
For instance, the production of engine cylinder head castings previously used metal molds to make nearly 20 parts (sand molds), and needed high-skilled precision assembly. A senior technician must be trained for six months to do the work.
However, with the new technology of 3D printing, it can be completely printed in one session, and the error has fallen from 1 mm to 0.3 mm. Production efficiency can be raised by about three to five times and yield can be increased by 20 to 30 percent, said Liu.