Early screening for rare diseases urged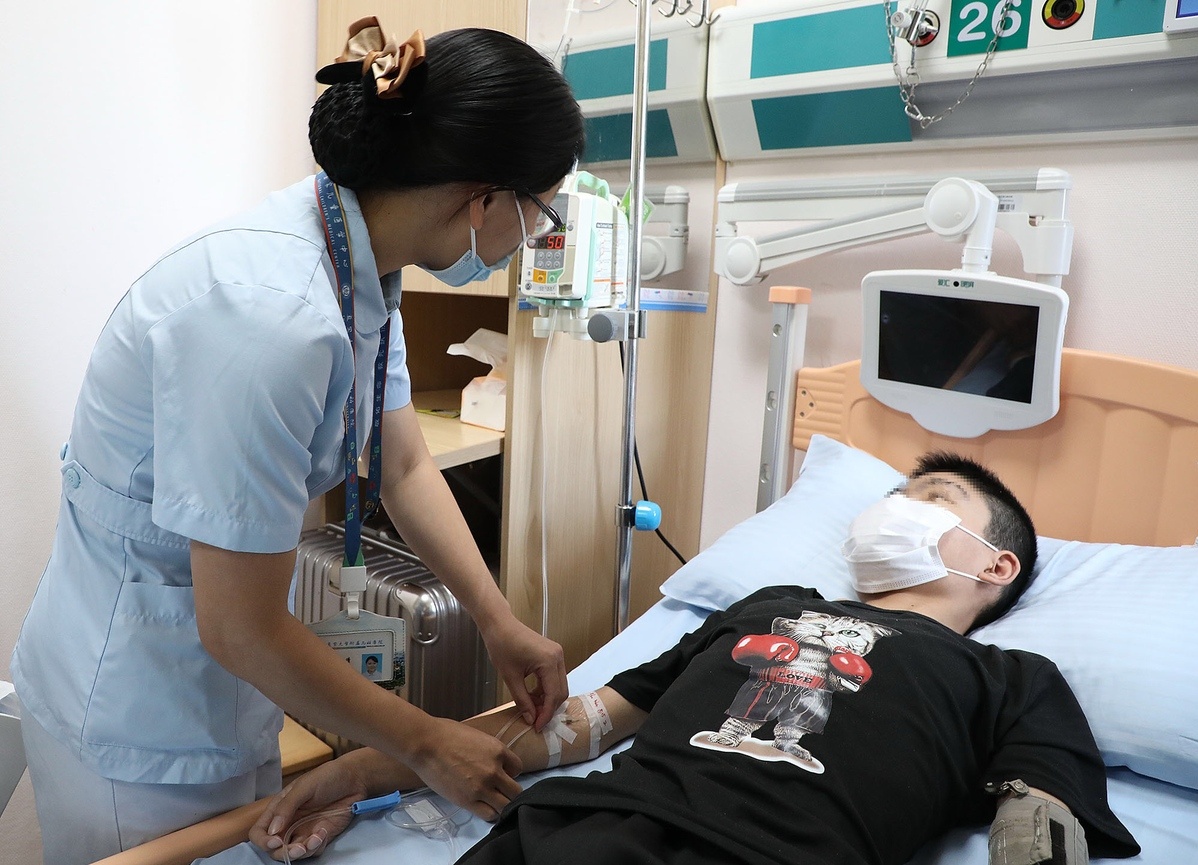 A teenage boy from Jiangsu province was injected with a drug to treat Fabry at the Children's Hospital of Fudan University in Shanghai. [Photo provided to chinadaily.com.cn]
Multidisciplinary team in Shanghai has established system for prompt diagnosis
Scientific systems and procedures should be established to enable early screening and diagnosis of people with rare diseases who might otherwise wait a decade for a definite diagnosis, experts said.
They made the suggestion after the country's first pediatric multidisciplinary team for screening children at high risk of Fabry disease, a rare, lethal malady caused by a deficiency in levels of a particular enzyme, was launched at the Children's Hospital of Fudan University in Shanghai in April.
It has screened 20 suspected cases, with one newborn diagnosed with the disease and three other children who were found to have problematic enzyme levels waiting for gene test results, doctors from the hospital said on Thursday.
Using a team of specialists from different medical departments to screen and treat patients should be extended to other rare diseases, experts said.
"Such a team of doctors from different disease areas would be significant in the diagnosis of Fabry and other rare diseases caused by the deficiency of an enzyme, such as Pompe disease and Gaucher disease," said Xu Hong, a member of the expert cooperation group on Fabry disease in China.
"It's because the disease affects multiple body systems and organs and is lacking in the specificity of early symptoms. Many patients seek medical advice at diverse departments but doctors are unable to determine the problem."
Early symptoms of Fabry include limb pain, rashes, inability to sweat, and kidney malfunction.
Doctors said many patients need to spend 15 to 20 years before obtaining a definite diagnosis. Only 366 Fabry patients have been officially diagnosed in China, but the patient population is estimated at nearly 18,900, according to a report released by the Chinese Organization for Rare Disorders and health information consultancy IQVIA in May.
At the Shanghai hospital, doctors from more than 10 fields, including nephrology, neurology, neonatology, ophthalmology, psychology and molecular diagnosis, were involved in the team, and a standard disease assessment procedure spanning the departments and a comprehensive management strategy for child cases were formulated.
Shen Qian, director of the hospital's department of nephrology and rheumatology, where Fabry cases are finally sent for treatment, said all the doctors at the hospital's more than 10 departments now pay attention to suspected cases of Fabry if children show symptoms of the disease. Department heads will determine whether they need to report the case to the multidisciplinary team for screening.
Xu, who is also Party chief of the Children's Hospital of Fudan University, said it planned to popularize the model for screening and diagnosing minor Fabry cases to other hospitals in the country. An online meeting was held by the hospital for nearly 1,000 doctors at more than 70 medical institutions in 28 provincial-level regions on Wednesday to popularize the systems and procedures. Such meetings will now be held once a month.
Early diagnosis is especially meaningful to patients with rare diseases for which effective therapy is available, said Lyu Jun, a member of a team of public policy experts that has provided suggestions on the Healthy China 2020 Initiative and a professor from Fudan University's School of Public Health.
"We also look forward to the government partially reimbursing these patients' medical bills, which is not something an average family can ever afford," she said.
On Thursday, a teenage boy from Jiangsu province was the first child patient in Shanghai to be injected with an effective drug to treat Fabry, which has been available since June.
A year's worth of injections, which need to be taken once every two weeks, would cost his family some 1 million yuan ($144,000).The hospital's charity fund will pay for his first few injections.
Health authorities estimate China has about 25 million patients with rare diseases, and about 30 percent do not live beyond the age of 5. Treatment is available for only 6 percent of rare diseases.