Xi Jinping calls for efforts to expand BRICS Plus cooperation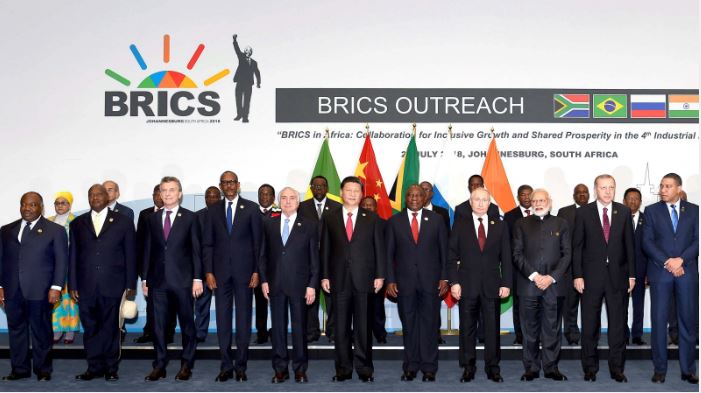 (Photo: CGTN)

"We should expand the BRICS Plus, jointly strengthen mutually beneficial partnerships and create a platform to deepen South-South cooperation," Chinese President Xi Jinping said.
Xi made the remarks at the BRICS-plus outreach meeting being held in Johannesburg, South Africa on Friday.
During the meeting, Xi urged the BRICS Plus countries to seize opportunities and make full use of complementary advantages to achieve the goal of innovation and inclusive development, based on the BRICS Partnership on New Industrial Revolution (PartNIR).
Xi also encouraged the BRICS Plus countries to safeguard multilateralism, promote an open world economy, advance global economic governance reform, and increase the representation and voice of emerging markets and developing countries.
Xi attached great importance to the implementation of the 2030 Agenda for Sustainable Development and called to build a new type of international relations.
The comprehensive strategic partnership of cooperation between China and Africa has developed rapidly, forming a comprehensive, multi-tiered and wide-ranging pattern of cooperation that benefits hundreds of millions of people, Xi said.
No matter how the international circumstances change in the future, "China will continue to support Africa's development and revitalization, adhering to the concept of true amity, good faith and a correct concept of justice and interests," Xi insisted.
China's status as the world's largest developing country has not changed, Xi said. "No matter how China develops in the future, it will always belong to developing countries and will firmly support the development of developing countries."
Xi also vowed to take BRICS Plus as a cooperation platform, and work together to make greater progress with emerging markets and developing countries.
BRICS heads of state and government and guest leaders invited to special retreat sessions posed on Friday for a photo shoot ahead of their talks.
The BRICS group, which comprises Brazil, Russia, India, China and South Africa, is concluding its 10th annual summit in Johannesburg, South Africa on Friday.
Leaders of countries including Rwanda, Uganda, Togo, Zambia, Namibia, Senegal, Gabon, Ethiopia and Angola as well as the chair of the African Union Commission were invited to attend the BRICS-Africa Outreach Dialogue.
The sub-theme for that outreach is Working Towards the Realization of the African Aspirations.
In the BRICS-plus outreach, the invited countries include Jamaica, Argentina, Turkey, Indonesia and Egypt.
The theme of the meeting is "BRICS Plus: Securing Sustainable and Inclusive Growth for the Prosperity of the Global South."