51 Chinese cities host record 'Adoption Day' for rescued stray animals
BEIJING, April 15 (Xinhua) -- A total of 51 Chinese cities with a combined population of over 400 million held a pet adoption event over the weekend, to raise awareness on animal welfare.
From the northeastern Harbin to Kunming in the southwest, from Urumqi in the northwestern Xinjiang to the southernmost island of Hainan, 51 cities across the Chinese map held the 5th China Simultaneous Adoption Day.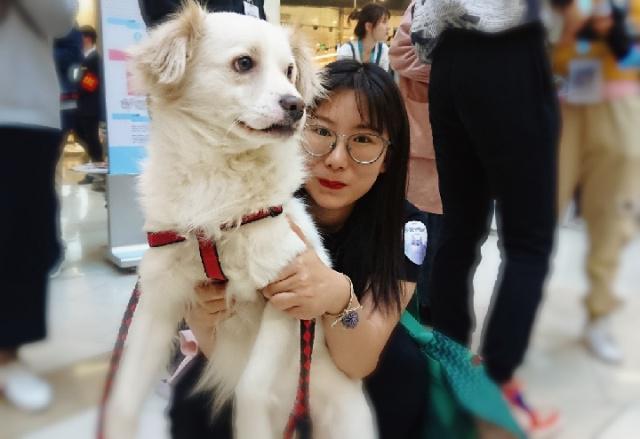 A woman at the event with her dog. (Photo: Xinhua)
In Beijing, over 30 healthy and friendly cats and dogs were present at the venue to interact with people interested in adoption.
Popular actors and artists endorsed the rescues at the event as it was live streamed on social media, attracting millions of viewers nationwide.
"It is the fifth year that we have been celebrating the China Simultaneous Adoption Day," Yang Yang, co-founder and coordinator of the charity told Xinhua.
"The first edition was held in 2015 among 18 major cities, and the number of participating cities kept growing from 27 to 51. It keeps evolving and attracting more people to join in," she said.
Given the magnitude of China's territory and demographic density, some believe it is unprecedented on a global scale. "We have applied for the Guinness record of the World's Biggest Stray Animal Adoption Day," confirmed Yang.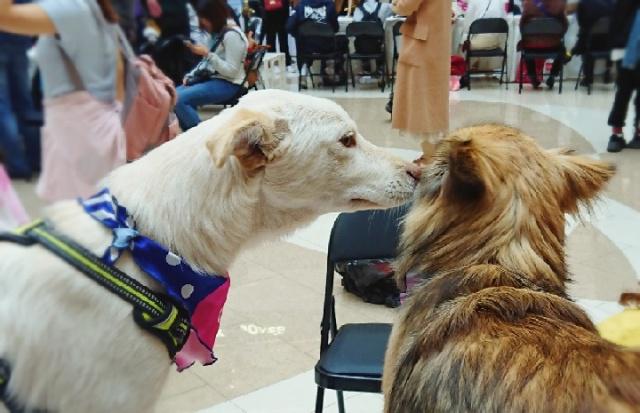 Pets at the event. (Photo: Xinhua)
"Perhaps because I am an actor, I was lucky that what I said could be heard by many people. Many animal welfare groups and individuals around me -- including myself -- who have been rescuing or sponsoring the cause hope we could speak out more for the stray animals," said Sun Li, also an animal welfare activist saving lives from abandonment and abuse.
Successful experience worldwide has proven that the promotion of adopting strays instead of buying pets could effectively reduce the number of stray animals, according to Dr. Sun Quanhui, a science officer with the World Animal Protection (WAP), a United Nations general consultative organization.
Pet adoption that goes hand in hand with public education on animal welfare could also improve the sense of responsibility of the society and in particular the pet owners, he pointed out.
In recent years, adopting rescued strays has become more and more accepted in China, amid the development of animal welfare charities and stray animal adoption activities, he said.
"To treat animals with kindness is not only a duty of mankind but also an important symbol of a civilized society," stressed the scholar.
To date, a collaborative program to train Chinese veterinarians has been promoting companion-animal welfare in the country for ten years since it was first launched by ACTAsia, a UK-based non-profit organization, and Australia-based Vets for Compassion.
Through programs that foster compassion among children and animal welfare and vet ethics among veterinarians, Pei Su, founder of ACTAsia told Xinhua that Chinese society has been advancing in the field of animal welfare.
Professor Qiu Renzong with the Chinese Academy of Social Sciences' Institute of Philosophy, considered a founding figure of medical ethics in modern China, told Xinhua that "animal welfare should be respected and treated the same way we treat people."
"I am surprised to see such events in Beijing," said Mariana, an animal activist from Ukraine.
"I have signed up for volunteering at a no-kill shelter, and I would love to become a regular member with the charity alongside local activists," she said.