China calls for mechanism to curb runaway housing prices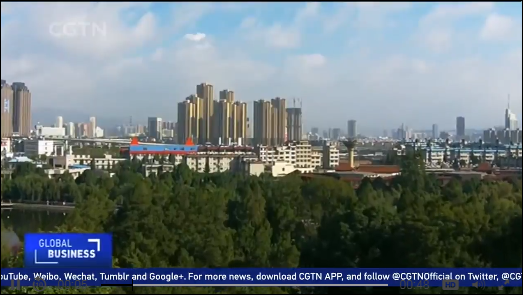 (Photo: Screenshot CGTN)
China's top leaders are calling for tighter curbs on home prices and accelerating the establishment of a long-term property market mechanism.
That came after housing prices in the third- and fourth-tier cities started to go up, according to data from the National Bureau of Statistics (NBS). Yin Zhongli, Director of Property Market Research of Financial Institute at the Chinese Academy of Social Sciences, said that the new guideline is a pre-emptive move to step up regulations on the property market.
"The decision is to prevent capital – freed up by central government's de-leveraging efforts, from going back to real estate market to pushing up home prices," Yin explained.
Jiang Zheng, Associate Professor of Economics from Central University of Finance and Economics, said it's quite understandable that the government published such a statement.
"From my point of view, it's not surprising at all. There are two reasons. First, in the first quarter or the first half of this year, in the third -or fourth-tier cities, we know the housing price has increased very fast. Even in the first- or second-tier cities, we see the housing price starting to pick up," he said, adding that easing control of housing prices is very harmful to the economy in three ways.
"First, it will hurt the household consumption. Second, it will also cost resource misallocation. We know that if the real estate market can bring more profits, then more resources, such as capital, will be reallocated to this kind of sector. Finally, it also brings more risks to the financial institutions – we know that the financial sector has provided a huge amount of credit to the real estate sector," Jiang said.
The central government has announced its focus on stabilizing the economy, and people would expect that more easing policies will be implemented, according to Jiang. He said what the government does is to stand firmly in curbing housing prices and kill those expectations at once.
Meanwhile, the NBS also says China's overall property market maintained steady growth in the first half of this year, indicating consumers could invest more in other areas.
"Bringing down home prices to a reasonable level means more disposal income for consumers. So consumption would go up. It will also help boost China's exports and investment level," said Liu Weimin, Researcher at Development Research Center of the State Council.
Jiang said the central government's actions are intended to direct the fight against speculating demand in the housing market, with the coordination of the local government. But he said there are some tricky ways to avoid the measures.
"We know that there are some kinds of restrictions in buying a house, but there are [also] some loopholes. For example, you can set up a company to buy houses. Also, you can buy a new house by faking a divorce," Jiang explained. The expert said Shenzhen's fresh property curbs will spread to the whole country to plug the loopholes.
Analysts also say the new property mechanism will be market-oriented and will stick to a system that encourages both home purchases and rentals.