Plastic waste on rise amid virus onslaught
chinadaily.com.cn
1587443150000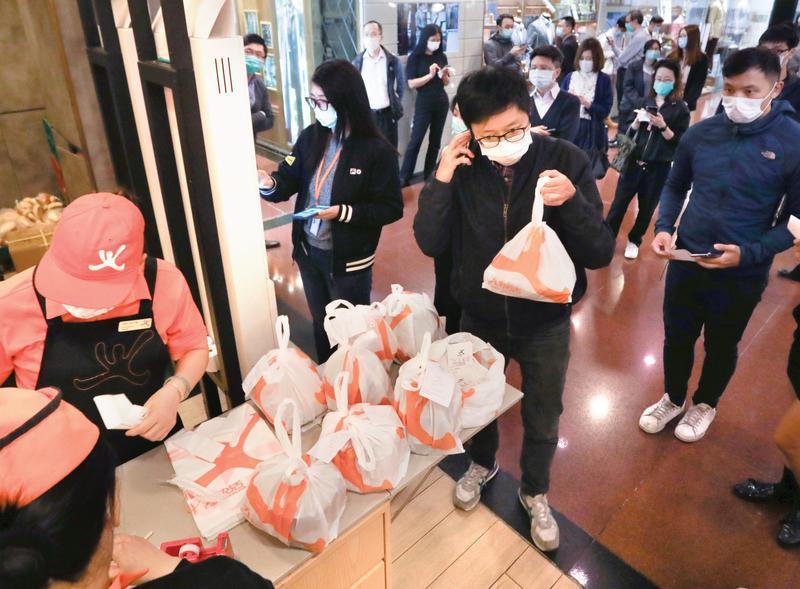 Residents stand in line for takeout meals at a busy restaurant in Admiralty. As is the case at most eateries, the meals are served in disposable containers wrapped up in plastic bags that will undoubtedly place an additional burden on the environment. (Photo: China Daily)
As the world stares down the barrel of the worst economic slump since the Great Depression, some are doing business like never before.
Wang Lingzhi surveyed the pile of plastic cutlery, wooden chopsticks, two-layer boxes, disposable drinking cups, double-walled soup containers, sauce cups, straws, as well as big plastic bags, all of which consumed a significant portion of his 25-square-meter apartment.
He has been living on food delivery services since he went into a two-week quarantine, doing his legal obligation to help combat the spread of COVID-19 in Hong Kong.
The 24-year-old arrived from Shenzhen in March. Wang ordered takeaways via mobile apps at least twice a day during the quarantine. It's not gourmet. It's probably not even healthy but it's fast, tastes pretty good and beats instant noodles three times a day.
Wang was in awe that home delivery apps like these were available this far from metropolises across the border. He is supporting an industry witnessing a jump in sales, conservatively speaking, since the coronavirus gained a foothold in the city.
The estimated weekly total of takeaway orders shot up by 74 percent in Hong Kong, an online survey of dining habits released on April 9 found.
The government told the city's dwellers: Don't eat out — you may catch the virus. Takeouts became just the thing.
Hong Kong people have used 2.2 times more throwaway plastics related to takeout packages since the outbreak, compared with the same time period last year, according to local
So there's all this junk in Wang's apartment — like disposable, plastic utensils that the authorities have been trying to convince eateries to stop putting them into delivery packs.
The NGO said a family of four can get up to 26 disposable plastic items with one takeaway order. Looking at the broader picture, that means 100 million pieces of disposable cutlery and plastic bags are going into the city's overused, abused landfills every week.
More than half of the 2,000 respondents said they had recently increased their takeaway orders, the NGO found. More than 40 percent said they had ordered food via delivery services, while a report before the pandemic revealed only 10 percent of the city's population were doing that.
Wang went back working as a research assistant at the University of Hong Kong after 14 days of isolation. He has been reluctant to sit in any eatery, though.
"I turned to pick up my takeaway meals at restaurants, so did my colleagues. Eateries are still relatively crowded, and now they're probably the only public places where you can take the mask off and talk to people," said Wang.
Restaurants are required to keep a distance between tables at least 1.5 meters apart, and to keep the occupancy rate below half of the licensed capacity. Dining in a restaurant can thus mean sharing a table with as many as three strangers. There's another ban on more than four people getting together.
Eateries are struggling to stay afloat by offering noticeable discounts on takeouts. Diners at the lower end of the spectrum also need the business. Both are fueling the spike in plastic cutlery going into the garbage dumps.
"The other reason for me to choose takeaway food was simple: It's cheaper, although some of the restaurants charge one or two dollars for packaging," said Wang.
Another contributor is the food delivery companies scrambling to keep up with new business. Deliveroo, Foodpanda and UberEats are giving out coupons — sometimes even waving delivery charges — to grab a bigger share of this booming market.
Brian Lo Ka-chung, general manager of Deliveroo in Hong Kong, said the company's sales and orders doubled in the first quarter than the last three months in 2019 due to the outbreak. Some 1,500 restaurants, facing extinction due to shrinking business, joined the platform since January. This means 6,500 restaurants, or 40 percent of the city's total eateries, have signed on to Deliveroo.
The company has allowed customers an opt-in choice on plastic cutlery since two years ago. Lo said requests for disposable utensils had decreased 20 percent, and that 70 percent of its registered restaurants won't add it to an order, unless customers ask for it.
Shawn, who works for a fast food chain with more than 50 stores in Hong Kong, told China Daily their plastic cutlery is automatic and free of charge, while diners rarely refuse it. Takeaway orders now make up for 90 percent of his company's business, said the worker, who preferred not to give his full name.
Local environmentalists are worrying ordering takeouts could become a habit among Hong Kong people after the plague fades away.
"I hope residents will switch back to environment-friendly practices. The government should deploy more resources toward education and publicity to affect behavioral changes," said Jeffrey Hung Oi-shing, a senior project manager of Friends of the Earth HK, another local NGO.
Hung suggested residents bring their own utensils when they collect their takeouts. Restaurants, for their part, should try to use reusable lunchboxes and ask before handing out disposable utensils, he added, echoing others calling for rebates to customers who use their own containers.
"From an epidemiological perspective, delivery workers meet lots of people who may be infected. Customers should know ordering takeouts doesn't necessarily eliminate risk," said Hung.
The COVID-19 outbreak may be an opportunity for the public to address the plastic waste issue seriously. Wang, having cleared all of the food packages in his room, has prepared his own lunch box for the next food order, following his colleagues.