'Never-seen-before equipment' from PLA to appear at Airshow China 2022: senior colonel
Global Times
1664280637000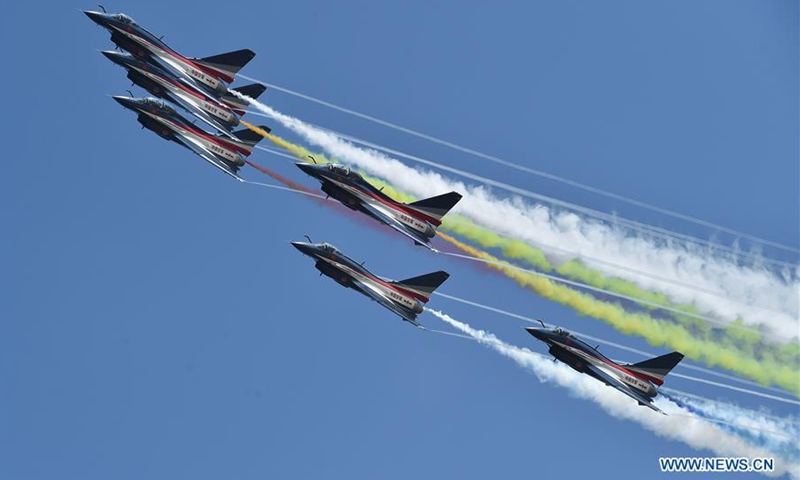 The 14th China International Aviation and Aerospace Exhibition, or Airshow China 2022, will kick off on November 8 in Zhuhai, South China's Guangdong Province, with various active service aircraft of the People's Liberation Army (PLA) Air Force, represented by the 20 series, making their debuts at the show.
This year's show has registered a better-than-expected number of exhibitors - more than 740 companies from 43 countries and regions - with state-of-the-art exhibits that cover land, sea, air, aerospace, electronics and cyber applications, according to information released at a press conference on Tuesday.
An estimated 100 airplane types will be on display at the airshow, and countries including the US, France, Germany, Italy and Saudi Arabia will participate in the event. Boeing, Airbus and GE will be in attendance, Huang Zhihao, the mayor of Zhuhai, confirmed at the press conference.
The show will stage more aerobatic flying displays and ground static displays, as well as high-profile conferences and seminars, in addition to more customer-tailored on-site services, according to the press conference.
The PLA Air Force has expanded its static display space by more than 10 percent. There will also be PLA Air Force active service aircraft, represented by the 20 series, and helicopters in active service with the PLA Army will appear.
When asked whether any new member of the 20 series would make debut at this year's show, Senior Colonel Shen Jinke, a spokesperson for the PLA Air Force, said at the press conference on Tuesday that, this year, the PLA Air Force would display its new achievements, including the capacity in long-range strategic delivery, air strikes and unmanned combat.
"The audience this year will see flying displays and equipment they have never seen before," Shen said.
More and more J-20 fighter jets have been deployed by the PLA and they have extended their reach. During drills in the Taiwan Straits, the J-20, J-16, H-6K and YU-20 aircraft displayed have enhanced their capacity to safeguard the country's sovereignty and territorial integrity, Shen noted.
Global Times