Choices diversified on overseas study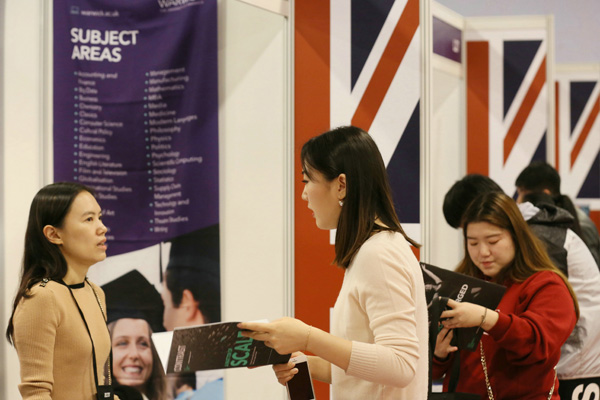 A visitor consults at the UK counter at China Education Expo in Beijing in October 2017. (Photo: China Daily)
Chinese students are increasingly diversifying their choices of destinations for overseas studies, with more students choosing to go to the United Kingdom, Australia and Canada, a new report showed.
In a multiple choice survey for the annual Report on Chinese Students' Overseas Study, released on Tuesday, while the United States remains the most popular destination for overseas study this year, preferred by 43 percent of the respondents, this was down by 8 percentage points compared with 2015.
US dominance looks uncertain as the number of students inclined to study in the UK rose sharply in 2019, accounting for 41 percent, up 9 percentage points compared with 2015.
Australia and Canada remain the third and fourth most popular destinations for overseas study, accounting for 18 percent and 16 percent respectively, followed by Hong Kong, Germany and Japan, the report found.
The report was based on a survey conducted by Vision Overseas Consulting Co, a subsidiary of New Oriental Education and Technology Group and Kantar Millward Brown in January and February. The survey covered 6,228 students who plan to go to school overseas or have returned to China after graduation, and their parents. It is the fifth consecutive year the report was released.
Sun Tao, president of Vision Overseas Consulting Co, said: "More students chose to go to the UK for overseas study because of its high-quality higher education institutions and relatively lower costs compared with the US."
Many UK universities now offer one-year master's program, which can greatly decrease the students' cost, he said, adding that the UK government has also implemented more favorable visa policies for Chinese students, he said. The report also found that studying overseas is no longer limited to wealthy families, and the number of students from middle-class families studying overseas keeps growing.
According to the survey on parents' professional backgrounds, most parents whose children prefer studying overseas hold ordinary positions at work, accounting for 43 percent of the total, up 14 percentage points from 2015.
Parents who are middle-level managers accounted for 35 percent, and those who are high-level executives accounted for 22 percent, the report said. The number of students studying overseas for master's degrees continues to increase, accounting for 70 percent of the total, up from 57 percent in 2016. They are studying overseas to obtain higher academic qualifications and be more competitive in the domestic job market, it said.
While more students are now realizing that studying overseas no longer guarantees a well-paid job, the report found that 70 percent of respondents said they do not care about return on investment and are more appreciative of other rewards of overseas study experience, including better adaptive ability.
Gao Ang, an undergraduate student at the University of California, Berkeley, said he does not regret going to the US despite its high cost.
Overseas study provides students with many advantages-their experience tends to equip them with a global mindset and better language and communication skills-important characteristics for future promotion opportunities, he said.
In 2018, 662,100 Chinese people went abroad to study, up 8.83 percent year-on-year, according to the Ministry of Education.