Chinese diplomat fires against US accusations in a third charged defense
Global Times
1555607385000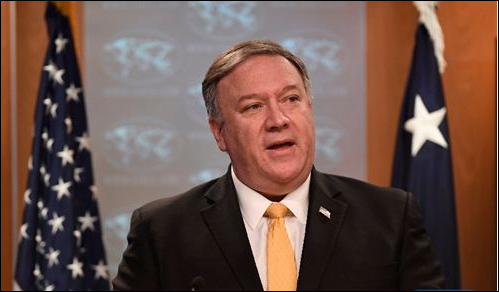 US Secretary of State Mike Pompeo speaks during a press briefing in Washington DC on February 1, 2019. (Photo: Xinhua)
In the latest harsh rebuttal by Chinese officials to US Secretary of State Mike Pompeo's accusation against China's engagement in Latin America, a Chinese diplomat said on Tuesday that China will not force Latin America to pick sides between China and the US, calling the US official and media hype on the matter slanderous to China and "an insult" to the wisdom of China and Latin American countries.

"China will never force Latin America to 'take sides' between China and the US, nor does it want the current Sino-US disputes to affect China-Latin America relations," Zhao Bentang, director-general of the Department of Latin American and Caribbean Affairs at China's Ministry of Foreign Affairs, said in an interview with the Global Times on Tuesday.

He also refuted the allegations made by Pompeo during his trip to Santiago on Friday about China "creating chaos and breeding corruption" in Latin America, and urged the US to objectively view China-Latin America ties.

Zhao said Pompeo's comments are the "latest version" of US rhetoric aimed at slandering China and selling it to Latin American countries over the past year.

According to Zhao, the US had been cooking up theories that China is engaged in "new imperialism" and "predatory economics" in the first half of last year and failing to achieve an echo. It is now upgrading accusations by saying China is "creating chaos and breeding corruption" in the region.

The rhetoric is untrue and Latin American countries will not buy it, he said, saying that the US will continue to cook up new theories against China.

Zhao said the real idea behind these remarks is that the US is afraid of "losing control of Latin America." They hope that Latin American countries are "always children who will never grow up" or cooperate with other countries, and that the US is "always their parent."

Although China has absolutely no strategic intention to "encircle" the US through Latin America, the US has now decided that China, as long as it exists, poses a threat to the US in Latin America. It is this attitude that has left the problem unresolved, Zhao noted.

Zhao's comments marked the latest scathing criticism from senior Chinese diplomats against Pompeo over Latin American affairs in the past three days. On Sunday, Chinese Ambassador to Chile Xu Bu slammed Pompeo's "malicious" accusation against China, saying "Pompeo has lost his mind and gone too far." Chinese Foreign Ministry spokesperson Lu Kang also refuted Pompeo's accusations on Monday, calling his remarks "irresponsible" and "groundless" accusations.

On Friday, Pompeo accused the China-proposed Belt and Road Initiative (BRI) of "lacking transparency" and creating a "debt trap" and singled out the Coca Codo Sinclair Hydropower Project constructed by a Chinese firm in Ecuador as a "failed project."

Responding to this, Zhao said that the BRI is increasingly welcomed and recognized by Latin American countries. At the second ministerial meeting for China and the Community of Latin American and Caribbean States (CELAC) Forum last year, China and Latin American countries issued a special statement on jointly building the BRI, expressing their strong desire to strengthen regional connectivity and achieve self-reliance and development.

"The large-scale projects of Chinese enterprises in Latin America are generally carried out through international bidding, and China's investment and financing are not targeted at the fiscal expenditure of relevant countries, but specific projects. It will not increase the financial burden of the host country," Zhao said.

Zhao said the hydropower project in Ecuador is of good construction quality and has withstood the test of the 7.8-magnitude earthquake that hit Ecuador in 2016. The project not only meets one-third of the electricity demand of Ecuador, but also transforms the country from an electricity power importer to an exporter.

According to Zhao, the vast majority of Latin American countries will send delegations to the second Belt and Road Forum for International Cooperation in Beijing at the end of this month and the second import expo in the second half of the year.

On the situation in Venezuela, Zhao, also China's former envoy to Venezuela, does not think that the disagreement between China and some Latin American countries over whether to support Venezuelan President Maduro will bring a negative impact to China-Latin America relations.

Latin America's position on Venezuela is essentially to support the stability and development of Venezuela and to avoid chaos in the country which would affect regional stability. The US, on the other hand, is attempting to overthrow the Maduro government.

"China adheres to the principle and supports Venezuela's position of peacefully resolving the conflict and seeking its own stable development. China has more common ground with Latin American countries and is naturally understood by all sides in Latin America," Zhao said.