Double-deck railroad bridge to open in China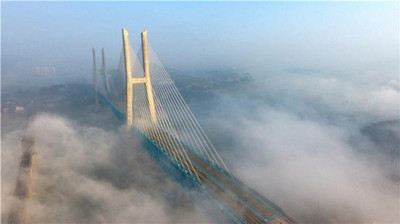 A double-deck railroad bridge will soon open to traffic in southwest China's Chongqing municipality, according to the China Railway Corporation.
The bridge is 5.3 km long and includes a 920-meter section that stretches over the Yangtze, China's longest river. It is part of the Chongqing-Guiyang high-speed railway line, set to begin operations at the end of this month.
After more than five years of construction, the 345-km Chongqing-Guiyang railway, with speeds up to 200 kph, will cut the average travel time between Chongqing and Guiyang, capital of southwest China's Guizhou Province, to around two hours from the current 10 hours.
China has the world's longest high-speed rail network. The country is expected to have 38,000 km of high-speed rail tracks by 2025, according to the China Railway Corporation.