Podcast: Story in the Story (7/26/2018 Thu.)
People's Daily app
1532556409000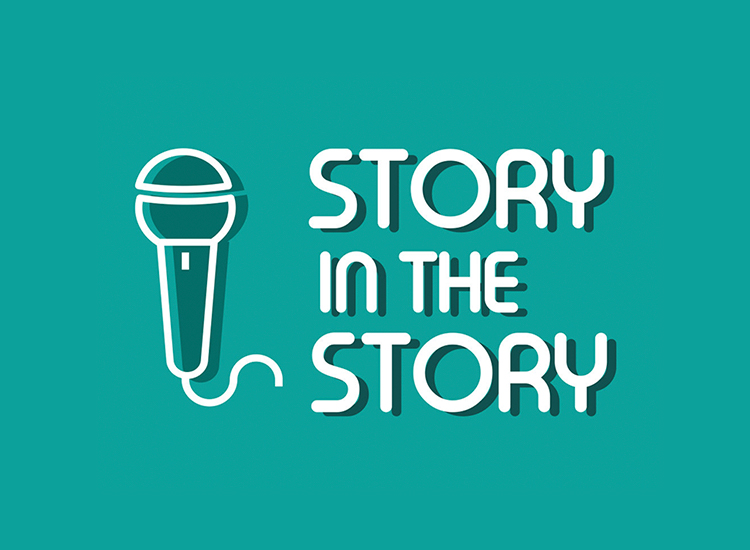 From the People's Daily app
And this is Story in the Story
The sharing economy has entered various markets in China, from sharing umbrellas to sharing cars. One of the most successful examples of the sharing economy is bicycles, which first appeared in China's universities in 2015 and then became familiar to the public in 2016.
The industry started taking off in 2017 and experienced unbelievable development.
According to analyst Sun Naiyue at Beijing-based leading data consulting group Analysys, the estimated capital of bike sharing was 60 million yuan in 2016. This number reached 9 billion yuan within one year, Sun said, with 53.8 million active users.
However, since too many bike sharing start-ups entered into the market, over-saturation occurred. As a result, three giants, namely Ofo, Mobike, and Hellobike, stood out from over 70 start-ups, according to an Analysys report in May.
Today's Story in the Story will look at how China's bike sharing bubble burst, and how manufacturers are hit from all sides.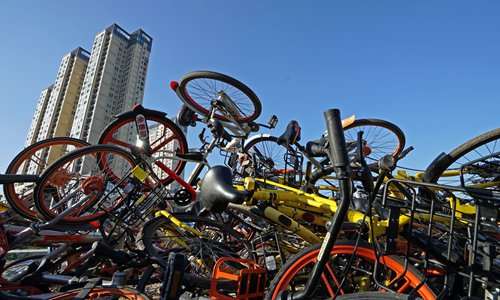 Recycled bicycles were stacked in a corner of Xiamen, Fujian Province. (Photo: VCG)
Like many Chinese businessmen, Yang Qingliang looks to the statue of Guan Gong, asking the folk God to help improve his bicycle company's sales figures.
Yang said his annual sales volume has dropped some 150,000 bikes to roughly 90,000 – leaving him in dire straits.
Yang is one of the 300 bicycle plant managers in the city of Wangqingtuo, commonly known as "the kingdom of bicycle manufacturing" for northern China. He is the owner of Tianjin GIEYDA Bicycle Company.
According to China's Ministry of Industry and Information Technology, the total annual bike output was 53.03 million in 2016, while the number rose to 58.99 million in 2017, thanks to the prosperous sharing boom.
However, with the rise and fall of bike sharing firms, the manufacturing industry across the country is also suffering from dramatic damage. Yang said in Wangqingtuo, some 200 bike manufacturing plants have closed down in the past year.
For decades, the bicycle industry was the source of economic stability in Wangqingtuo.
According to Tianjin Daily, the production value of the bicycle and bicycle-related industry reached 3.92 billion yuan ($586 million) in 2015, accounting for over 70 percent of the total production value of the town. Producing 13 million bikes in the same year, the town contributed to more than 10 percent of China's annual bike output.
Yang said 2000 to 2008 was the golden era of the bicycle industry in Wangqingtuo. However, when more and more Chinese were able to afford cars, bicycles became less popular.
The bike sharing industry brought hope to some traditional bike manufacturers in 2015. Many orders came from bike sharing start-ups to plants across the country.
Sun Hao, CEO of Tianjin Fuji-ta Bicycle Manufacturer Co, Ltd, told Southern Weekly that the number of orders rose suddenly and sharply from bike sharing firms. However, while they were fulfilling the orders, they were losing their traditional bicycle customers.
Large bike manufacturers, such as Fuji-ta, benefited from the bike sharing industry, but some suppliers went out of business because they could not repay the factories that made the bicycles.
As a result, many bike sharing firms signed massive orders with traditional bike manufacturers, before 21 local governments banned putting an unlimited numbers of bikes in cities in May, Sun said.
Bikes began to pile up around cities and some were even tossed in rivers. After the ban was put into effect, small start-ups could not survive, and were unable to pay their debts to traditional bike suppliers.
"The sales volume dropped from 200 to 20 bikes per day in our company after the bike sharing industry boomed," Sun said. "We used to sell this type of bike for 400 yuan, but now we sell it for 100 yuan."
Wangqingtuo locals seem to be not confident of the industry revival. Most locals in the town don't welcome the bike sharing industry any more.
A manager surnamed Zhang, who lost money producing bicycles for bankrupt sharing companies, said he is buying scrap bikes at the low price of scrap metal, and reselling them.
"Now I sell Kuqi bikes and Bluegogo bikes for 240 yuan… The price is negotiable," Zhang said. "Otherwise, I have to sell them at the price of scrap metal for around 20 yuan per bike."
(Produced by Nancy Yan Xu, Lance Crayon, and Raymond Mendoza. Music by: bensound.com. Text from Global Times, and Xinhua.)