Naval parade marking Chinese navy anniversary to be held on April 23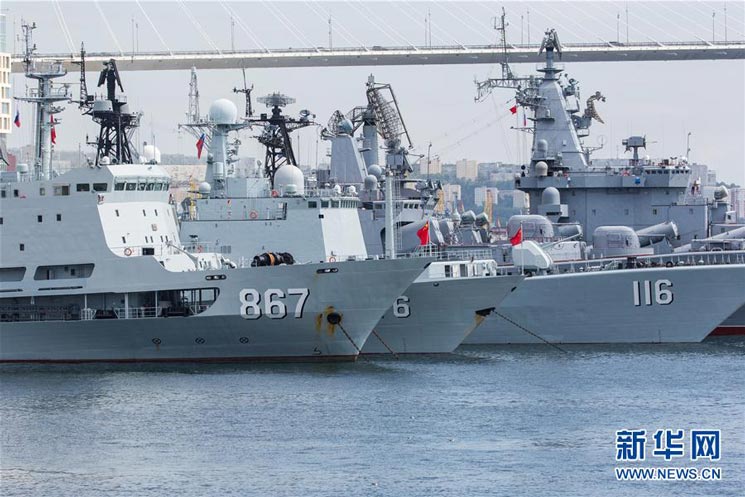 (Photo: Xinhua)
Celebrations for the 70th anniversary of the founding of the Chinese Navy will be held off the coastal city of Qingdao in east China's Shandong Province from April 22-25.
The announcement was made at a press conference on Saturday by the Chinese People's Liberation Army (PLA) Navy.

Officials have confirmed the attendance of delegations from over 60 countries and naval vessels from more than 10 countries for the grand celebrations.

China warships debut

A total number of 32 Chinese warships will sail past in a single column in six groups – submarines, destroyers, frigates, landing warships, supporting vessels and the carrier group. Thirty-nine naval aircraft will fly over in 10 echelons, including reconnaissance planes, fighters, carrier fighters and helicopters.

Some of the Navy's latest weaponry will be on display for the first time. One of the highlights will be the 10,000-ton destroyer, type 055 class, as the capital ship for the surface group.

Barometer of ties

There will also be 18 warships from 13 other countries, which include Russia's Admiral Gorshkov-class frigate, Japan's Akizuki-class destroyer Suzutsuki, the Philippines' strategic sealift vessel Tarlac, and India's tanker Shakti.

Although the numbers aren't high, the composition reveals China's improved relations with neighboring navies. For many Chinese, Japanese participation elicits mixed feelings, due to the trauma from the Japanese invasion and tensions from disputes in the East China Sea. Relations are steadily improving.

Many major maritime powers, including the U.S., will not send any warships to the celebrations in Qingdao. U.S.-China military ties reflect the rising tensions on trade. The PLA Navy is taking this opportunity to reach out its counterparts across the globe to present its new maritime concept.

Confidence and transparency

China says the growing transparency is not to show might, but to show its confidence and willingness for exchanges with other navies. China hopes the multinational naval activities, which include an international fleet review, will provide a platform for naval leaders to discuss maritime security cooperation.
The fleet review is a tradition for naval exchanges. China wants to this opportunity to deepen understandings. The spokesperson said the PLA Navy will always be a force of peace. It will provide more public service products to build this image worldwide.