Customs makes its biggest tusk bust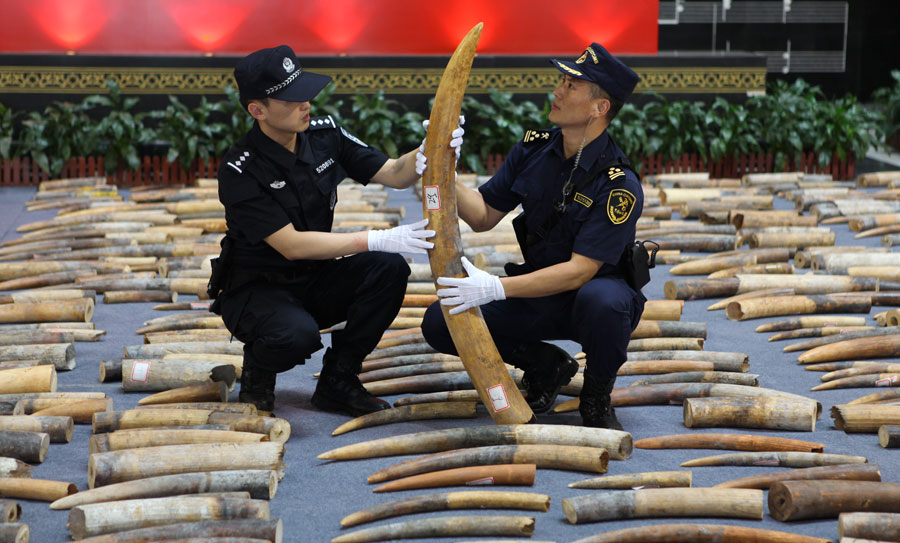 Officers with the Huangpu Customs District in Guangdong province display confiscated elephant tusks in March. China suspended all imports of ivory in 2015. (Photo: China Daily)
China's customs officers have seized 2,748 ivory tusks weighing a combined 7.48 metric tons after cracking a major smuggling case.
It was the biggest haul of tusks ever recorded in an anti-smuggling bust conducted independently by customs officers, the General Administration of Customs said on Monday.
The case was solved in March after a combined operation of different customs offices lasting three months. A total of 238 customs officers took part from cities around the country, including Hefei, Nanjing, Beijing, Fuzhou and Qingdao.
Twenty suspects were detained for further investigation, according to Sun Zhijie, director of the administration's anti-smuggling bureau.
Sun said the tusks, illegally shipped from African countries, were imported into China labeled as wood.
Most of the ivory was hidden in an abandoned factory by the smugglers, Sun said. Busts were made in several locations, which were not disclosed. The case is still under investigation.
Since early this year, 182 smuggling cases involving endangered species have been investigated, the administration said on Monday.
More than 500 tons of endangered animals and animal products were seized, 8.48 tons of which was ivory tusks or products made of ivory. In those cases, 171 suspects were detained.
The Chinese government suspended imports of ivory and all ivory products in 2015 and ended commercial processing and sale of ivory at the end of 2017.
The ban has had significant positive effects, with fewer people purchasing ivory, according to a report jointly released last year by the World Wildlife Fund and TRAFFIC, an NGO that tracks the global trade in wild animals.
"We will strengthen our anti-smuggling efforts, continuing to work with international organizations and departments and allowing no tolerance of those illegal activities," said Hu Wei, deputy director of the administration.
Hu said the administration also will promote anti-smuggling and wildlife protection knowledge among the public, and it welcomes public supervision or reports of smuggling.
As social networks and online stores have become increasingly important tools for wildlife smugglers, the administration has beefed up its anti-smuggling work online this year.
Customs officials are working on cases involving another 100 tons of endangered wildlife and wildlife products, of which about 300 kilograms are tusks and ivory products.
Last year, the administration purchased advanced screening and detection equipment to improve the efficiency of its anti-smuggling work, according to Wang Wei, director of the administration's ports supervision department.
People caught entering China with endangered wildlife or wildlife products worth less than 200,000 yuan ($29,800) face up to five years in prison. If such contraband goods are worth more than 1 million yuan, the penalty upon conviction is a minimum of 10 years in prison.
One ivory tusk is currently worth 250,000 yuan on average on the black market, and ivory products can go for 41,000 yuan per kilogram, Wang said.