American cattle farmers pin hopes on China
Global Times
1554918530000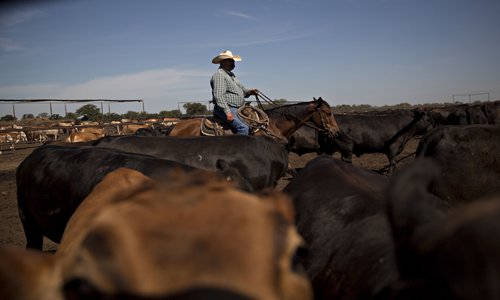 An employee rides a horse through a pen of beef cattle during twice-daily health and safety inspections at the Texana Feeders feedlot in Floresville, Texas. (Photo: VCG)
On a chilly late March morning, Phil Ham and his two sons got up early for the biggest day of the year on their 1,700-acre (688 hectares) family farm in Forsyth, Georgia in the southern US.

With the help of a vet and a driver, the three drove 35 head of Black Angus cattle, carefully selected from a herd of over 500 currently grazing on the farm, onto a special livestock transport truck.

The cattle, all eight to 12 months old and weighing between 650 to 680 pounds (about 300 kilograms) each, were headed for a feedlot some 1,600 kilometers away in the Midwestern state of Iowa, where they will be kept for another six months while their weight doubles before they can be exported to overseas markets.

And the beef's final destination?

"We hope it would be China," said Ham, pointing to the country name printed on the verification and export permit paperwork he received from state authorities.

"I know our two countries are still in the process of negotiating a trade deal, but we still have six months and we want to be prepared," said the 60-year-old farmer.

Importance of agricultural exports

Sleepy Creek Farms, owned by the Ham family, was founded by Ham's grandfather during the Great Depression (1929-1939). In the state of Georgia, more than 42,000 small or medium-sized farms like this compose the bulk of the local agricultural sector, which contributed 12.4 percent of the state GDP (gross domestic product) in 2013. One in seven Georgians works in agriculture or related fields.

Exports of agricultural products, ranging from poultry and beef to pecans and cotton, are important to Georgia's economy. According to Will Bentley, president of the Georgia Agribusiness Council, about 20 percent of local agricultural revenue comes from exports.

As Georgian farmers' income has been falling in the last several years, "the only way out of that is through increased trade," said Bentley.

However, it takes not just years, but decades to build a mature chain of supply for high-end export markets. The Ham family farm is now part of a group of about 25 cattle farms in central Georgia that share the same marketing network.

Through this network, the farms can send their young cattle to the Iowa feedlot, a critical step to improve meat quality and reduce feed costs, and the feedlot will ship the mature cattle to a slaughter and packing facility in the neighboring state of Nebraska. The processed beef then returns to Georgia for exports through local dealers.

Bill Pellett, who operates the Atlantic, Iowa-based feedlot, noted that presently the beef is mainly exported to European countries such as Germany, Italy and Switzerland, as well as some Southeast Asian nations like Vietnam and Singapore.

"But we all want more long-term markets," said the seasoned farmer. "And if the China market opens back up, we will be glad and ready to ship beef."

Appeal of the Chinese market

Thanks to its rapid economic growth and surging middle class, China has become the world's fastest-growing beef import market with a tenfold increase in the last five to six years, according to the US Meat Export Federation.

The country, which currently imports an estimated $2.6 billion worth of beef annually, resumed its imports of American beef in June 2017, following a 13-year ban triggered by safety concerns over Mad Cow Disease.

In January 2018, Ham and Pellett paid a week-long visit to China to promote premium Georgia beef in major cities like Beijing and Shanghai.

"The local retailers told us that our beef was perfect for Chinese hotpot, and we tried hotpot for the first time, which was wonderful," recalled Ham.

Peter Landskroener, Jr., an Atlanta, Georgia-based food exporter, told Xinhua that when he first got into the exporting business back in 1979, the thinking was, "well we could just get every person in China to eat an egg a day." Now Georgia's farmers are hoping that every Chinese person can consume an American beef hamburger a week.

"China has a growing economy and more and more consumers that are able to pay for high-quality products, and we produce high-quality products across all of agriculture," said Bentley. "We know how important that relationship (of trade with China) is to us in the state of Georgia."

If everything goes fine, the potential for trade growth is just "endless," he said.

Optimism about the future

However, with trade tensions rising between China and the United States and the heavy import tariffs the countries imposed upon each other starting last spring, sales of American beef to the Chinese market have dropped significantly.

James Vaughn, owner of Vaughn Farms in Forsyth, lamented the situation: "I'm just a cattle producer and I don't really understand the international reasons behind it. But I do understand that right now our product is not moving in that direction [toward China]."

"And I would like to see that change because we need an increased market for our product," he said.

Vaughn, whose 5,600-acre (2,266 hectares) family farm raises some 400 cattle with an estimated worth of 1 million dollars, said that cattle farmers in Georgia can produce safe and high-quality beef that meets any international standards for exports.

All the cattle produced at his farm have triple third-party verifications to show they were born in the United States, are younger than 30 months and free of growth hormones, as required by the beef import standards of both the EU and China, Vaughn noted, adding that any exported beef with problems can be easily traced back to the farm of origin.

"Let us compete on our merits," said the 62-year-old lifelong cattleman. "We know how to do it and we just need to be allowed to show the world how to do it, without a bunch of unrelated issues getting in our way."

Nevertheless, Vaughn has displayed an abundance of optimism in the future. Just like Ham, he also indicated China as the export destination on the paperwork while selling his most recent shipment of 38 young cattle to Pellett's feedlot.

If there were better market access and higher prices, the farm could even consider expanding its cattle-raising capacity by another 100 head, said Vaughn.

This will be reassuring for local young people, including his own sons, to stay in the feedlot and beef production industry, which has been shrinking over the last few years, he added.

Echoing the farmers' views, Tom McCall, chairman of the Agriculture and Consumer Affairs Committee of the Georgia House of Representatives, told Xinhua that he hopes trade between the two countries, and especially between Georgia and China, "just keeps growing and growing."

Over the past 40 years since the United States and China established diplomatic ties, the trade volume between Georgia and China "has done nothing but increase," noted the farmer-turned-lawmaker. "It kind of backed off in the last six or eight months because of the trade tensions, but I hope that's going away soon."

"We need you and you need us," he said. "We hope everything levels out, and you keep buying stuff from us and we keep buying it from you."