Early risers seize their chance as village bed-and-breakfast businesses boom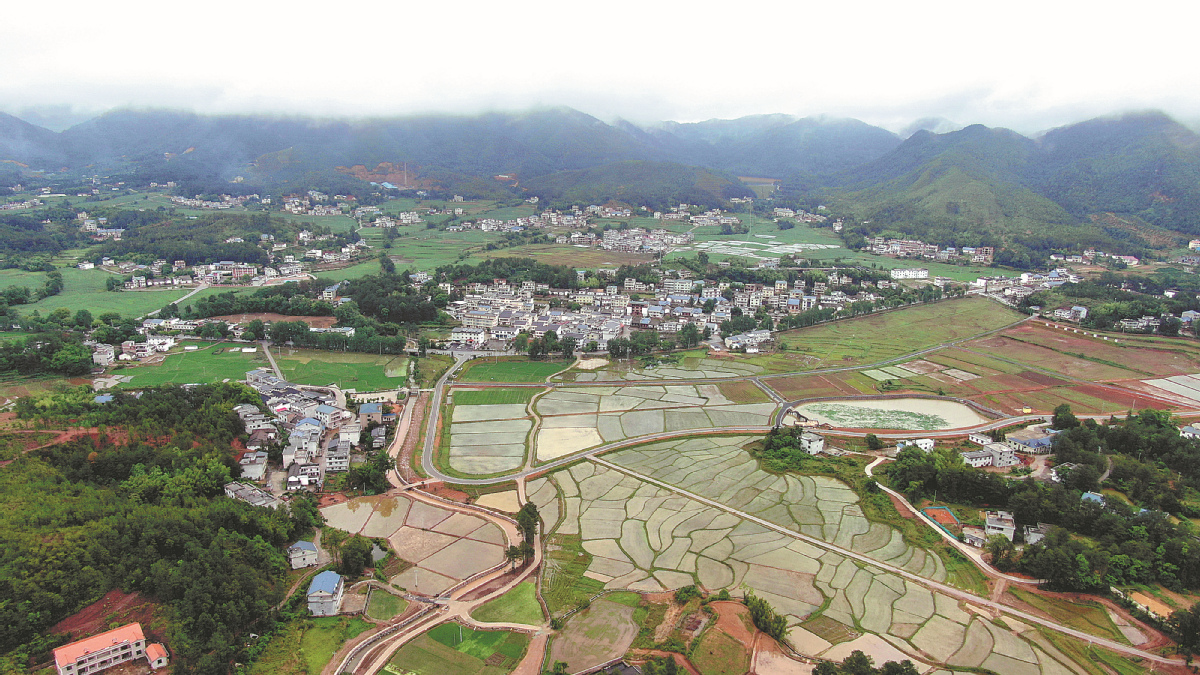 Rising at 5:30 every morning, Li Chunhui and his wife clean their house and prepare fresh food in case guests arrive to stay with them.
After farming for decades, Li, 69, never expected to have a bright, spacious apartment and earn a living by opening a bed-and-breakfast business at the couple's home in Zikeng village, Huichang county, Jiangxi province.
Zikeng, which boasts 1,500 inhabitants, is situated in a remote mountainous area 45 kilometers northwest of the county seat. About 80 percent of the village's young people used to work outside the area.
In April 2019, Huichang was removed from the list of poverty-stricken counties, including all 362 people living in poverty in the village.
Li's two sons and their families live and work in the Huichang county seat. He and his wife used to live in an adobe house in the village, moving to their new home in 2019 after a tourism development project was launched in the area.
Since November, they have used 11 rooms at their home to offer bed and breakfast for visitors to the town and those taking part in training classes in the village.
Guests pay 120 yuan ($18) a night for a room. One-third of these charges goes to a company founded by the village committee to conduct external liaison and unified management of bed-and-breakfast businesses to ensure service quality.
If guests require food, Li prepares typical local cuisine, charging 50 yuan for three meals.
He said: "In the past seven months, we have made nearly 10,000 yuan, which means a lot to me. I never thought I'd be earning when I grew old. I used to rely on my sons, but the money I've made by myself makes me happier and more confident about life."
After Spring Festival in February, Li's eldest daughter-in-law returned from the county seat to live with him and his wife to support the family's business. The daughter-in-law found a job in the village's tourism industry.
In recent years, the Huichang county government has explored ways to effectively promote development in remote and backward mountainous areas through rural vitalization. In Zikeng, the authorities have established a tourism town and a college.
Zhao Huaizhi, a Party secretary for the Zikeng village committee, said: "By capitalizing on the history of the former revolutionary base here, we conduct external liaison and organize 'red education' training for different institutions. Accommodations and meals are mainly provided by villagers, offering them an opportunity to earn more."
There are now 19 bed-and-breakfast businesses in the village, which have generated nearly 260,000 yuan in the past seven months, according to Zhao.
Village officials also found that Zikeng is rich in fresh bamboo shoots. With an introduction from China Daily, which has offered partner assistance to Huichang county since 2015, a bamboo shoot processing enterprise has invested in the village, with a primary processing workshop put into operation in May.
Zhao said that in addition to promoting development of the local economy and increasing employment, the workshop can earn the village about 30,000 yuan annually in collective income.