Foreigners see promising opportunities in China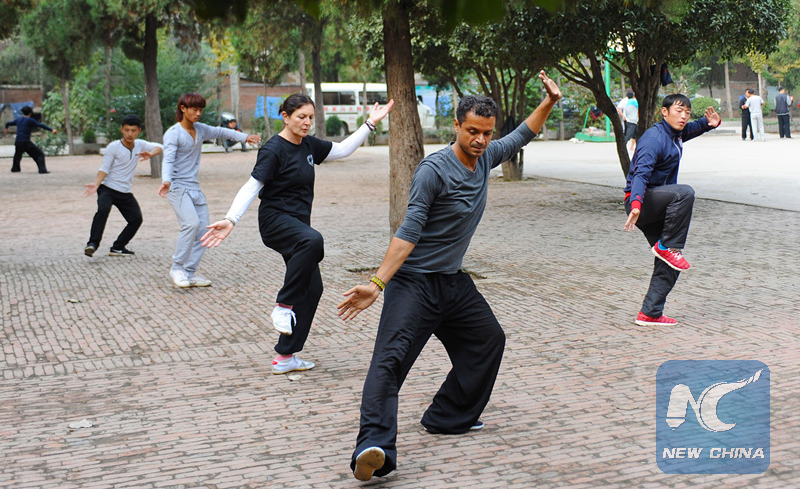 Foreigners learn Tai Chi in a town in central China's Henan Province. (File Photo: Xinhua)
Learning Chinese in the weekend with his wife and daughter, Tim Byrnes, a 40-year-old quantum physics researcher from Australia, is really starting to feel like he fits into China.

After doing research in Japan for over a decade, Byrnes became an assistant professor of physics at Shanghai New York University (NYU Shanghai), a Sino-American higher education institute, in 2016.
He considers China a great place to do quantum technology research.
"Few other countries have a very advanced satellite with quantum capabilities like in China, and there is a lot of investment going into this area, especially from the private sector," he said.
Recruitment of high-level talent is part of China's efforts to drive growth of its economy, which has transitioned from a phase of rapid growth to a stage of high-quality development.
In order to lure overseas professionals, the Chinese government at central and local levels is offering incentives including easier processing of visa and residence permits, large cash payments, and research subsidies.
Byrnes thinks of himself as fortunate. Since moving to Shanghai, he has obtained four grants, including two from the National Natural Science Foundation of China and one from the Shanghai government.
He was also included in the "Thousand Talent" program, a government initiative to attract top global talent to work in China.
The program offered him a 500,000 yuan (around 79,000 U.S. dollars) research subsidy and promised to provide further research subsidy installments.
Byrnes said that without these grants, he would not be able to conduct experiments in collaboration with other researchers as that requires a significant amount of money.
"In other countries, I would have to gradually work my way up," he said. "But now, I am already free to do new research and have my research team."
BRIDGING TALENT GAP
China's economy has moved from fast growth to enter a period of medium-high growth and high-quality development, along with an upgraded economic structure and innovation. The changes in the world's second largest economy are driving demand for skilled workers, entrepreneurs and talented people in various fields.
China plans to set up a state immigration administration under the Ministry of Public Security, as the number of foreigners working and living in the country has been rising, creating new requirements for immigration administration and services.
In January, the country announced a new R visa for foreign professionals and high-skilled workers who visit China frequently. The visa has a validity of five to 10 years and allows multiple entries with a maximum stay of 180 days per entry.
In late February, Hangzhou, capital of east China's Zhejiang Province, rolled out new measures to attract foreign talent, including offering subsidies ranging from 200,000 yuan to 5 million yuan for foreign entrepreneurs.
Other measures include facilitating applications for permanent residence, entry-exit visas and residence permits for top-level foreign talent. The city also plans to have 10 international schools by 2022.
Also in February, Beijing released 20 new rules that were targeted at foreign professionals, aiming to improve recruitment and entry and exit procedures, as well as enhancing social security services.
A MAGNET FOR TALENT
Miao Lyu, secretary general of the Center for China and Globalization, a Beijing-based think tank, said that the mobility of science and technology talent, the core of innovation, across borders is expanding, and the competition between countries to attract talent is intense.
Miao added that China's talent introduction policies can help drive its economic and social development, especially the progress of local strategic emerging industries.
"Also, China's fast economic development has improved its attractiveness to global talent," she said.
According to the Expat Explorer 2017 Report published by HSBC, as one of the world's economic powerhouses, a move to China offers expats numerous career and income advantages.
Seven in ten expats in China said the country offers strong job prospects compared with only five in ten globally. Half of all expats interviewed in China said they have more chances to acquire new skills here than at home, and they earn significantly more than the average expat.
The number of foreign employees in China has increased at a staggering pace over the past decades. More than 900,000 foreigners were employed on the Chinese mainland in 2016, according to official data. In the 1980s, less than 10,000 foreign experts worked in the country every year.
The change has also been felt by Byrnes. "It is amazing that I often run into one of my old friends in another Chinese university and find out they started a career here," he said.