Saihanba Afforestation Community received Champions of the Earth
People's Daily app
1512489580000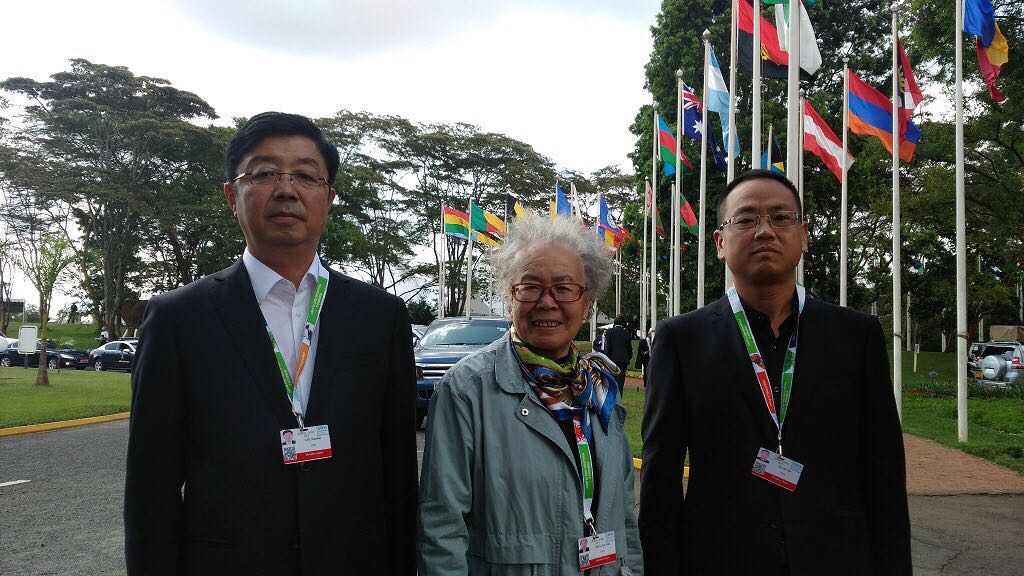 The representatives of Saihanba Afforestation Community: Liu Haiying, Chen Yanxian and Yu Shitao (From L to R). Photo: Liu Yi/People's Daily

Nairobi (People's Daily) - Saihanba Afforestation Community received "Champions of the Earth", the most important prize in environment protection all over the world on Dec 5 in Nairobi, Kenya, for transforming degraded land into a lush paradise.
Saihanba, which covers 92,000 hectares and borders the southern edge of the Inner Mongolia autonomous region, had by the 1950s become barren due to excessive logging, allowing sand to blow into Beijing from the northern deserts. In 1962, hundreds of foresters began planting trees in the area. Three generations of these foresters have increased forest cover from 11.4 to 80 per cent. The forest now supplies 137 million cubic meters of clean water to the Beijing and Tianjin areas each year, while discharging c. 550,000 metric tons of oxygen. It has spurred economic growth with green sectors, generating USD15.1 million in 2016 alone.
"In the 55 years the farm has existed, people have been growing trees and protecting the forest like their own children," said Liu Haiying, director of Saihanba Afforestation Community. "I believe that, as long as we continue to promote ecological civilization, generation after generation, China can create more green miracles like Saihanba and achieve harmony between humans and nature."
"As we face unprecedented threats to our environment, strong leadership at all levels is more important than ever," said Erik Solheim, head of UN Environment. "This year's Champions embody the commitment, vision and energy we so desperately need."
The awards were presented during the third UN Environment Assembly, which brings together over 4,000 heads of state, ministers, business leaders, UN official and civil society representatives to tackle the global menace of pollution.