Govt condemns resurgence of violence on HK streets
China Daily HK
1583117291000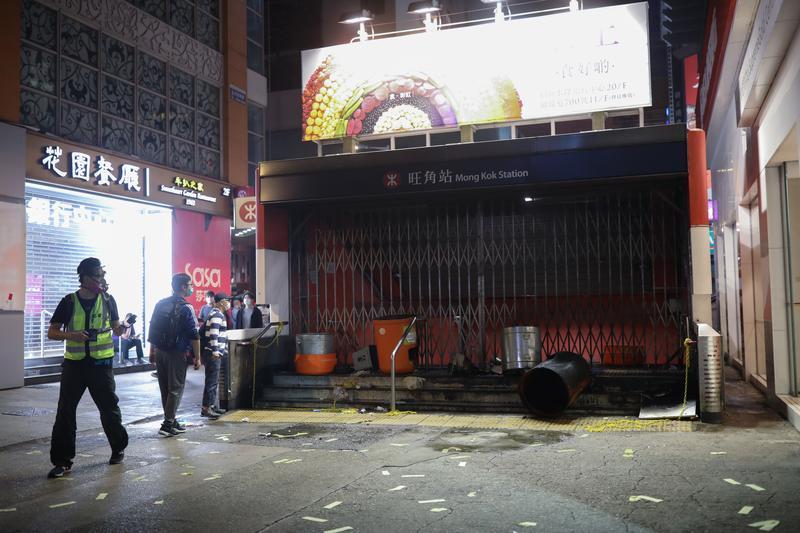 Residents walk past a charred gate of MTR Mong Kok station in Hong Kong, Feb 29, 2020. Rioters set fire to the station during an illegal assembly in Mong Kok on Saturday. (Photo: China Daily)
The Hong Kong government has condemned the violent demonstration on Saturday night in Mong Kok and the firebombing of an outpatient clinic in Kwai Chung on Sunday morning, blaming the rioters for the mayhem that endangered people's safet
In a statement released on Sunday, the government said it was appalling that a small group of radicals went on a violent spree and lawless rampage at a time when Hong Kong was hard hit by the coronavirus outbreak.
The statement said Hong Kong's society and economy are facing the consequence of the prolonged social unrest last year and fresh challengers posed by the novel coronavirus outbreak.
After months of lull, violence flared up in Mong Kok on Saturday night when hundreds of masked rioters clad in black attire set fire in the streets, hurled petrol bombs at the police and erected barricades to disrupt traffic. Hong Kong was rocked by frequent violent protests for over seven months before the return of relative calm since Chinese Lunar New Year.
Two police officers in separate locations suffered injuries after being attacked by radicals with hard objects. Hong Kong Police on Sunday said 115 people, aged from 15 to 54, were arrested for illegal assemblies, possessing offensive weapons and other offenses.
On Sunday morning, the South Kwai Chung Jockey Club General Outpatient Clinic in Kwai Shing Circuit, Kwai Chung was damaged. General outpatient clinics in other districts were earlier vandalized by the radicals in objection to designating them for the treatment of novel coronavirus patients.
To help soften the blow from the fallout of the coronavirus outbreak, the government earlier announced a HK$30 billion fund to relieve the hardships of businesses and individuals in need.
Slamming the vandalism as outrageous, the statement said the government has faith in Hong Kong citizens' willingness to work together to overcome the challenges.
The Hospital Authority also condemned the attack on the clinic, saying such "malicious behaviors" would affect the operations of the medical facilities and threaten the safety of healthcare workers and patients.
The authority said it would step up security of the clinics.
Speaking at a local radio program, Secretary for Commerce and Economic Development Edward Yau Tang-wah said that it would not easy for the city's depressed economy to improve in the first quarter of this year. Avoiding the adverse influence brought about by the violence and chaos like what happened on Saturday would be crucial to restoring social order and reviving the recession-hit economy, he said.