Shanghai establishes team of 500 experts to support severe COVID-19 patients' treatment
Global Times
1651745095000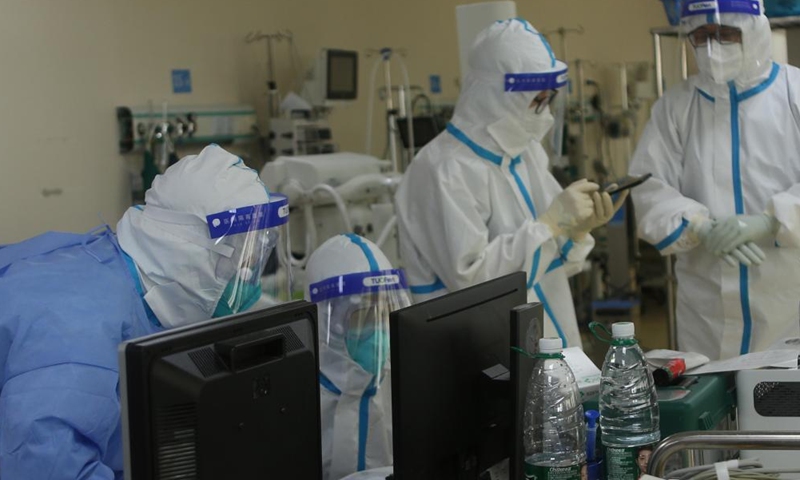 Shanghai has established a medical team with more than 500 experts specializing in severe and critical COVID-19 patients' treatment via traditional Chinese Medicine (TCM) combined with Western medicine to reduce mortality rates, as the city has registered over 600 severe patients, according to the Shanghai health commission on Thursday.
As of Wednesday, there are 512 severe COVID-19 patients and 99 critically ill patients being treated in hospitals in Shanghai, and most of them are seniors with preexisting health conditions, according to the commission.
The city vowed to improve the strategies to reduce the rate of severe cases and death. Shanghai has set up a treatment mechanism for early monitoring, warning, evaluation and intervention of patients with severe diseases, and COVID-19 designated hospitals have been allocated with medical personnel and equipment for elderly patients, Zhao Dandan, deputy director of Shanghai health commission, said at Thursday's press briefing.
An expert team with more than 500 experts specializing in oncology, severe respiratory diseases, infectious diseases, obstetrics, gynecology, pediatrics and other fields have been set up to support the treatment of severe COVID-19 patients, according to Zhao.
On Wednesday, the city reported 261 locally transmitted COVID-19 cases and 4,390 local asymptomatic infections, the second consecutive day with the daily tally dropping below 5,000.
The city has continued to conduct citywide nucleic acid and antigen tests for the residents during recent days. As of Wednesday, over 2.3 million residents were under sealed off management involving 11,893 residential communities, while 16.47 million residents were in precaution-level regions, according to local authorities.
On Wednesday Shanghai reported 13 new COVID-19-related deaths, with all patients showing preexisting conditions such as coronary heart disease and cardiac insufficiency, and their average age was 82.77, the commission said. Not all patients involved had received COVID-19 vaccines, and their deaths were caused by underlying diseases, Zhao said.
A multidisciplinary TCM expert group has also been established to support patient treatment, the team counts among its members some sterling TCM doctors with a rich experience in infectious disease treatment as well as local scholars, said Zhao. Academician Zhang Boli has also been invited to participate in the daily medical meeting for the severe patients' treatment.
Meanwhile, an efficient cooperation mechanism between municipal-level COVID-19 designated hospitals and 16 district-level designated hospitals has been built to provide personnel, technical and professional support for district hospitals.
Zhao urged all seniors who meet the requirements to receive COVID-19 vaccines soon as it is an effective method to avoid severe conditions.