Xi delivers resolve, confidence at 'critical stage' of poverty alleviation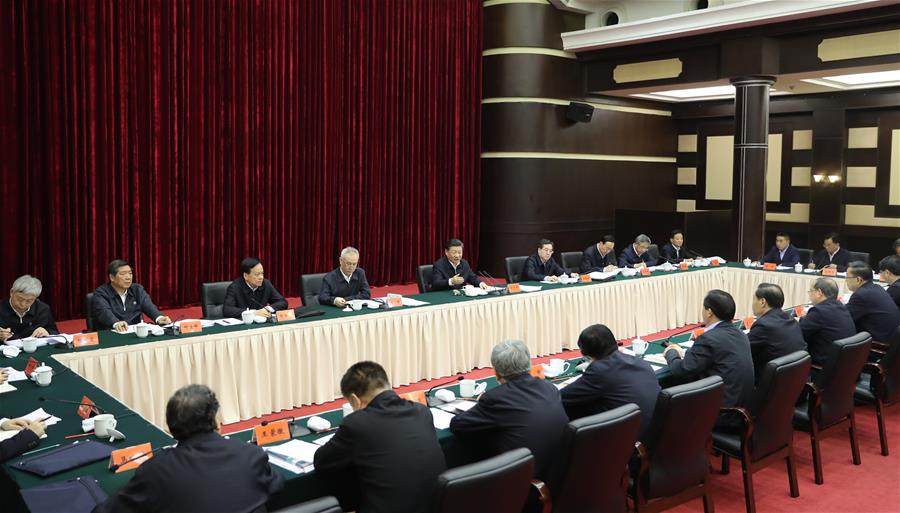 Chinese President Xi Jinping, also general secretary of the Communist Party of China Central Committee and chairman of the Central Military Commission, presides over a symposium about solving prominent problems including meeting the basic needs of food and clothing and guaranteeing compulsory education, basic medical care and housing in southwest China's Chongqing, April 16, 2019. (Photo: Xinhua)

CHONGQING, April 18 (Xinhua) -- Eliminating absolute poverty in China has been an aspiration of the Communist Party of China (CPC) throughout its 98-year history and a goal for the 70-year-old People's Republic of China and the 40 years of reform and opening-up.
It is a major concern for Xi Jinping, general secretary of the CPC Central Committee. During an inspection tour to southwest China's Chongqing Municipality from Monday to Wednesday, he pledged to address this issue like "a hammer driving a nail."
Since the 18th CPC National Congress held in late 2012, China has made incredible progress in fighting poverty. The number of rural residents living below the current poverty line has been reduced from 98.99 million in 2012 to 16.6 million in 2018.
"The battle against poverty has entered a decisive and critical stage. We must press ahead with our full strength and strongest revolve and never stop until securing a complete victory," he said.
CONFIDENCE
When Xi walked into the home of Ma Peiqing, a resident of Huaxi Village, located deep in the mountains of Chongqing, it was around 6 p.m. Monday.
After flying from Beijing in the morning to Chongqing, he spent another three hours, first by train and then by road, to reach Huaxi Village, home to 85 households and 302 villagers who were registered as living below the current poverty line. Today, only eight households and 19 villagers remain on the list.
Huaxi Village is a typical case of China's impoverished regions. The basic needs for food and clothing have been met, but more efforts are needed for compulsory education, basic medical care and safe housing.
"I was diagnosed with nasopharynx cancer in 2017," said Zhang Jianfeng, an impoverished villager. "About 80,000 yuan (11,900 U.S. dollars) of my medical expenses were reimbursed by medical insurance. It was indeed a timely help."
"After visiting the village, I feel reassured," said Xi. "We may have about 6 million impoverished people and 60 impoverished counties left at the beginning of 2020. If we make sure this year's work is well-implemented and push ahead next year, we will eliminate poverty."
"We are confident about accomplishing the mission," he added.
NO LAXITY
"Less than two years are left before fulfilling the objective of poverty alleviation. This year is particularly crucial," Xi said at a symposium held Tuesday afternoon in Chongqing. "The most important thing at this stage is to prevent laxity and backsliding."
Xi stressed that people need to be aware of the difficulties and problems and clearly define priorities.
What needs to be solved and can be solved must be tackled urgently, he said, adding that as for the long-term problems, plans should be made and solutions developed step by step.
Of the country's 832 poverty-stricken counties, 153 have been removed from the state list while another 284 are under assessment.
"To get rid of poverty, we must consider both quantity and quality. We must strictly enforce the standards and procedures for evaluating whether people are poor or not, so as to ensure that genuinely poor people really get rid of poverty."
SOLIDARITY
Tan Xuefeng, Party chief of the Zhongyi Township, shared with Xi his seven-year experience in the forefront of the fight against poverty.
"Last year, my colleagues and I only took three full weekends off, spending the rest on household surveys and implementing the policies," said Tan.
Throughout the years, more than three million officials from governments above the county level, state-owned enterprises and public institutions have stayed in impoverished villages to offer assistance.
Reaffirming the Party's commitment to poverty reduction, Xi said that no one should be left behind as the country marches toward building a moderately prosperous society in all respects, and the assistance must be offered to everyone in need because "that makes a Communist party."