Circular on unpaid wage enforcement released
chinadaily.com.cn
1577971867000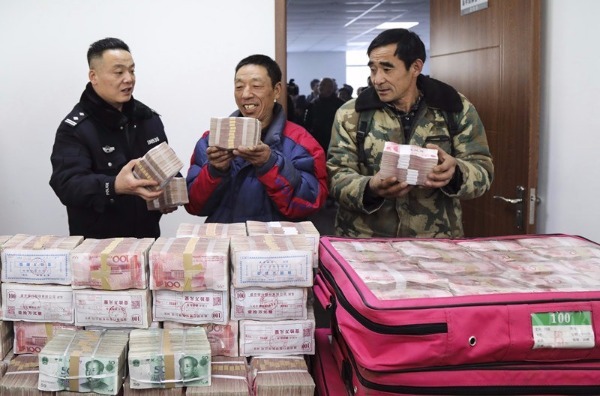 Migrant workers receive wages that police helped them recover from employers who defaulted on payments in Shenyang, Liaoning province, on Dec 12, 2017. (Photos: China Daily)
China's Supreme People's Court released a circular on further strengthening the enforcement of court judgments on cases involving unpaid wages for rural migrant workers on Tuesday.
As Spring Festival approaches, millions of migrant workers are planning to go back home for the holiday. To ensure those workers get their wages paid on time and in full, people's courts at all levels are required to take effective measures to help root out delayed payment of wages.
The circular stressed that cases involving unpaid wages for migrant workers should be handled fairly and efficiently, through developing easier and more ways to file cases and settle disputes.
The SPC requires that people's courts at all levels should carry out special and concentrated judgment enforcement, giving priority to case filing, enforcement and payment of the funds in issues concerning unpaid wagesto ensure that migrant workers can receive their benefits in a timely manner, the circular said.
It also urged improvement of the mechanism to safeguard the rights and interests of rural migrant workers in relation to obtaining their wages and asked enterprises to fulfill their obligations to pay labor remuneration in accordance with the law.
Meanwhile, different law enforcement agencies are working on the issue, including the Ministry of Justice. They briefed the media on their work to root out defaulted payments for migrant workers during a press conference on Thursday.
To protect the legitimate rights and interests of millions of rural migrant workers, the ministry opened a "Green Channel" on an online platform - Legal Service of China (12348.gov.cn) on May 20, which will help workers to express their needs through the internet and will offer legal consultation from professional lawyers.
"By the end of December last year, the channel had almost 20,000 visits, and we have helped more than 17,500 workers in 1,600 cases to recover their defaulted payments," said Shi Hansheng, deputy director of the public legal services administration of the Ministry of Justice.
"We are also pushing legislative procedure on ensuring payments to migrant workers, and we have submitted the draft to the State Council for review. I am optimistic about the draft that it will be adopted soon," he added.
According to the National Bureau of Statistics, there are 288 million migrant workers in China who choose to leave their homes in rural areas to work in cities, and the number is still rising.