5,000 HK citizens spell out 'I LOVE HK' on anniversary day
Global Times
1562087562000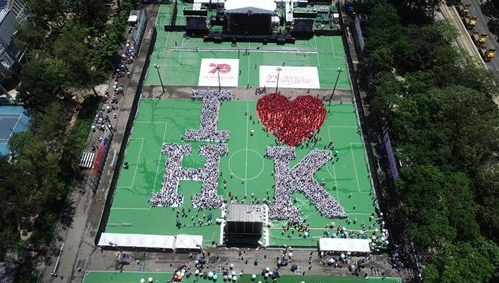 Aerial photo taken on July 1, 2019 shows a formation which spells out the words "I LOVE HK" to celebrate the 22nd birthday of the Hong Kong Special Administrative Region (HKSAR) in south China's Hong Kong. (Photo: Xinhua)
About 5,000 people gathered at Victoria Park in Hong Kong on Monday and stood in the formation spelling out words "I LOVE HK" to celebrate the 22nd birthday of the Hong Kong Special Administrative Region (HKSAR).

Wearing red or white caps, Hong Kong citizens formed the giant words with their bodies at the football field of the park, with "LOVE" showed in a red heart.

Participants cheered and sang in unison to express their joy. Hong Kong returned to the motherland on July 1, 1997.

It was the third straight year for a volunteer surnamed Siu to participate in such a commemorative event. "During the past 22 years, Hong Kong has made remarkable progress along with the development of the whole country," Siu said.

Another volunteer, nearly 70 years old, standing in the red heart pattern, said he believes Hong Kong will become better and better.

"Today's event demonstrated our love of Hong Kong and our pride in the country's high-speed development," Chan Yung, acting chairman of the Hong Kong Celebrations Association, the organizer of the event, said, adding that he hopes the gathering will bring more "positive energy" to Hong Kong.

The event came as part of the three-day Greater Bay Festival ending Monday evening, which was designed to mark the 70th anniversary of the founding of the People's Republic of China and the 22nd anniversary of Hong Kong's return to the motherland and the establishment of the Hong Kong SAR. The festival has attracted 180,000 visitors so far.