China's submersibles complete first joint deep-sea research in South China Sea
Global Times
1525282378000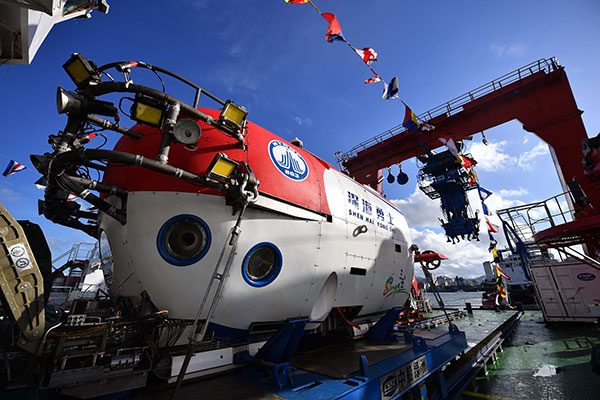 FILE PHOTO: China's new manned submersible, Shenhai Yongshi, on board the exploration ship Tansuo-1, returns to port on Tuesday in Sanya, Hainan province, after completing deep-sea testing in which it reached a depth of 4,500 meters. (Photo: XINHUA/GUO CHENG)
China's two deep-sea submersibles have completed their first joint scientific research in the South China Sea, paving the way for future natural gas hydrate explorations in the region, an analyst said Wednesday.
The manned deep-sea submersible Shenhai Yongshi, or Deep Sea Warrior, and unmanned submersible Haima, or Sea Horse, completed three joint deep-sea operations in the Haima cold springs in the South China Sea from Saturday to Monday.
The Haima cold springs, about 1,350-1,430 meters deep, was named after a spot by the Haima submersible in 2015. It is rich in natural gas hydrates, according to the China Geological Survey (CGS) under China's Ministry of Natural Resources.
Carrying over 10 tools, including a methane drill rig and a methane sensor, the Haima submersible completed its search and sampling missions in the cold springs, according to a statement sent to the Global Times on Wednesday from the CGS' Guangzhou Marine Geological Survey (GMGS), which developed the submersible.
The mission is a groundbreaking move for joint operations of deep-sea submersibles, Chen Zongheng, a senior engineer at the GMGS who leads the technique support for the mission, told the Global Times.
It provides more samples and data for the study of natural gas hydrate, deep-sea methane activity and climate change and promotes study on international scientific issues, Chen said.
Most of the previous research in the Haima cold springs were conducted by unmanned submersibles, Chen Xiangmiao, a research fellow at the Hainan-based National Institute for the South China Sea, told the Global Times. "The joint operations will improve the technology in exploring natural gas hydrate in the region and pave the way for future exploitations."
The Haima and Shenhai Yongshi are capable of operating at a depth of 4,500 meters, indicating that China has mastered deep sea exploration technology, GMGS said.
After being put into service in 2015, the Haima submersible has made record-breaking achievements in natural gas hydrate research and the monitoring of the ecological environment of cold springs, according to the GMGS.
The southern area of the South China Sea, especially regions along the nine-dash line, are rich in natural gas hydrate, while China's exploitation of the resource is almost nil for political reasons, Chen said.
International scientific circles have predicted that natural gas hydrate is the best replacement for oil and natural gas, the Xinhua News Agency reported.
As tensions in the region subside, it's time for countries like the Philippines, Indonesia and Vietnam to cooperate with China in jointly developing the region, which could also help the countries improve energy self-sufficiency, Chen said.