Local officials, community workers step forward to help Beijing residents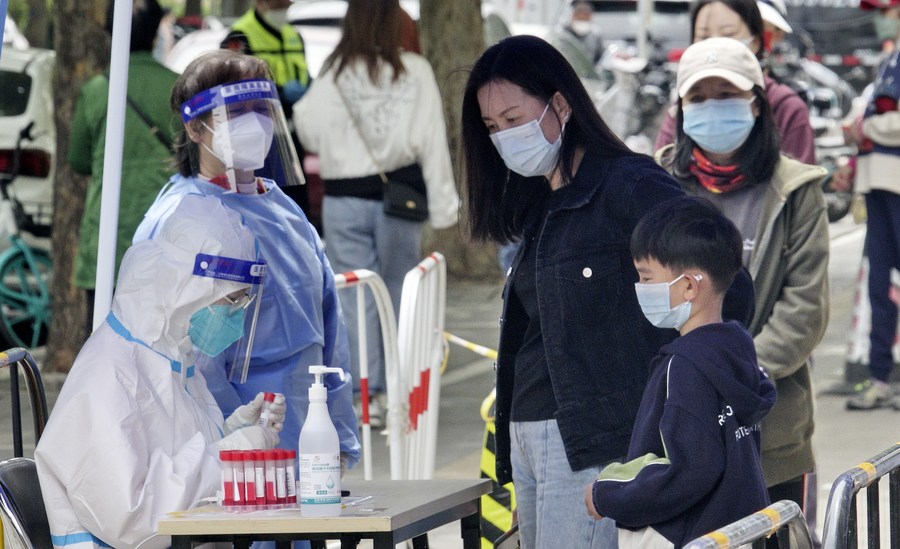 The van carrying Lyu Hanying and more than 300 bags of food supplies was one of the few vehicles on the roads in the Beitaipingzhuang neighborhood in Beijing over the weekend.

After the area detected several positive COVID-19 infections, many apartment complexes were locked down to help prevent the spread of virus. Lyu, along with five of her co-workers at a local supermarket, formed one of the teams tasked to deliver daily necessities, food and vegetables to stay-at-home residents.
"The number of daily online orders has shot up from around 200 to nearly 1, 000," she said. "But thanks to smooth communication with neighborhood officials and an efficient working procedure, we can manage the surging demands and are delighted to see that our customers' demands can still be satisfied at this special time."
Lyu, along with a mix of social workers, community officials, apartment security guards and volunteers, has been quickly mobilized to address acute needs of locked-down residents amid the ongoing outbreak in Beijing.
Shi Miao, a Party official at the Tianzhaojiayuan community, said she received the notice that the community would be designated as a controlled area around 5am on Thursday. Being a controlled areas means that residents are allowed to leave their apartments but have to stay within the neighborhood.
"Following the lockdown, residents were the most concerned about two questions: where to get food and how to get to hospital when in need," she said.
Shi said they immediately reached out to local supermarkets and asked them to guarantee sufficient supplies and send goods.
"Around Thursday noon, we began posting QR codes of the designated supermarkets on the public notice board and sending information to online groups chats along with a manual explaining how to shop for goods online," she said.
Meanwhile, a set of shelves was set up near the gate of the complex where incoming packages and shopping bags would be temporarily placed for residents to pick up, so as to minimize contact between residents and other workers.
"Even though couriers are allowed to deliver takeouts to the gate, some of them are reluctant to come out of concern of affecting their digital codes for health status," she said. "To address the last-mile problem, volunteers and social workers have stepped up."
Lu Hongying, a 59-year-old resident at the Tianhejiayuan community, is one of the volunteers helping with arranging deliveries and maintaining order at testing sites.
"I think many residents here were caught by surprise by the sudden lockdown because, for a long time, the virus felt very far away from us," she said. "It was natural to feel nervous and panic at the beginning."
"But we have largely adjusted to the new routine and calmed down as most of our daily demands can be met," Lu added.
Lyu, the neighborhood official, said it is also critical to address medical demands of locked-down residents, especially those in critical need.
On Friday morning, Lyu said a 71-year-old senior, surnamed Han, reported severe pain in her abdomen due to acute cholecystitis — inflammation of the gallbladder.
"Because the hospital that she often visits was not qualified for receiving patients from controlled areas, one of our social workers quickly got in touch with another major hospital nearby, and arranged a hospital bed for the elderly," she said, adding that Han was transferred there via a designated vehicle by noon.
"We all understand that during a lockdown, meeting medical demands is the top priority and there must be no delay, "she said.