Sex education gains recognition among Chinese parents
Global Times
1512676589000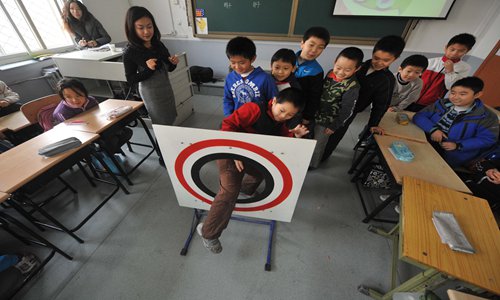 Students in a primary school in Beijing's Dongcheng district attend a sex education class on December 9, 2010. The class taught them about the birth of life. Photo: VCG
Teaching kids about sex, which has traditionally been a taboo and embarrassing topic for many parents in China, is now coming out of the closet especially after a child abuse case at a Beijing kindergarten made headlines last month.

The Chengdu-based Tianfu Morning News reported that local bookstores are selling many more self-help books on the delicate subject. In October alone one store sold 200 sex-ed books, more than the total sales of the previous year.

The store has since moved the books from a shelf tucked in the back to a recommended reading area, said the report.

Online book-selling platforms are also seeing an increase in sales. Dangdang.com, one of the most visited online book stores in China, saw its collection of books on teaching children how to recognize and protect themselves again sexual predators shoot to No.2 on its list of best sellers.

Between 2014 and 2016 the same collection wasn't even among the top 40 best-sellers.

Hu Zhen, an expert at the Sichuan Province Center for Youth and Teenager Sex Education, told at a forum that while today's Chinese are exposed to as much information about sex as the rest of the world, there remains a deep misunderstanding about sex education.

"A lot of people don't know what sex education is actually about. Many adults think it's teaching children about having sex," Hu said.

Hu was a keynote speaker last week at a sex education forum sponsored by Marie Stopes International China, which provides sexual and reproductive health services and education.

Having worked in China for more than seven years, Susie Jolly, a program officer at the Ford Foundation's Beijing office, said that while Chinese society was more conservative prior to the 1990s, many people's attitudes about sex now mirror those found in many Western cultures.

She suggested that instead of trying to develop a sex education course for the whole of China, the diversity of different regions within the country should be considered.

"A teacher from Shanghai once told me that sex education is very difficult to teach because in each class there will be some students who think they already know much more than the teacher, and other students will so embarrassed they do not dare raise their eyes and look at you," said Jolly.

"Sex education should be tailored to address the different situations and ages of the children," she added.

Hu Jiawei, founder of the children's sex education institution Soy & Pea, said that he's sensed a gradual change in attitudes among Chinese parents over the years.

"Parents used to say 'my kid is too small' for sex education, but now many are even consulting with me in a very active way," Hu told the Global Times.

On November 24, several days after the kindergarten child abuse case became a hot topic, Hu launched an online course on WeChat, which attracted an audience of 250,000.

"Usually, such a class has about 20,000 listeners at a time," Hu said.