Military drill near Taiwan 'necessary'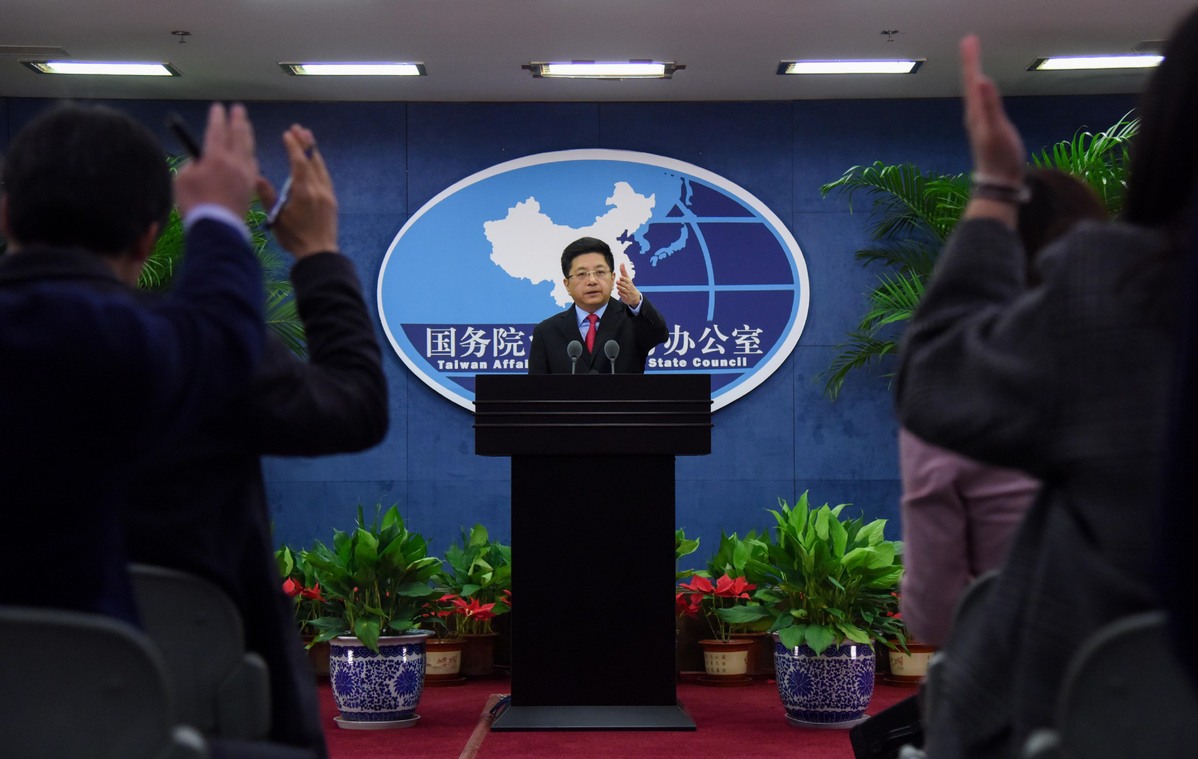 Ma Xiaoguang, spokesman for the State Council's Taiwan Affairs Office. (Photo: Xinhua)
A spokesman for the Chinese mainland said a military drill by Chinese bombers and warships around Taiwan on Monday was routine and slammed the island's administration for misleading the Taiwan people and hyping tensions.

On Monday, various warships, bombers and reconnaissance aircraft of the People's Liberation Army Eastern Theater Command conducted "necessary training" around Taiwan as a means to test the joint assault capability between different branches of the military, Senior Colonel Zhang Chunhui, the theater command's spokesman, said in a statement on Monday.
The exercise took place in waters east of Taiwan and was part of a scheduled PLA exercise, he said.
"It is completely within the normal legal rights of a sovereign country, and it's beneficial for maintaining peace and security in the Taiwan Straits," Zhang said.
Ma Xiaoguang, spokesman for the State Council's Taiwan Affairs Office, said in a statement on Tuesday that the exercise aimed to protect national sovereignty and territorial integrity, as well as protect the common interests of people from both sides of the straits.
Taiwan's administration, led by the Democratic Progressive Party, used the drill as an opportunity to "deceive and mislead the residents of Taiwan and to provoke and escalate a cross-Straits confrontation," Ma said.
"Its goal of undermining cross-Straits relations and the peace and security of the region will not succeed," Ma said. "Nobody should underestimate our adamant resolve and ability to protect national sovereignty and territorial integrity."
On Tuesday, Taiwan leader Tsai Ing-wen said she will not be intimidated by the military drill, calling the exercise "a threat to Taiwan" and an act of "coercion", the island's media reported.
Tsai also thanked the United States for considering a deal with Taiwan to renew a $500 million training program in the US for Taiwan F-16 pilots and maintenance crews.
In early April, the US increased military interactions with the island by officially acknowledging that military personnel have been posted in the Taipei office of the American Institute in Taiwan since 2005.
US weapons manufacturer Raytheon was also granted a $9 million contract to upgrade Taiwan's Patriot missile defense system.
Senior Colonel Liang Fang, a professor at PLA National Defense University, said the recent drill will test and enhance the PLA's joint operating capabilities.
"It will increase the PLA's ability to protect national sovereignty, and warn those who are trying to undermine it to abandon their illusions," she said. "Similar drills will be more common in the future, with increasingly sophisticated equipment and training methods."
Xiu Chunping, a researcher at the Chinese Academy of Social Sciences' Institute of Taiwan Studies, said the recent drill serves to warn the US and separatists in Taiwan not to infringe on China's core interests by pursuing Taiwan secession.
"The PLA has the ability to protect China's sovereignty and territorial integrity. There is no question about that," she said.