'Weep agent' for China's Qingming Festival becomes a new hot service offered on China's e-commerce platform
Global Times
1649201568000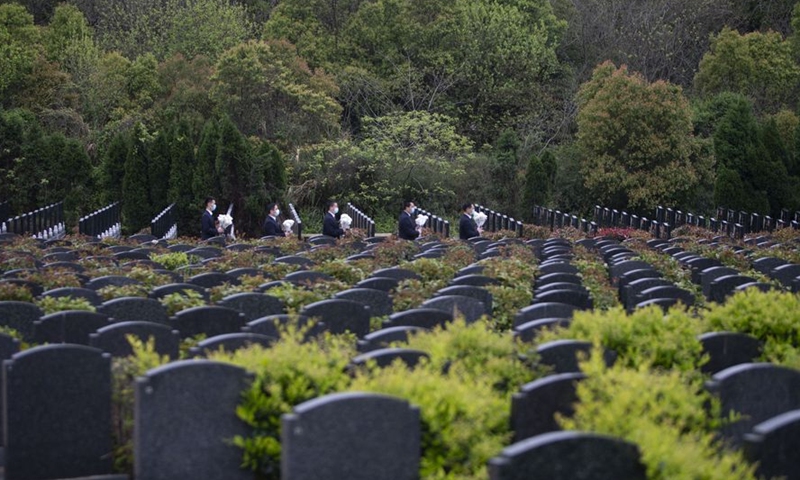 "We cry on behalf of the client in a normal sense, just gentle weep," a "weep agent" on China's popular second-hand e-commerce platform, Xianyu, told the Global Times giving details of a type of 'grieving service' that one can book for strangers to mourn their lost ones during the Qingming Festival, also known as the Tomb-Sweeping Day, in April.

The agent in Nanjing, Jiangsu Province, is not the only one offering this type of services online. Besides of the weeping offer, such agents also deliver other grief-related services that are pretty close to the traditional practices like burning paper offerings and sweeping the tombs on behalf of clients, while others can make unorthodox requests such as reading poetry and chat sessions.
The fee of the tomb-sweeping service variates according to the clients' requirements. The "weeping" ceremony is only one of the services offered.
An agent in Beijing told the Global Times that the basic service, which is a 10 minutes visit, costs 189 yuan ($29.69). The price is higher when other requirements such as tomb sweeping, bows, "chats" and placing of offerings are added up into the whole package.
"You should book the place before 2 pm if you want to secure it," said the Beijing agent, adding that "if our clients have anything to say, we can deliver their messages."
The price tag of such services provided on the second-hand e-commerce platform ranges from 100 to 1,000 yuan ($15.75 - $157.15), and it became more of a hot choice for people who cannot return home to mourn their lost ones due to the strict prevention and control standards of COVID-19 during the holiday break.
"The guy said he will send photos to me after the service. My good wishes are here even when I cannot be present," Tian Xiao, a client of the mourning service, told the Global Times.
Notwithstanding that such services have been run by private businesses due to the impact of COVID-19, many cemeteries across the country have also offered mourning services on behalf of visitors.
The manager of the Fu Shou Yuan cemetery in Shanghai described to media that since the city is experiencing surging COVID-19 cases, clients appeal of the grieving service is increasing too. There are more than 60 employees currently handling the service at the busiest time.
Besides Shanghai, the majority of cemeteries across the country like in Xi'an, Shaanxi Province, Shunde, in Guangdong Province and Chongqing have also taken measures such as scheduling appointments and capacity limits to meet COVID-19 prevention and control standards.
"Virtual grieving" has also been encouraged by the civil affairs departments in many places across the country. In this way, the public can mourn through the official website and Wechat platforms of the local cemeteries.