Hong Kong residents urged to take virus test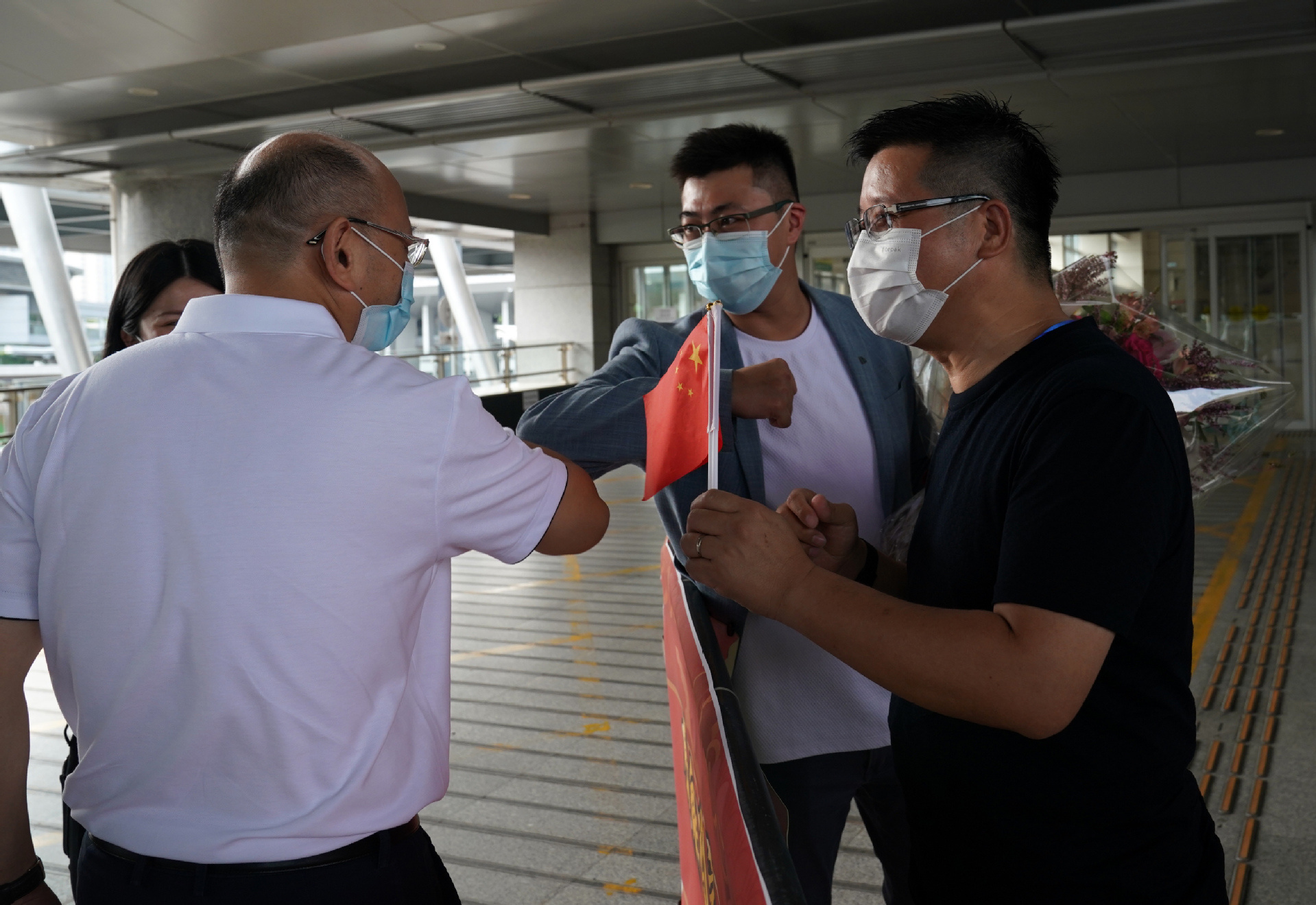 A medical team from the Chinese mainland arrives at Hong Kong to help the city conduct nucleic acid tests on Aug 21, 2020. (Photo: Xinhua)
As the city gears up to conduct universal COVID-19 testing, Hong Kong leaders on Sunday called for wide participation in the program to help officials identify infection risks to the maximum extent possible.
With help from the central government, a two-week universal COVID-19 testing program will begin in the city on Sept 1 in at least 100 community testing centers as part of a plan to tackle the third wave of the coronavirus pandemic, the special administrative region government announced on Friday.
Chief Secretary for Administration Matthew Cheung Kin-chung encouraged residents on Sunday to actively participate in the citywide program, not just to protect themselves, but also to keep their family members safe from the virus.
The more residents who participate in the program, the faster that officials will be able to identify the asymptomatic patients and break the transmission chain, Cheung wrote in a blog post. Also on Sunday, the city saw the 21st consecutive day of only double-digit growth in COVID-19 cases, with the total tally reaching 4,682 confirmed cases and 77 related deaths. But many medical experts in the city noted that the city's pandemic situation remains severe, given the stronger transmission ability of virus strains, the growing death rate, and new infection clusters such as those among foreign domestic helpers and port employees.
Financial Secretary Paul Chan Mo-po made similar remarks on his Sunday blog. "It is high time for all of us to take one step forward, and not to run away from trouble. … This is how we can get rid of the seemingly never-ending outbreak and revitalize our economy," he said.
Secretary for Food and Health Sophia Chan Siu-chee wrote in her blog on Sunday that she hopes medical professionals and the public can put aside biases and conspiracy theories related to the program.
She stressed the rationale behind the universal COVID-19 test plan is to focus on the interests of public health, and it is a moral obligation for medical workers to encourage residents to participate in the program.
More than 3,000 local medical professionals have signed up to help operate the program, said Secretary for the Civil Service Patrick Nip Tak-kuen, who is in charge of the logistics of the program. He also said his department will recruit more than 1,000 current or retired civil servants to handle the administrative work.
Former Hong Kong chief executive Leung Chun-ying described the testing program as "the only way out for Hong Kong", saying he will certainly take part in it.
"For the sake of your and your families' health, for the economy, as well as employment and livelihood, please actively take part" in the program, Leung wrote in a social media post on Saturday.