Australia should squarely face crux of current setback: Chinese FM
Global Times
1605785131000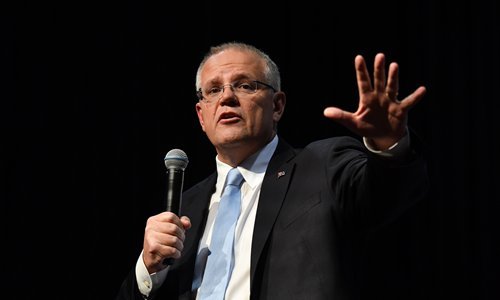 China is firmly opposed to Australia's action of undermining the interests of other countries under the pretext of safeguarding its own national interests, Chinese Foreign Minister spokesperson Zhao Lijian warned Thursday following Australian Prime Minister Scott Morrison's statement that Australia will not change its policies.
In a television interview with the Nine Network, the television network of the Nine News, on Thursday, Morrison said, "We will always set our own laws and our own rules according to our national interests."
In response to a question about China's comment on what Morrison said, Zhao said on Thursday that mutual respect is a basic principle in handling bilateral relations. China is firmly opposed to imposing one's own ideas and will on others under the pretext of safeguarding national interests and values.
China clarified that the Australian side has repeatedly spoken and acted out of turn on issues concerning China's core interests and initiatively taken provocative and confrontational actions, which are the root cause of the current tensions in China-Australia relations, Zhao noted.
Zhao also stressed that the Australian side should squarely face the crux of the current setback in bilateral relations, take China's concerns seriously and take concrete actions to correct its mistakes.