China halts frozen seafood imports from Norwegian firm after COVID-19 found on packaging
Global Times
1600840771000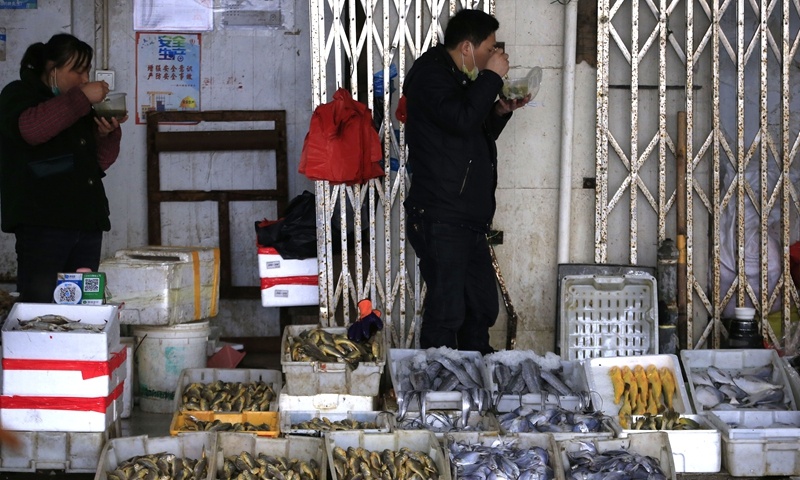 Two seafood vendors eat their lunch before another wave of customers arrive at a wet market in Shanghai. (Photo: GT)
China has suspended frozen seafood imports from a Norwegian company for a week after tests for COVID-19 came back positive on the packaging of its seafood.
The General Administration of Customs of China on Wednesday announced that customs authorities across the country have suspended the acceptance of imports of aquatic products from a Norwegian company named Gadus Njord for one week. Acceptance of imports will resume automatically upon expiration.
Concerns over imported infections through frozen seafood or its packaging rose again after the official announcement. Residents in Beijing are particularly wary after a resurgence that lasted about two months when coronavirus was found on a board used for chopping imported salmon at the Xinfadi food market.
A Beijing resident surnamed Cheng told the Global Times on Wednesday that as a seafood lover, her enthusiasm for buying imported frozen seafood has waned due to the risk of infection.
"I would choose domestic seafood instead... With the COVID-19 pandemic still spreading, it is not uncommon for food packaging or the food itself to carry the coronavirus," she said.
A vendor at a market in Beijing's Chaoyang district told a reporter on Wednesday that overall sales of frozen seafood have not been good this year, with sales at his stall less than half of that in 2019.
On September 18, the General Administration of Customs announced that one package sample of a batch of frozen hairtail imported from Indonesia had tested positive for coronavirus. On Monday, a package of frozen squid whiskers tested positive for COVID-19 in Northeast China's Jilin Province.
Wu Zunyou, the chief epidemiologist of the Chinese Center for Disease Control and Prevention (China CDC) said in late August that the latest outbreak in Xinfadi food market is likely to have originated from imported aquatic products, which experts found to be contaminated by virus in samples collected.
From July to mid-August, 10 cases in nine places reported positive tests for COVID-19 on imported frozen seafood or its packaging, 70 percent of which were related to frozen white shrimp from South America, Xinhua News Agency reported.
Yang Zhanqiu, a Wuhan-based virologist, told the Global Times that COVID-19 can remain active longer in cold chain transportation and can even survive for years in temperatures of minus 10 to 30 degrees Celsius.
Because the pandemic is hard to control, Yang stressed the need to continue strengthening the testing of imported products.
China's Health Commission on Tuesday officially released the 7th version of the COVID-19 prevention and control guidelines, in which supervision of cold chain food processing and trading was underscored. The General Administration of Customs has made it clear that it will further strengthen the control over the source of imported cold chain food, and strictly enforce inspection and quarantine at ports.
Yang believes that consumers should not be overly worried, as the food on the market has been certified safe by the state. However, raw foods, especially un-heated seafood, should be avoided on the dining table.