China's new era spells opportunity for all
People's Daily
1510171360000
File photo / EUOBOR.
Brussels – China's journey into a new era means fresh opportunities for deeper Sino-Europe relations, said H.E. Ambassador Zhang Ming, the newly appointed head of the Chinese Mission to the EU.
Online newspaper EUobserver featured an article penned by H.E. Zhang who shared his experiences from the 19th National Congress of the Communist Party of China (CPC) in Beijing.
Zhang reiterated a key point from the 19th CPC National Congress in how socialism with Chinese characteristics is now entering a new era and will provide Chinese with greater confidence as they move forward on their current path.
The former vice minister of Foreign Affairs was appointed to his new ambassador post by President Xi in October. As Zhang sees it, Europe is a major world player and a vital partner. The two sides can increase cooperation with greater corroboration on Sino-EU partnerships for peace, growth, reform, and humanity while increasing benefits for everyone throughout Europe and China.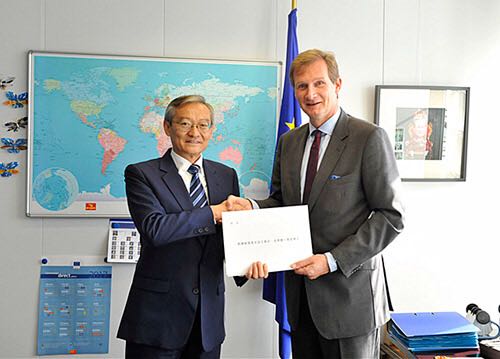 Ambassador Zhang Ming (left) with Nicolas de la Grandville (right), Chief of Protocol of the European Commission. Photo: Chinese Mission to the EU
The world will see increased efforts from China as it strives to create an open, inclusive, pollution-free and beautiful world that will enjoy lasting peace, security and prosperity. The nation's win-win strategy of opening-up proves that China wants to work with foreign nations over converging interests and initiate new methods of international exchange.
China cannot achieve its outlined goals alone as, emphasized Zhang, who was once the China Ambassador to Kenya.
"We must all come together and foster a community with a shared vision for the prosperous future of mankind," concluded Zhang.