Major job sources for foreigners shift in China
BEIJING, April 22 (Xinhua) -- No longer dominated by language teachers, job positions in other industries for foreigners in China have seen rapid increase in recent years, according to figures from the 2019 Job Fair for Foreigners in Beijing.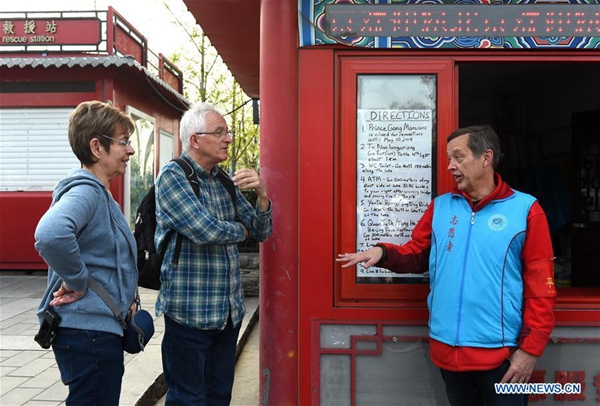 Terry Crossman talks with two tourists in front of a volunteer booth in Beijing, capital of China, April 8, 2018. Terry Crossman, 63, is an American who has lived in Beijing for 23 years. Two years ago, he settled in a Hutong, or traditional alley, near Shichahai in Xicheng District in Beijing. He joined the local volunteer group, also known as "Xicheng Dama", after being cast in a role in a public welfare video themed on it. Xicheng Dama is a volunteer group with most of its members being women aged between 58 and 65. (Photo: Xinhua)
Job openings in service sector, IT and media industries, including journalists, brand and communication managers and software engineers, take up nearly half of the job vacancies at the fair, which is organized by the Foreign Talent Research Center and the State Administration of Foreign Experts Affairs on Sunday.
The fair has attracted more than 500 expats and offered about 1,000 job vacancies in multiple sectors, China Daily reported Monday.
Foreign job seekers with Mandarin proficiency is likely to get more pay. "Positions that require fluent spoken and written Mandarin tend to pay more than the same jobs without the language requirement," said Yang Jiayin, project manager of the research center.
More than 50 percent of job seekers are from European countries, mainly Spain and Portugal, and about 25 percent are from Asian countries, with a majority from India, according to data collected at the Beijing job fair from the previous 10 years.
The income gap between foreigners and Chinese employees in the same positions has reduced in past decades as salaries paid to Chinese have risen faster than expat salaries, Yang added.
In 2018, China issued approximately 336,000 work permits to foreigners and over 950,000 foreigners were working in the country as of the end of last year.
Cover file photo: CGTN