Man who killed wife, stored body in freezer sentenced to death
A man who killed his wife and stored her body in a freezer for three months was sentenced to death on Thursday by the Shanghai No.2 Intermediate People's Court.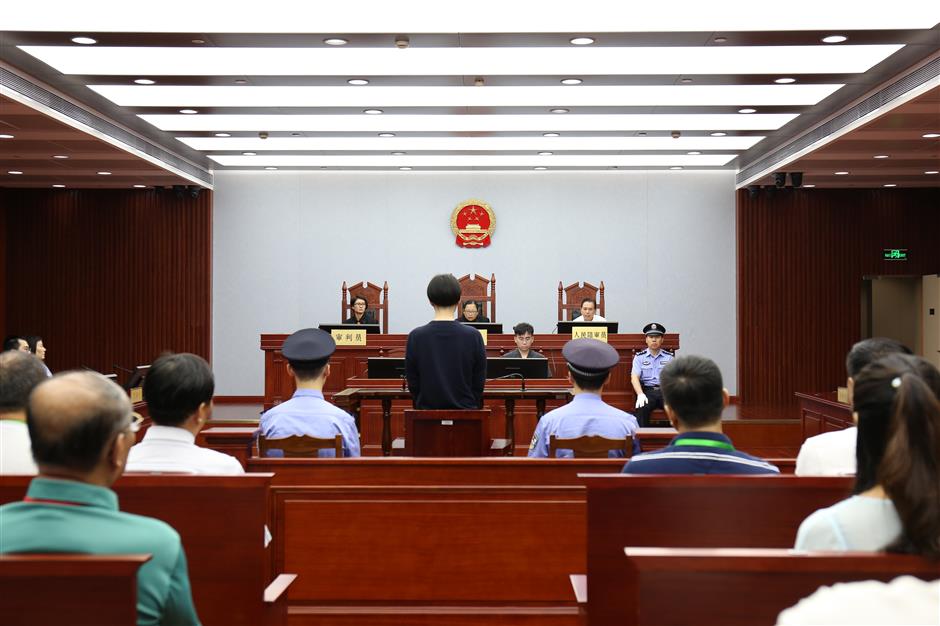 The court announces the death sentence for Zhu Xiaodong. (Photo: Shine.cn)
The court said Zhu Xiaodong married Yang Liping on December 31, 2015. On the morning of October 17, 2016, he grabbed her by the throat over a dispute at their home in Hongkou District, causing her to choke to death. He then placed her body in the freezer.
Zhu confessed about the murder to his parents and handed himself over to police on February 1, 2017, the court said.
He covered up Yang's death for a long period of time, during which he used her money and identification card to travel around and check into hotels with other women.
Zhu "recklessly squandered money on personal pleasure and he showed no regret," the court said, adding that it was a severe crime with extremely serious social implications. Zhu was not granted any leniency even though he handed himself over to police.
"Justice finally arrived," Yang's father Yang Ganlian said after the hearing.
The court has not revealed whether or not Zhu has appealed for a lighter sentence.
The verdict came nearly nine months after the trial began on November 29, 2017. Over that period, Yang's family demanded a tough sentence — they didn't receive an apology or any compensation.
During a previous trial, prosecutors said Zhu had impersonated Yang and pretended she was still alive via SMS and WeChat messages. He also admitted then that he had used her credit card and squandered more than 100,000 yuan ($14,550) on shopping and travel after her death.
Zhu said during the trial that three days before the killing he and Yang travelled to Hangzhou. Yang wasn't satisfied with the hotel and train arrangements and she put the blame on him. After they returned home, she continued complaining although he asked her to stop.
He said he just wanted her to be quiet, but she stopped breathing after about five minutes. After she died, he squeezed her body into a new duvet cover and put her in the freezer, which was bought about a month earlier to store frozen food as their fridge was filled with rats used to feed his pet lizards and snakes, he said.
In the trial, he also retracted a previous confession about when the killing took place.
He told police that he killed Yang on October 18, 2016, but he told the court that he transferred money from Yang's Alipay account after her death, which took place on October 17, 2016.