Nine years on, people in Yushu embrace new life after quake
YUSHU, Qinghai Province, April 14 (Xinhua) -- Nine years after a catastrophic earthquake battered Yushu Tibetan Autonomous Prefecture, which killed thousands of people, new schools, hospitals and squares have mushroomed out of debris, and the locals are rebuilding their new life.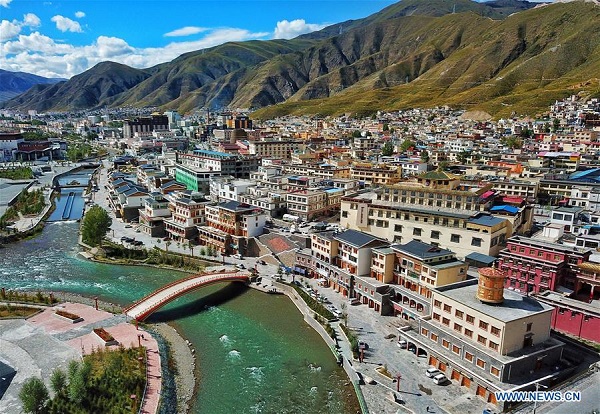 (File Photo: Xinhua)
Lodru Gyatso, 16, lost his father in the magnitude-7.1 quake, which hit Yushu in northwest China's Qinghai province on April 14, 2010 and left around 3,000 people dead or missing.
"I was reading books in school when the quake struck," he said. "When I got back home, my brother told me our dad had been buried under the toppled house."
Lodru Gyatso's mother passed away when he was young. He was admitted to a local orphan school after the quake. The school is now home to more than 460 students, many of whom lost their parents in the disaster.
"After the earthquake, we have received many donations, which help to improve our infrastructure," said Nyima Rigzin, headmaster of the school.
The school, humble with one-storey temporary houses, now has a classroom building, dormitory building, canteen and library.
Lodru Gyatso likes to make robots in the classroom equipped with a 3D-printer.
For 23-year-old Dawa Tsedin, takeout delivery is a bit boring. But it allows him to enjoy the beauty of Yushu's new cityscape, which has sprung up from a remote, backward town to a modern city over the past nine years.
Dawa Tsedin chose to be a take-away food delivery man in Yushu after graduating from a vocational school in Xi'an, capital of neighboring Shaanxi Province.
He said he returned because he had seen great potential in takeout delivery in the city.
"In the past, I couldn't believe that takeout delivery was available in Yushu," he said. "Now as I pass by the landmarks such as the Gesar Square, I really feel that Yushu looks like a big city."
New buildings with Tibetan characteristics, new business quarters and broad avenues have sprung up in the city, in sharp contrast to the scenes before the quake.
Cai Chengyong, the city's Party chief, said Yushu has also been improving urban management and building a smart city with advanced technologies.
To date, the city has invested over six million yuan (about 895,000 U.S. dollars) to build an intelligent urban management network covering all streets and communities.
During reconstruction, Beijing has lent a hand, investing heavily in infrastructure construction and bringing talent of education, medicine, city planning and urban management.
Pei Zhifei, a veteran gynecologist from a hospital in Beijing, has been working in the Yushu Prefectural People's Hospital since 2017, tutoring local doctors in complex surgeries.
"Now many critically ill patients get treated in Yushu," said Pei. "And many patients from Sichuan and Tibet have come to our hospital seeking medical help."
Official data show 163 experts from Beijing, including teachers and doctors, have worked in Yushu to assist the reconstruction.
In recent years, Yushu has received a growing number of tourists from home and abroad as it has listed tourism as a pillar industry.
Ashak Yumpon, director of Yushu prefecture tourism bureau, said the prefecture, home to the Hol Xil Nature Reserve and the headwaters of the Yangtze, Yellow and Lancang (Mekong) rivers, boasts abundant tourism resources.
"We will promote sustainable development of the tourism industry and build ourselves into an international tourism destination," he said.