Shanghai map to help CIIE exhibitors invest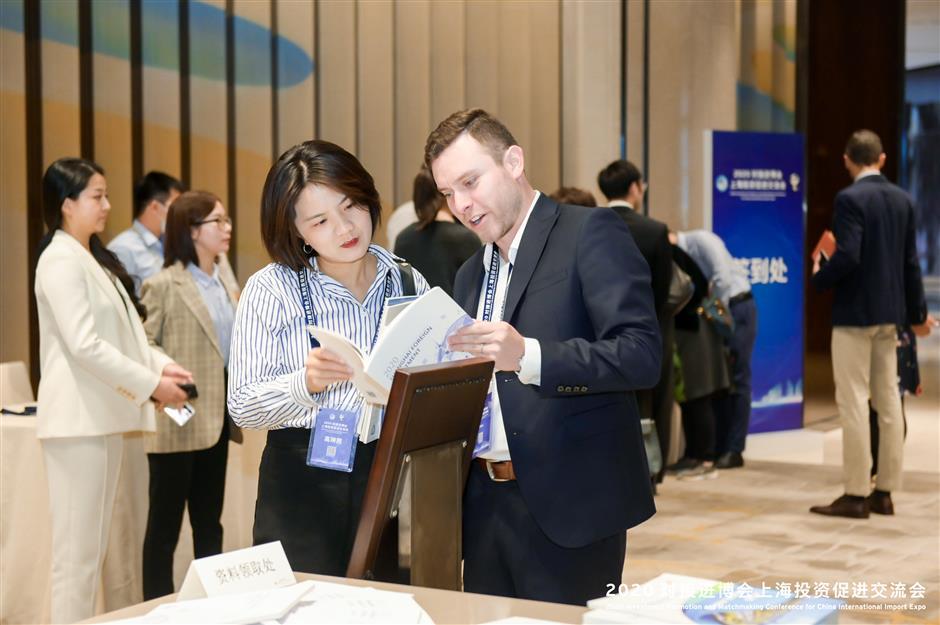 Participants check the city's investment guidance on the sidelines of the 2020 Investment Promotion and Matchmaking Conference for CIIE in Putuo District. (Photos: Shine.com)
Shanghai released an updated investment map on Tuesday to cap the demand of foreign investors during the upcoming China International Import Expo.
The 2020 Map for Invest in Shanghai includes 50 routes in eight categories, such as financial services, scientific innovation, equipment manufacturing and culture innovation, for investors to explore.
Three new routes on new consumption, artificial intelligence and bio-pharmaceuticals have replaced those related to fashion and culture in the 2019 version.
The map, in English and Chinese, was released during the 2020 Investment Promotion and Matchmaking Conference for the CIIE in Putuo District.
The event, organized by Shanghai Commission of Commerce and the Putuo government, attracted over 200 participants, including officials and investors from the UK, Germany, Italy, Spain, Hungary, Bulgaria, Japan and Thailand.
"The investment routes will make people feel Shanghai's most outstanding features, experience its professional services and witness the city's prosperous businesses," said Xue Feng, director of the Shanghai Foreign Investment Development Board.
Virtual reality technology is involved in the map for the first time at key sites such as the North Bund waterfront, Caohejing Development Zone and Changyang Campus.
Users can scan a QR code on the map to access it on their mobile phones. Investors can contact the specialized staff via a hotline or email address marked for each site.
Despite the novel coronavirus pandemic, foreign direct investment in Shanghai between January and August reached US$13.9 billion, a 5.9 percent increase year on year.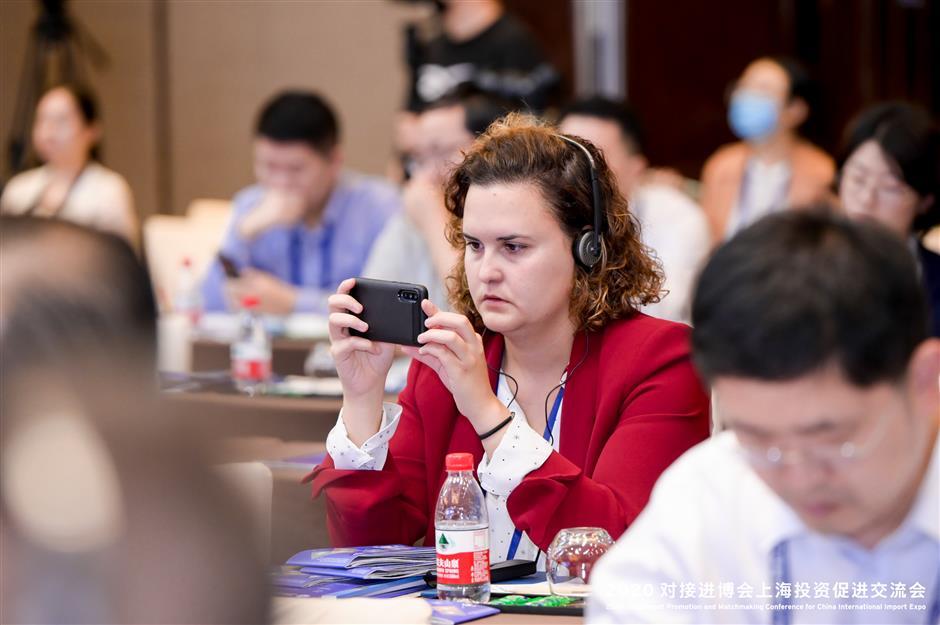 A foreign participant takes a photo during the conference.
Thirty-four regional headquarters of multinational corporations and a dozen research and development centers have newly based in the city as of August, said Zhang Guohua, deputy director of the city's commerce commission.
Fourteen overseas enterprises, including Schneider, Metro and Carrefour, will be taking part in this year's CIIE, Jiang Dongdong, Putuo's director told the conference on Tuesday.
Bryan Zhang, managing director of Sapience Pro, a CIIE participant who helps foreign companies do businesses in China, said an increasing number of foreign projects are interested in investing in China and Shanghai this year despite the pandemic.
"We've launched an online platform to serve the foreign investors who cannot come to China amid the pandemic, which has attracted more interested foreign projects," Zhang said. Projects under negotiation include those from Italy, Belgium, Australia and Thailand, he said.
The 3rd CIIE to be held between November 5 and 10 at the National Exhibition and Convention Center will have larger exhibition space comparing with the previous expos, said Yang Bo, an official with the CIIE bureau.
"The exhibitors have confirmed their exhibition sites and have begun designing or building their exhibitions," Yang said.
New sections on public health and epidemic prevention, energy saving, smart transport as well as sports facilities and events have been set up for this year's event.
After the release of the 2019 investment map, local government bodies and districts visited over 3,800 exhibitors at that year's CIIE and 124 companies, mainly in retail, manufacturing and bio-pharmaceuticals, expressed investment intentions, according to the bureau.
Thirty-two projects from CIIE exhibitors to start businesses in the city were signed early this year.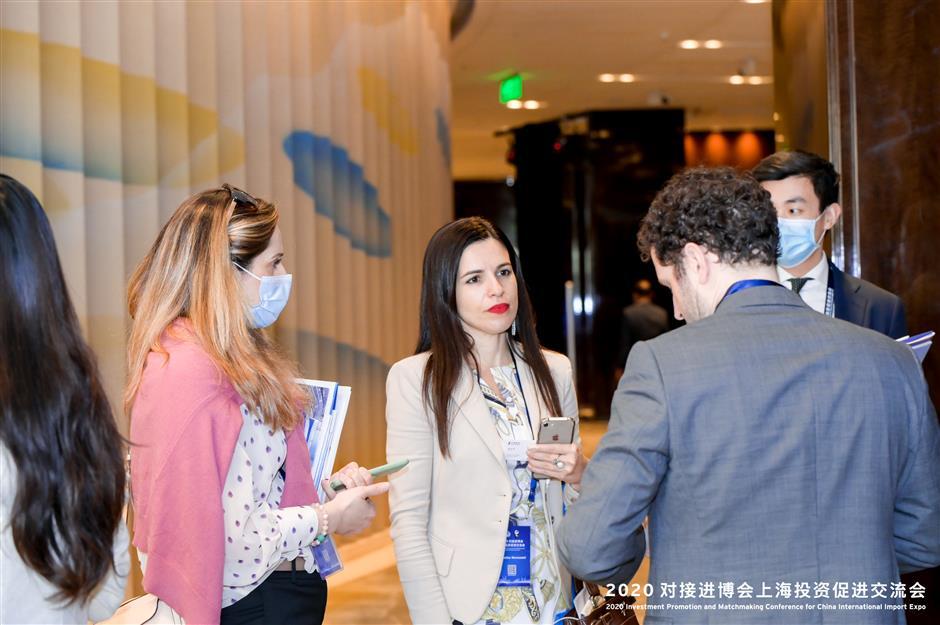 Some of the foreign participants who attended the conference.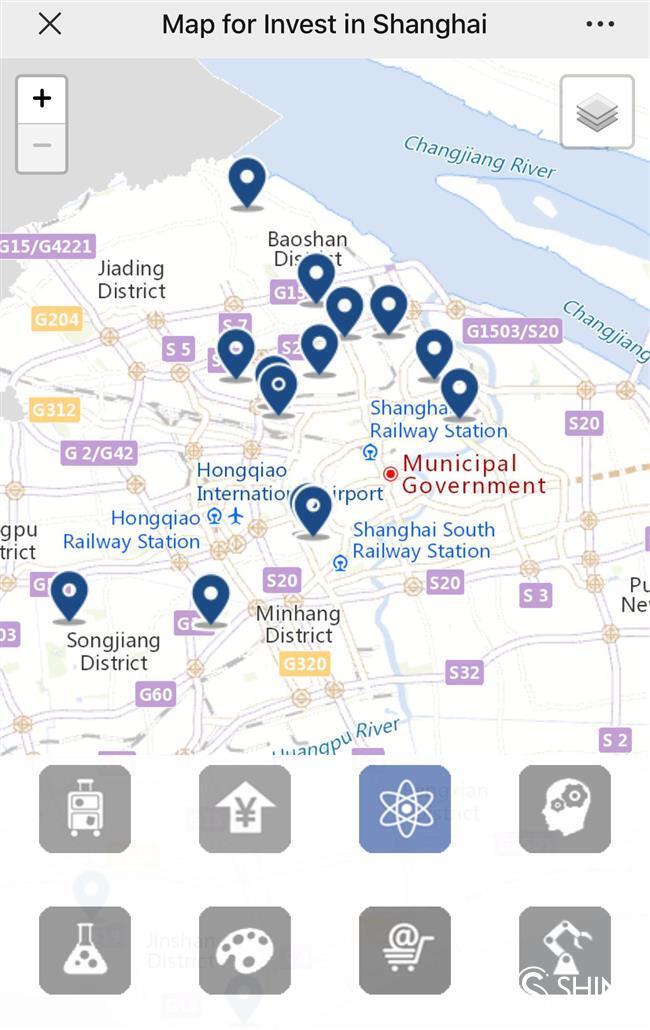 The mobile version of the 2020 Map for Invest in Shanghai.